Nearly seven decades into its existence, the Long Beach Museum of Art (LBMA) expanded this month to downtown. After much anticipation from the community and museum officials, namely Executive Director Ronald Nelson, the renovated site at 356 E. 3rd St. opened September 7 to a crowd of more than 1,000 people, which included the general public and museum board and trustee members.
"Collecting Long Beach, Seven Decades From The Permanent Collection" is LBMA Downtown's premiere exhibition, featuring works by local artists dated from 1950 onward. On display are ceramics, paintings and watercolors, according to Nelson. Some artists featured are Robert Adams, Sarah Arnold and William Lane, with respective contributions in watercolor, oil and acrylic works.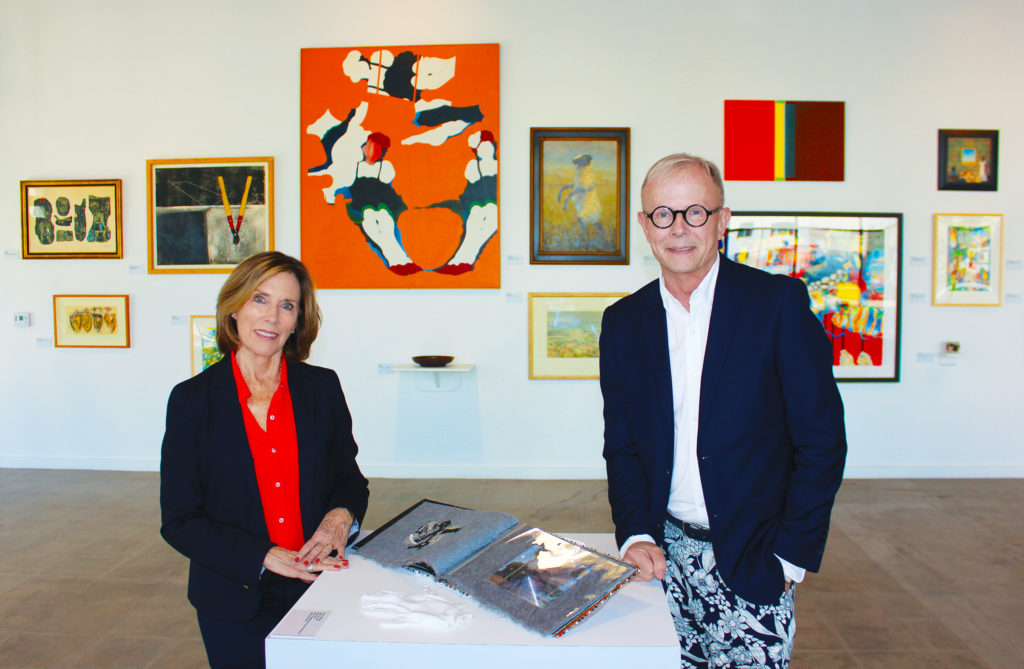 "We're going to be 70 next year – and we look fabulous for 70, by the way," Nelson said. "We have seven decades of Long Beach artists. A number of them are no longer with us, but a number of them are and were here [during the opening]. And it was really exciting to see that, because it's just a wealth of inspiration and appreciation and history of Long Beach artists."
The birth of LBMA Downtown is the result of a merger between LBMA and the nonprofit Art Exchange last year. The Art Exchange was founded more than 20 years ago to provide arts education and a studio space for local artists. In 2016, the City of Long Beach and the nonprofit partnered to perform interior renovations to the Art Exchange campus, which consists of four buildings along 3rd and Elm streets. LBMA Downtown assumed oversight of the campus at 356 E. 3rd St. after the Art Exchange merged into the museum, Nelson said.
The museum has two floors. The downstairs spans 3,200 square feet, a wide gallery space with multiple works hung on the walls and displayed in the center of the room, Nelson said. The gallery features a 35-foot high ceiling. The second-floor mezzanine, measuring 2,000 square feet, is currently used as an office space. Multiple sponsors helped make the creation of LBMA Downtown possible, said Nelson, who specifically highlighted Josephine Molina, president of the RuMBa Foundation of Long Beach, for her donation of $1 million to the museum.
Nelson expressed his excitement about providing a new space for artists to display their creativity. "I think that's what this space does to people and to me," he said. "I mean, when you walk in and see the size of that gallery and the size of the ceiling, it's inspirational. There is so much that can be done within this space. We really want to connect deeply with the artists and their community here."
One such artist is Narsiso Martinez, one of 35 individuals featured in the debut exhibition. His art piece, "Friends in Freshness," is a collage of portraits that are displayed on stacked and discarded produce boxes. These portraits represent farmers, specifically produce pickers, whom Martinez has personally met, Nelson said. "When he speaks of them, it's . . . with reverence," Nelson recalled. "[He'll say,] 'Oh, you can't believe how much this woman can pick. She is the fastest picker anyone has ever known.'"
It's artists like Martinez that makes Barbara Wilde, president of the LBMA Board of Trustees, proud to have assisted in opening the new museum space. "This is the fruition of everything that made me want to be on the board," she said. "So, this was really important and exciting."
Nelson said the LBMA solicits the work of artists through the Arts Council for Long Beach's public registry of local artists and outreach from interested community members who wish to contribute their works.
Nelson said the entire exhibit is an excellent culmination of all the work the "unique artists" of Long Beach have produced over the years. "I think that [when] people . . . can engage with the artists and their work, it really cements that community relationship," he said. "It's great for the collector, it's fabulous for the artist and it's wonderful for the museum. I love that."
"Collecting Long Beach, Seven Decades From The Permanent Collection" runs until November 3. For more information, visit lbma.org.