The City of Long Beach today announced changes to its cannabis equity program in hopes of providing more tangible assistance to those hoping to open a business.
Under the new framework, the city will lend direct financial support to applicants as they move through the various stages of the licensing process. Unlike the previous version, the newly revamped equity program will offer financial assistance with not just city fees, but other startup costs through direct grants.
Applicants who complete all stages of the program could receive up to $235,000 in direct funding from the city.
Grant funding will be available until funds are exhausted, or until the expiration of the equity grant program on Aug. 31, 2021, whichever occurs sooner. Only applicants who applied prior to July 23, 2020, will be eligible for the $10,000 associated with the first two milestones.
A recent story in the Long Beach Business Journal revealed that, over the past two years, just one applicant had succeeded in opening a business, with many complaining that the program did not provide enough financial assistance. The program was intended to help communities who had been most affected by the criminalization of cannabis in the past enter the legal industry.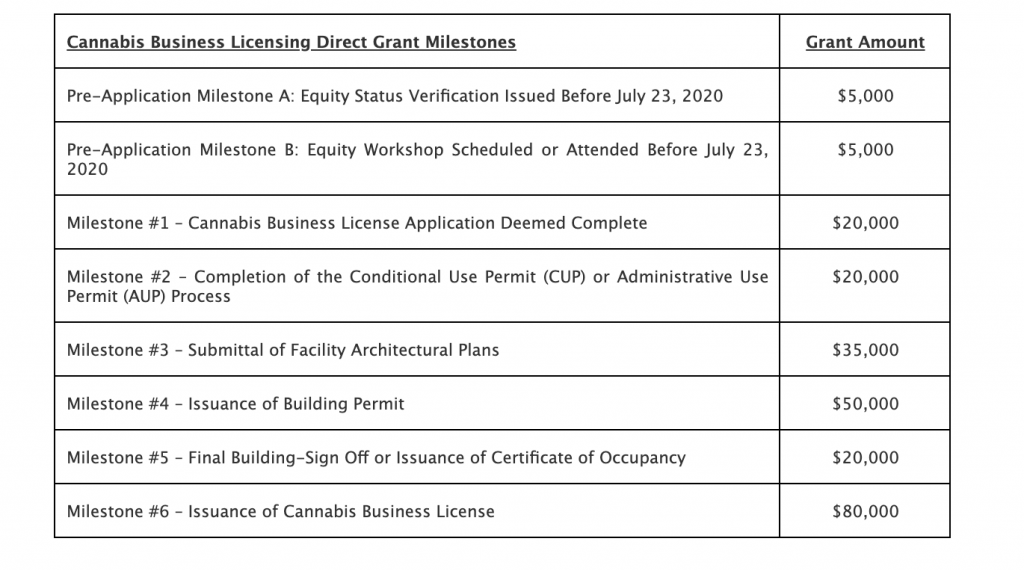 "It's exciting," said Brian Delahoussaye, one of the equity applicants who said the previous iteration of the program didn't offer enough support. "It's definitely something I had hoped for."
Delahoussaye, who has several years of experience in the industry and helped set up a manufacturing business prior to the full legalization of cannabis in 2018, said there's still many unknowns when it comes to the potential impact of the revised program.
"I'm interested in seeing what they're going to do with this in the future," he said. A lack of funding and the resulting need for outside investors faced by many applicants was identified as the program's main issue by applicants and city staff alike. 
The additional funds allocated to the program, which came from a $2.7 million grant received from the California Governor's Office of Business and Economic Development this year, will likely be helpful, Delahoussaye said. 
But, he asked, "does this still put us in the same position, just a little bit better?" Various applicants in the program who pursued the search for funding ended up disillusioned by the number of predatory investors they encountered. 
"Are we still going to the wolves?" Delahoussaye said. "Because I don't want to go to the wolves."
Only time will tell, he concluded. "I guess we'll just have to wait and see."