For five months in a row, the City of Long Beach has exceeded the state's mandated standard for the cumulative conservation of water this year, despite little rain and record-breaking heat in October, according to city officials.
The city, however, still urges residents and businesses to continue water-rationing efforts through winter, as heavy rains from an anticipated El Niño aren't expected to entirely reverse California's historic drought, now entering its fifth consecutive year.
"Conservation needs to be permanently integrated into our community's lifestyle," said Mayor Robert Garcia in a statement from the Long Beach Water Department (LBWD). "We have to keep saving even during these projected wet winter months."
As part of a state directive to address the drought, the State Water Resources Control Board (SWRCB) has mandated cities meet a water conservation standard that compares water usage with 2013 levels through February of next year.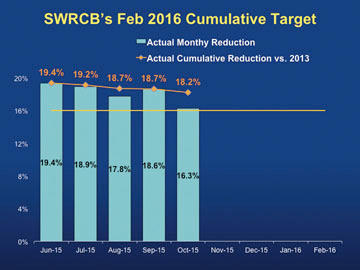 From June to October of this year, Long Beach has exceeded its standard of 16 percent reduction, according to the LBWD. Data shows that, although water conservation for October was down compared to previous months, Long Beach still surpassed the state's mandate, if by a small margin, coming in at 16.3 percent.
LBWD officials state that in October the city used about 4.457 acre-feet of water, the lowest water usage since 1963, even with higher-than-average temperatures. The months that the city had the highest water reduction rates were June and July, with 19 percent reduction for both months.
In an interview with the Business Journal, Christopher Garner, general manager of LBWD, credits Long Beach's strong water conservation record to the city's efforts to promote water rationing early on through creative marketing tools developed by LBWD.
"Long Beach Water has been pushing conservation for several years now so I think it's in the consciousness of the residents and businesses of Long Beach," he said. "I think we're a little bit ahead of the state in that regard."
Most recently, LBWD's "Mission H2O LB" water conservation campaign aims to help the city use water efficiently, meet the state's target and "still enjoy the community's lifestyle," according to city staff.
Residents can visit LBWD's website, www.lbwater.org, to calculate their water usage to see if they meet the state mandate, take a pledge to save water and listen to song playlists by two local bands as a reminder to take a "one-song shower."
Garner reiterated the need to continue conserving water through winter months, adding that, during a major rainstorm, residents and businesses are encouraged to turn sprinkler systems off and leave them off for at least a week thereafter.
"I'm afraid people assume that now that we're hopefully through the hot spell and out of summer that they can ease up on water conservation, but to meet our mandate from the governor and the state we really need people to continue throughout the winter," he said.
According to October data from the National Oceanic and Atmospheric Administration (NOAA) Climate Prediction Center, "wetter-than-average conditions" are predicted for Southern California and other parts of the state in December through February. NOAA states that wet weather, expected to firmly touch down by the end of January, will likely improve the state's dry conditions but won't completely reverse the drought.
Garner noted that Long Beach has a diverse mix of residential and commercial properties, ranging from large, single-family homes on the eastside to multi-family complexes and industrial buildings in other parts of the city.
The amount of water wasted in the city is miniscule compared to other communities in Los Angeles County where owners of large residential properties have money to pay for excessive water use, he added.
Matt Lyons, director of planning and conservation for LBWD, said Long Beach homeowners are quick to fix any leaks or correct any water-wasting issues after the city issues a warning. The city has only had to resort to fining customers about 15 times in the last three to four years, which is small compared to other cities, he said.
"The people of Long Beach, I think it can generally be said, have stepped up with respect to water conservation without us having to threaten them or fine them," Lyons said. "Almost everybody is trying to do the right thing."
He pointed out that the city has a pilot program where 260 customers have agreed to have smart water meters installed to track their water usage and to identify any leaks through a registry.
Upgrading Irrigation Systems
The city is also doing its part to conserve water by working with landscape irrigators at parks, schools and commercial businesses to apply industry standards as to how much water is being used per square feet, Lyons said. Hundreds of antiquated irrigation systems throughout the city still have yet to be upgraded with new technology, he added.
Stephen Scott, interim director of the Long Beach Department of Parks, Recreation and Marine, said the city is moving forward with major projects to make irrigation infrastructure more efficient at Heartwell Park and Stearns Park.
"We want to use every single drop of water as efficiently and as effectively as possible, so improvements like this help us to work towards those objectives," he said.
The projects, which are currently in the design phase, involve replacing old, manual irrigation systems with new, automated ones with remote-controlled technology with program software that detects precipitation, humidity and temperature.
Both projects are on the same track to go out for bid and begin construction in the coming months, said Kelly Parkins, park maintenance superintendent.
Scott said about half of the nearly 1,300 acres of groundcover the city irrigates is irrigated with reclaimed water while the other half sources potable water. He said the city is also replacing grass in some park areas with drought-tolerant landscaping and mulch while making sure roots of stressed trees are receiving water.