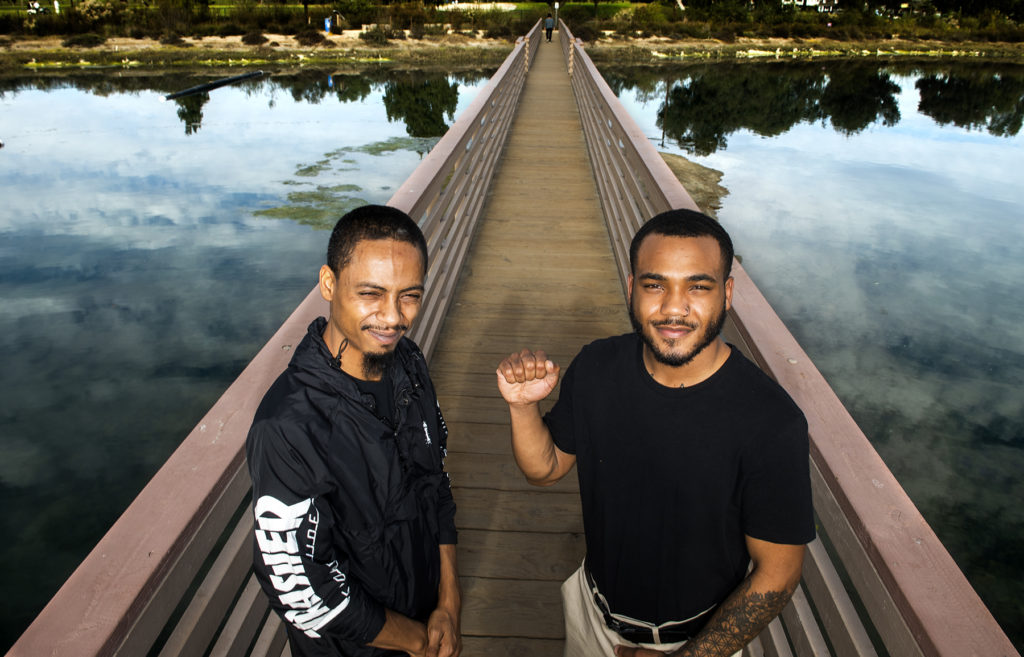 When Edgar Cruz was 15, he was charged with illegal possession of cannabis for the first time. For him, selling cannabis in the illicit market became a means of survival, albeit a risky one.
Twelve years later, he's trying to become an established entrepreneur in the newly legalized industry, a path that has been anything but easy.
Cruz was among the first participants in the city of Long Beach's initial cannabis equity program, which—two years into its existence—has failed to create any new minority-owned businesses. But Cruz is determined to change that—with or without the city's help.
After forming a nonprofit to represent marginalized entrepreneurs looking to enter the cannabis industry, Cruz and his business partner developed an ambitious plan to provide them with business development support, which they're pitching to the city along with their policy suggestions.
City officials are well aware the program has struggled to make an impact, and are collecting and soliciting feedback from people including Cruz to develop new policy suggestions.
"There were some glaring gaps," said Ajay Kolluri, assistant to the city manager and the city's point person for its cannabis programs.
Cruz and others working behind the scenes are pushing the city to allow delivery-only retail businesses, among other policy changes, and his group is also establishing an academy for aspiring businessowners to gain support and knowledge.
'You just have to stand up'
Like many low-income Angelenos, Cruz's family moved to the Antelope Valley just before the Great Recession, when buying properties in cities like Palmdale and Lancaster promised the American Dream of homeownership to those priced out of the rest of LA County.
But as a young Black man, Cruz said it was hard for him to earn money in this remote, conservative corner of the county, where economic opportunities were scarce enough already, not even counting racial prejudices. So he started selling weed.
Cruz was lucky. While he was charged with possession several times, the charges never stuck and he was able to stay out of legal trouble—at least as far as cannabis was concerned. But for many Black and Latinx Californians, things didn't quite work out that way.
Despite cannabis usage rates being similar across racial and ethnic lines, an analysis of police data from Los Angeles and Fresno by the Drug Policy Alliance and ACLU of California found that both groups were issued marijuana possession citations at higher rates, even after reforms aimed at reducing the severity of cannabis-related charges were implemented.
Nationwide, Black Americans are also arrested for cannabis possession at far higher rates than their White counterparts.
Long Beach's cannabis equity program was supposed to help mitigate the effects of racist practices deployed in the War on Drugs, by providing fee waivers and business development support for low-income entrepreneurs and those with cannabis-related charges on their record.
But after seeing no tangible results for himself and his fellow applicants, Cruz decided it was time to take matters into his own hands.
"A lot of them have given up on the idea of starting a business, because it was just impossible," he said. "At some point, you just have to stand up and say something."
Making an impact 
So Cruz began hassling the city's cannabis office, all the while putting together a nonprofit to serve as a voice and a resource for equity applicants. But the real breakthrough came when he connected with Brandon Bolton, a self-taught expert in cannabis equity from Sacramento.
Bolton—young, Black and wanting to start a business like Cruz—had gone through a similar program up north, and was left equally dissatisfied.
The duo has had regular meetings with staff at the city's office of cannabis oversight and its economic development department, which has recently been roped in to provide technical assistance to equity applicants.
Their main goal in interacting with city staff is to educate and push for policies that they consider effective in helping equity applicants like themselves get a foothold in the legal cannabis industry, Bolton said.
"I realized a lot of these programs don't know anything about cannabis, and even less about social equity," he said. "They're tired of not having success stories. So if they're tired of that, why aren't they putting in policies that will bring out those success stories?"
The pair has continued to push for delivery-only retail licenses, a license type that is not yet available in Long Beach, but is viewed by many equity applicants as a comparably low-cost path toward business ownership.
Earlier this month, Kolluri presented the option of delivery-only licenses in front of the city's economic development committee. It found support among councilmembers, who voted to move the item forward for consideration by the full city council.
"There's an industry operating within the city that is not inclusive of the people of the city. And that's a problem and we have to fix that," Councilman Rex Richardson, who is chair of the committee, said at the meeting.
Offering delivery-only licenses could not only create more access to equity applicants, he said, but also provide additional tax revenue for the city and stamp out illegal delivery services.
But it's not just policies that Cruz and Bolton are targeting. The two are also taking aim at the practical aspects of the city's cannabis equity program.
Last month, they submitted a detailed proposal for an entrepreneurship academy, which they hope will be selected to serve as part of a grant-funded four-phase pilot program the city is planning to kick off next year.
The program, as proposed, would provide participants with eight weeks of workshops and assignments to help flesh out their business plans.
Each phase is designed to include feedback and support from cannabis incubators and brands, such as the Cookies Social Impact program—attached to the prominent cannabis brand of the same name— and Viola, a cannabis company founded by former NBA player Al Harrington, who has made it his mission to support Black entrepreneurs in the cannabis industry and beyond.
The program's concept and budget is ambitious, but whether they receive funding from the city or not, Cruz and Bolton said they will do whatever it takes to make their ideas come to live.
Creating not just employment, but ownership opportunities for equity applicants is a personal calling for Bolton, who said he experienced his share of racial discrimination while working in the legal cannabis industry, often being the only Black person on staff.
"I started reading bills, resolutions to see how I could get an opportunity, so I didn't have to work for people who didn't like me, didn't respect me," Bolton said. "This is going to give hope to people who come from communities that are completely disenfranchised from all opportunities."
Having long struggled to make his dream of legal entrepreneurship a reality, Cruz concurred.
"We've recognized the game and now we need to build our coalition and community," he said. "We're doing this for our people."