If you think this headline sounds familiar, you're right. Last year, the Long Beach Area Convention & Visitors Bureau (CVB) touted 2016 as the "best year ever" for tourism in Long Beach. Convention bookings, attractions and major events brought millions of people to the city, resulting in a record-breaking economic impact to the area. But this year, as it turns out, was even better.
An estimated 7.2 million people attended Long Beach's major attractions, fairs and festivals this year, breaking last year's tourism record of 6.8 million people, according to the CVB. Overnight visitors to the city had an estimated economic impact of $300 million. These visitors generated $26.4 million in transient occupancy tax (also called the hotel bed tax) that directly benefited the city's General Fund – another record set.
Multiple hotel managers in downtown told the Business Journal that they attributed strong occupancy rates and revenues to a steady year of conventions and events held at the Long Beach Convention & Entertainment Center.
Conventions
Through early November, 297 conventions and meetings booked by the CVB were held in Long Beach. These conventions and meetings generated 238,197 overnight stays in hotels, an increase of 18% from 2016, according to the CVB.
More than 507,400 people attended conventions and meetings in Long Beach this year, based on CVB estimates. These events alone generated $4.9 million in transient occupancy tax revenue.
One of the largest of these events was Twitchcon, a national online gaming convention that brought 40,000 attendees to the Long Beach Convention & Entertainment Center in November. ComplexCon, a lifestyle and culture festival and convention dreamed up by musician Pharrell Williams, also took place at the center in November, returning for a second year and generating national media buzz.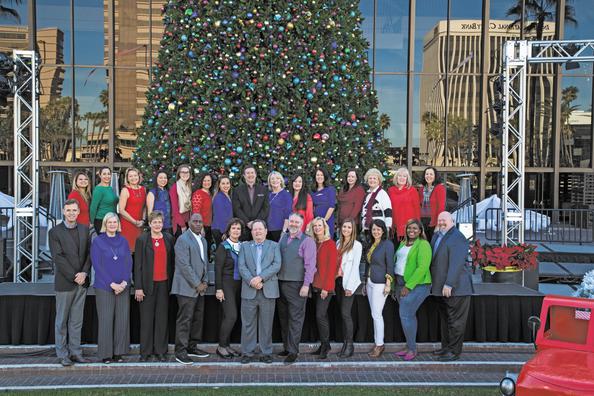 The staff of the Long Beach Area Conventions & Visitors Bureau are dedicated to promoting Long Beach as a tourism and conventions destination. The CVB's efforts helped make this the best year yet for tourism in Long Beach. The staff is pictured at the Long Beach Performing Arts Center. Front row, from left: Gregg Hanniford, senior vice president (VP) sales/services; Caribe Hourigan, national sales director; Anne Renken, national sales director; Michael Mitchell, visitor services manager; Jan Miller, membership director; Bob Maguglin, director of public relations; Gary Watters, sales coordinator; Barbi Mason-Ajemian, VP, convention services; Jamie Weeks, digital communications manager; Jennifer Kohatsu, national sales director; Loren Simpson, director of digital communications; and Jeff Forney, VP of marketing and membership. Pictured in the back row, from left: Claudette Baldemor, membership director; Heather Gonzalez, national sales director; Yvonne Riner, VP sales; Marykay Lui, national sales director; Erica Morris, digital communications manager; Karen Thomas, executive assistant; Lilian Olguin, sales coordinator; Steve Goodling, president and CEO; Iris Himert, VP special projects; Lori Elgayar, convention services manager; Susan Valen, national sales director; Jenni Pearl, senior convention services manager; Pauline Taylor, sales coordinator; Kathy Ford, sales coordinator; and Julie Taber, senior visitor information specialist. (Photograph provided by the Long Beach Area Convention & Visitors Bureau)
It's thanks to the upgrades made to the center over the last four years that Long Beach has been attracting such large-scale, buzzworthy events, according to CVB President and CEO Steve Goodling and convention center General Manager Charlie Beirne.
"What's happening is we're hitting this stride," Goodling said. "When you have special event spaces, you have to know how to execute them. The staff here has become very proficient at executing special events."
The Pacific Room at the Long Beach Arena, a venue with theatrical rigging and lighting that enables reconfiguration of the space to accommodate everything from banquets to concerts, has been one of the key venues that has helped the CVB bring in new business. The Pacific Room upgrades debuted in 2013 and, since then, it has been responsible for attracting 54 conventions and more than $158 million in estimated economic impact, according to CVB figures.
This year, a new special events venue debuted: The Cove, an outdoor street party space equipped with ready-to-go theatrical lighting, chandeliers and a full array of contemporary furniture and accents.
These venues have left an impression on convention-goers, according to Goodling and Beirne. For example, 2U, an education technology company that partners with universities for online learning, held its convention here this year, and the experience left an impression on attendees.  "They were blown away by the destination," Goodling said. "The attendees had such a great time [that] they asked the planner if they could come back. It was the first time in her career she has ever had staff asking to return to the same destination."
Stacey Chattam, senior director of strategic events for 2U, said that the company's June convention in Long Beach, which brought in 1,250 attendees, exceeded expectations. The fast-growing tech company moved its annual event from Disneyworld to Long Beach. "Long Beach is set up to give a sense of safety and it's walkable from all the hotels. The convention center staff and the CVB staff really wanted the business and worked for it and helped us, and made it really just a great meeting," she said.
Staff from the CVB and convention center, as well as the city government, helped 2U pull off a successful event. "The CVB and Steve [Goodling] and the mayor even got involved in getting us the permits so we could actually have a party on the beach," Chattam said. The company is already in talks to hold its convention in Long Beach again, she noted.
The CVB and convention center management have also developed a reputation for service. Beirne noted that upgrades were made to the center to accommodate the Internet bandwidth required for Twitchcon to be a success. "We went from one gigabyte to 10," Beirne said of the Internet speed, noting that fiber was installed.
Beirne also pointed out that the CVB's sales missions to cities throughout the country have helped bring in new business. The mayor, hotel managers and others key to the local hospitality and tourism industry attend these sales missions, while other destinations typically send only sales staff, Beirne noted.
This year, two national publications recognized Long Beach as a conventions destination, including New York-based Successful Meetings magazine, which honored Goodling as a "trailblazer" in the industry. Goodling said the honor was really a reflection of the city as a whole. Similarly, meetings publication BizBash inducted Goodling into its hall of fame this year, which he also said was due to progress in the city overall.
"For us to break through the national level of awareness for our city, that to me was a huge [deal]. Because it's not easy to earn recognition of the press, especially in our industry," Goodling said. "Here we are, the 35th largest city in the United States, and we're getting national recognition which is usually bestowed upon cities like New York City, San Francisco [and] L.A."
Conventions and meetings on the books for 2018 aren't as strong in number as this year, but Goodling and Beirne expect to able to fill in gaps with short-term business – meetings and events that are scheduled less than a year in advance.
"Next year is a little lighter. However, we have historically gone through that cycle," Goodling said. "And what it means is we just have to find more short-term convention center business."
Hotels
Overall, Long Beach hotels experienced gains in occupancy and revenue this year, according to Bruce Baltin, managing director of CBRE Hotels, a global firm that provides analyses and forecasts of hotel markets.
"It's a very strong market," Baltin said of Long Beach. "Occupancy in 2017 ended the year around 79%, which is very, very strong." The occupancy level of Long Beach hotels increased by 1.4% compared to last year, he noted. Average daily room rates charged for overnight stays increased by about 3.4%.
Baltin attributed the growth to travelers visiting for conventions, business and leisure. "Other cities are experiencing it as well, but Long Beach is doing very well compared to those cities," he said of the industry's growth. Asked what he would attribute Long Beach's success to, he replied, "The strength of the city and the marketing of the [Long Beach Area] CVB."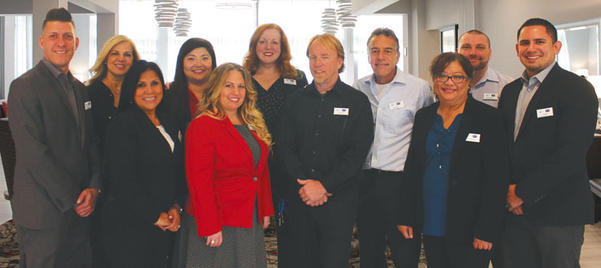 Welcome To Long Beach: A dual brand Hampton Inn and Homewood Suites hotel by Hilton opened at Douglas Park on November 30. The 241-room hotel features both traditional hotel rooms and extended stay suites with kitchens, as well as 1,500 square feet of meeting space, a gym and other amenities according to General Manager Jef Lawrence. Above, executive staff took time from preparing for the dual-brand hotel's opening on November 30 to pose for the Business Journal. From left, are: Jef Lawrence, general manager; Cristina Riverol, regional director of operations; Irma Escobar, director of housekeeping; Jenifer Jones, sales manager; Angel Trubee, director of sales; Jane Jazayrli, sales manager; Mark Adams, director of engineering; Joe Gargano, food and beverage manager; Shella Ebalobor, finance manager; Colter Ferguson, front office manager; and R.J. Escobedo, hotel manager. (Staff photograph by the Business Journal's Brandon Richardson and exterior photograph by the Business Journal's Pat Flynn)
Pamela Ryan, chair of the Long Beach Hospitality Alliance and general manager of the Renaissance Long Beach Hotel, agreed that 2017 has been a good year for the overall hotel industry, as well as for her hotel. "The convention center has been ahead of pace, which has helped the city and certainly this hotel as one of the larger hotels in the downtown area," she said. "We have definitely benefited from the conventions coming into the center and staying in our buildings."
In addition to citywide convention business, Ryan said the Renaissance relies upon in-house group bookings by corporate clientele as well as by airline staff. Group bookings are key to the hotel because they typically generate catering business, she explained. Ryan said that the Renaissance experienced an increase in revenue per available room this year.
Greg Keebler, general manager of the Hilton Long Beach, noted that, while the convention industry fared well this year, his hotel does not benefit as much as others in the downtown area because it is the furthest from the convention center. "Overall for 2017 we have had a good year," he said. "Definitely we have seen slowing in some segments, but overall this year we'll end up about as projected."
Group bookings are "softening up" not only in Long Beach but also nationwide, according to Keebler. "We're all struggling to get to our group numbers for 2018, '19 and '20, as we do see the economy starting to crest," he said. "Usually group [business] is the first indicator of that crest because companies are not booking quite as far out. There is a lot more short-term business," he explained.
Kristi Allen, manager of the Hotel Maya and the vice president of hotel operations for Ensemble Hotel Partners, said that 2017 was the best year for the Maya. "On the hotel side, we had our strongest year yet in average [room] rates and revenues. Yet [we] are bracing for the market to flatten out in 2018 as most experts predict in the Long Beach/L.A. market," she said. She noted that the Maya's Latin brunch series at its restaurant, Fuego, helped bring in additional visitors to the hotel this year.
"Highlights of the year of course include all of the continued growth and development in Long Beach and the hope that these new residential projects and mixed-use developments eventually bring in additional demand for hotels in Long Beach," Allen added.
The Holiday Inn Long Beach Airport experienced a 7% decrease in occupancy this year, according to General Manager Mooyon Kim. He attributed the dip to receiving fewer bookings from conventions and corporate group business. The first quarter was very strong for the hotel, but bookings in the summer were softer than anticipated, he explained. Kim has been able to raise the average daily room rate for the Holiday Inn, resulting in a 3% gain in revenue this year.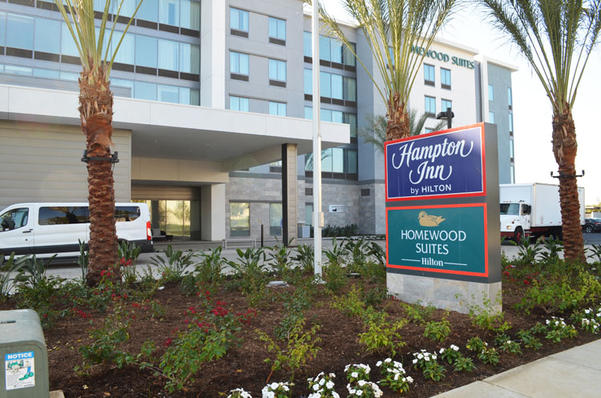 A dual brand Hampton Inn and Homewood Suites hotel by Hilton opened at Douglas Park on November 30. The 241-room hotel features both traditional hotel rooms and extended stay suites with kitchens, as well as 1,500 square feet of meeting space, according to General Manager Jef Lawrence. (Photograph by the Business Journal's Pat Flynn)
A new extended stay hotel is planned adjacent to the Holiday Inn, where an existing two-story structure is slated to be demolished in December or early January, according to Kim. The new hotel – a six-story, 125-room Staybridge Suites – should be completed within two years, he said.
The city's newest hotel, the Hampton Inn & Homewood Suites, opened at Douglas Park on November 30. Jef Lawrence, general manager of the Hampton Inn & Homewood Suites, cited growth in the Douglas Park area as the impetus behind the hotel's development. "If you take a look at all of the exciting activity that is going on in the area with the development of the [Long Beach] Exchange [and] all of the parcels of commercial real estate that are being developed right in our backyard, there is just a really great opportunity to provide value to a variety of different travelers," he said, referencing retail and industrial property developments in the business park.
Steve Goodling, president and CEO of the Long Beach Area Convention & Visitors Bureau (CVB), said that a new hotel like one planned at the corner of Ocean Boulevard and Pine Avenue is needed. "We could use an additional hotel downtown near the convention center," he said. "The project that's planned [at Ocean and Pine] is a great project because it's designed to be a show stopper. It has three-story atrium glass windows looking out onto Ocean Boulevard, a rooftop swimming pool capturing the sun setting over Palos Verdes. [It's] walking distance to the convention center. Any time you have a new project like that, it creates news for your city, your destination and for your convention center business."
Waterfront Attractions
Long Beach's waterfront attractions experienced astrong year in 2017, and all plan to add new events and programming next year.
The Aquarium of the Pacific is on track to beat last year's record attendance. President and CEO Jerry Schubel told the Business Journal that he expects 1.7 million people to have visited the Aquarium by year's end. The nonprofit's projected general revenue for the year is $38 million.
"These figures represent a very successful year for the Aquarium," Schubel said via e-email. "Last year was previously the Aquarium's best year to date in terms of revenue and attendance, and 2017 is on track to match it."
Schubel is projecting a bit of a decline in revenue and visitors next year due to ongoing construction of the facility's new wing, which will add new gallery space and an interactive theater. "Projected 2018 revenue is $37 million, and projected attendance is about 1.67 million visitors," he said. "We budgeted conservatively due to the construction but we expect to beat those numbers."
Construction of the new wing is on schedule, according to Schubel. "The concrete slab for the new wing was poured in November, and the placement of structural steel will begin in December and continue through early next year," he said, noting that portholes have been cut into fences surrounding the construction so that visitors can see the progress. "While the layout of several Aquarium facilities has changed, the visitor experience and events schedule are unaffected by the construction. I encourage Long Beach residents to visit, enjoy our many events and programs, and watch as progress is made on the construction," he said.
2018 is the Aquarium's 20th anniversary year, and the nonprofit has a number of celebratory programs and events planned. "Through exhibits, videos, promotions, contests, challenges and more, the Aquarium will celebrate its 20 years of connecting people with the ocean," Schubel said. "The Aquarium will highlight animals that have been residents for all 20 years."
Carnival Cruise Line, which operates three cruise ships from Long Beach, is also expanding its facilities. "In early 2017 we broke ground on the expansion of the cruise terminal that will allow us to grow our business out of the city for years to come," Carlos Torres de Navarra, vice president of strategic and commercial port development for Carnival, stated via e-mail. "We are still on target to be ready with the improvements for Carnival Splendor's arrival in early 2018. Next year our guests will be greeted by a much larger terminal and a terminal experience that will be a first for the industry."
Torres de Navarra also stated, "In 2017, like the previous 14 years, we continued to deliver great vacations onboard the Carnival Imagination, Inspiration and Miracle that sail from the City of Long Beach on a year-round basis."
Catalina Express, a company offering daily water travel to Catalina Island from Long Beach, San Pedro and Dana Point, had a slightly stronger year than in 2016, according to President and CEO Greg Bombard. "We had a good summer because the weather has been great here in Southern California," he said, adding that the water temperature during the summer was conducive to swimming and diving.
"It was interesting because this last summer we saw quite a few people who were not necessarily going overnight [to Catalina Island] but staying just for the day," Bombard said, adding that his company added more trips to the island to accommodate this travel.
Improvements to the island's venues, such as the Descanso Beach Club, as well as new attractions like a zip line and additional hiking trails, have been bringing more people to the island, Bombard observed. Having more rain last year also helped improve water supplies on the island and helped its natural habitat – both factors that are good for tourism, he noted.
In 2018, Catalina Express is ending its popular promotion that enabled people to ride free on their birthdays. "We did that for six years. We started that on our 30th anniversary and we're now over 36 years in business," he said. The program helped bring people to the island who had not been there in years or had not yet visited, he noted. Bombard said the company may roll out a new promotional program next year, but declined to say what it might be just yet.
The restaurants, shops and businesses of Shoreline Village, downtown's waterfront boardwalk, also had a good 2017, according to Assistant Property Manager Sergio Gonzalez. "It has been really good this year. Even better than some years in the past," he said, adding that there was a lot of foot traffic on the boardwalk.
Summer is the busiest time of the year at Shoreline Village, and Gonzalez estimated that this year there was a slight increase in visitors at that time. While winter months are normally slower for the area, he noted that, so far, he has seen an uptick in visitors compared to years past.
"We're getting ready to kick off our holiday schedule this weekend. Pretty much every weekend from now until Christmas we'll be having live music," Gonzalez noted. "We are going to have a Santa Claus who is going to be here for photo ops for folks who would like to sit on his lap and take a picture," he added. "Long story short, we are doing our best to put our best foot forward, provide the best events for free to the community, and then give back to other programs that are doing the same."