Roaring classic race cars, flying super trucks, rock stars, sports cars, go-karts, food trucks, beer gardens, and, of course, the Verizon IndyCar Series race with 21 competitors – buckle your seatbelts, because the 43rd Annual Toyota Grand Prix of Long Beach is coming to the streets of Downtown Long Beach April 7-9, and organizers promise entertainment and good times for all ages.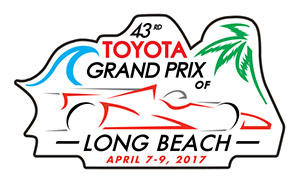 The final running of the Toyota Pro/Celebrity Race last year marked the end of a fan favorite event during what locals refer to as "race weekend." But Grand Prix Association of Long Beach President and CEO Jim Michaelian is pretty confident that a new event – the Can-Am Challenge – has the stuff to takes its place.
The Canadian-American, or Can-Am, Challenge ran from 1966 to 1974. "The way the rules were written for the series . . . basically the rules were there are no rules," Michaelian said. "These cars all had 1,000 horsepower-plus, which in the late '60s and early '70s was a massive amount. And they came to run. And they were sort of the beasts of the racetrack in those days."
Twenty of these classic race cars will compete on the Grand Prix circuit on Saturday, April 8, driven by their respective owners. "They have never run on a street circuit, ever," Michaelian said, "And again, the sound, the vibration, the visceral feel of these cars is going to be a once-in-a-lifetime experience. And we are going to have 20 of them." He added, "Quite frankly, I think it's going to be a major hit with our fans."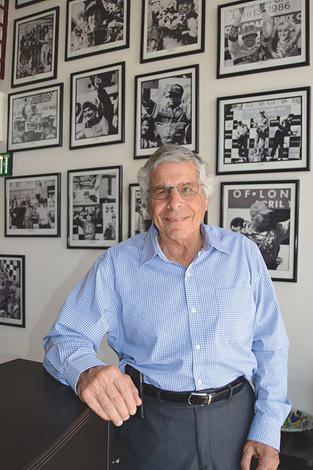 Jim Michaelian, president and CEO of the Grand Prix Association of Long Beach, said that so far ticket sales for the Toyota Grand Prix of Long Beach are pacing with last year's sales, which set a record. (Photograph by the Business Journal's Larry Duncan)
Events like the Can-Am Challenge are designed to create a wow factor for attendees. Robby Gordon's SPEED Energy Stadium Super Trucks, for example, were introduced a few years ago and have since become a fan favorite event. "Nobody knew what they were," Michaelian said of when the trucks debuted at the Grand Prix. "When those trucks hit the track and went over those jumps, people just started congregating up to the wall because they wanted to see it and feel it. That's the same reaction I want to get for this [Can-Am] race."
This year's Saturday night concert features Kings of Chaos, a band with a revolving lineup of big names from the rock genre, starring Billy Idol, Chester Bennington of Linkin Park and Billy Gibbons of ZZ Top. "We have had concerts in the past. But our thought process in that regard was while there might not be as many stars in the daytime because of the discontinuation of the celebrity race, why not bring the stars out at night," Michaelian said.
This year's IndyCar Series has some new factors at play that are adding intrigue to the mix. IndyCars all feature either Chevrolet or Honda motors. While Honda motors perform well on oval-shaped racetracks, they have not done well historically in street races, according to Michaelian. This year, that might change.
"The last five years, Chevy has won every championship, and they have been the dominant engine," Michaelian said. "This year, starting from the very first practice they had in St. Petersburg [Florida] . . . Honda has shown a significant improvement in terms of their performance – to the extent that they won the race," he explained. "Now, the feeling is that they have made significant strides, so we could have much more of a competitive battle between the manufacturers to see how that works out."

Grand Prix Association of Long Beach staff gather for a photograph in front of their offices at Spring Street and Pacific Avenue. Pictured from left are: Martin Bannon, Richard Martinez, Jennie Ketchum, Cecelia Ruebel, Cindy Forster, Aileen McBride, Gemma Bannon, Allison Wilson, Tammy Johnson, Joey Soto, Steven Halley, Chris Esslinger, Sandy Hendrix and Mike McElroy. Not pictured are Christopher Allen, David Carrillo, Crandell Dickinson, Pablo Martin, Jim Michaelian, Dwight Tanaka, Jake Tanaka, Jared Thieme, Liz Tudor. (Photograph by the Business Journal's Larry Duncan)
Another element to keep an eye on is Josef Newgarden, a 27-year-old driver from Tennessee who just signed on to Team Penske. "His progress here in Long Beach and throughout the rest of the year is going to be of interest because there is intrigue about how well he will do having been brought into one of the premier teams now, instead of running for some of the smaller teams who didn't have the resources to make that work," Michaelian explained.
The weekend includes six races: the headlining Verizon IndyCar Series, the Can-Am Challenge, the IMSA WeatherTech SportsCar Championship, the Motegi Racing Super Drift Challenge, the Pirelli World Challenge, and the SPEED Energy Stadium Super Trucks.
In addition to these events, attendees will have access to the Lifestyle Expo (a fully booked exhibition hall with vendors and exhibitors displaying vehicles, offering interactive simulations and more), a kids zone with concerts and other activities aimed at youth, a food truck paddock, go-kart racing and much more.
This year, the Long Beach Convention & Entertainment Center's promenade will feature Southern California Racing Heritage, where race cars from the region will be on display and visiting racers will sign autographs, according to Michaelian. Additionally, the event's main entrance at the convention center's Long Beach Boulevard frontage is being transformed into a welcoming area with couches, tables, a DJ, a beer garden and a big screen. "The whole idea is just to present another area for people to sit down and enjoy the atmosphere," Michaelian said.
The Grand Prix Association of Long Beach is partnering with the Long Beach Area Boy Scouts, which is providing ushering services in conjunction with the Committee of 300 (C300). "In return for that, they will have a space in the Long Beach Arena. And in that space they will do a certain amount of recruitment . . . but they will also have a slot car demonstration and other activities primarily designed to highlight some of the features that make it attractive to be a Boy Scout," Michaelian said.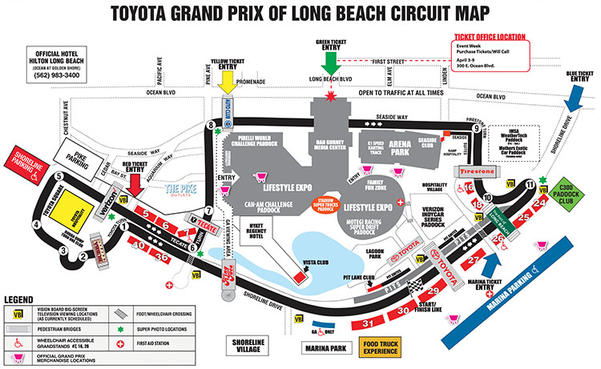 (Grand Prix Association of Long Beach image)
The C300 has served as grandstand supervisors and event guides, as well as the host of the Paddock Club and organizer of the event's pressroom, since the first Grand Prix. Michaelian called the volunteer organization "enormously important."
"We want people to come. We want them to feel safe and secure but [also] enjoy themselves. And we do a lot behind the scenes to make sure that happens," Michaelian noted. "We do it in conjunction with all the obvious partners – Long Beach Police Department, our private security, all of the relevant national agencies – all with the intention of making sure that people come and have as enjoyable an experience as possible."
The Grand Prix Association's contract with the City of Long Beach to continue operating the race expires in 2018, with options for a couple more years, according to Michaelian. "Our partnership with the city plays a substantial role in terms of the success of this event. And that's something we're very proud to be a part of and look forward to continuing for many years to come," he said.
"Our agreement with IndyCar goes to the same time frame," Michaelian noted. "And with the success of the event, especially as it continues to grow, IndyCar obviously has indicated they have every intention of wanting to continue here."
The Toyota Grand Prix of Long Beach takes place April 7-9. Visit gplb.com/ticket-prices/ to purchase tickets and for more information.