Today's Downtown Long Beach is "not your mom and dad's downtown," said Broc Coward, the chief operating officer of the Downtown Long Beach Alliance (DLBA).
"I think when folks come down here, they're happily surprised by a change in the mood and the character of downtown," he said. "They get to see all the building that has taken place over the last 10 years. But I think also, down at the street level, there's a feeling of safety and involvement."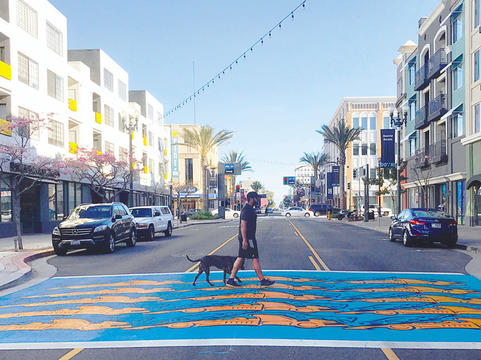 Five crosswalks between 1st and 7th Streets are painted with images that reflect both the history of Long Beach and the aquatic life found off its shoreline. Each is designed so that viewers see one image when crossing one way, and another when crossing the opposite way. (DLBA photograph)
Coward attributed some of this progress to the DLBA's Clean and Safe Teams, which aim to improve the area's physical appearance as well as the overall downtown experience. The safe team patrols the neighborhood and provides directions and recommendations to visitors. It also partners with the police department and can respond to minor issues, Coward said.
"The folks who last came down here about 15 or 20 years ago remember a town that was transitioning from being a Navy town and did not have a very active restaurant or retail component," Coward said. "We've transitioned to having more of a diverse downtown with different kinds of businesses."
Coward said he would like to increase awareness of some of the services the safe team provides. For example, they are available to escort visitors back to hotels from restaurants and bars within the downtown area. They also provide roadside assistance in case of a dead car battery or flat tire.
Another DLBA initiative that helps promote both safety and the character of Downtown Long Beach is the creative crosswalks, Coward pointed out. The organization funded the painting of five crosswalks on Pine Avenue between 1st and 7th streets that are designed to reflect both the history of Long Beach and the aquatic life found off its shoreline. Each is designed so that viewers see one image when crossing one way, and another when crossing the opposite way. For example, drawings of ships are juxtaposed with pacific rock crabs between Broadway and 3rd Street.
"When you see someone crossing the street, you can see their head tilting and then the 'aha!' moment when they get it. It's pretty cool," Coward said.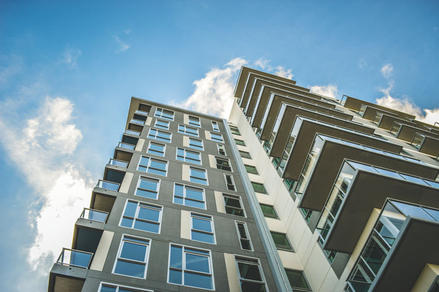 The Current is a luxury high-rise apartment building located at 707 E. Ocean Blvd. A second luxury apartment building is slated to begin construction next to The Current next year. (DLBA photograph)
Sean Warner, the DLBA's placemaking manager, described another project that integrates downtown visitors with their surroundings. "Step Back" is an installation of viewfinders on three street crossings with a historic image from the same location. The project was implemented with a $10,000 community grant from the DLBA to We Are The Next, a nonprofit that specializes in civic engagement.
Warner said the alliance has also partnered with the city to develop a comprehensive wayfinding program that provides signs and maps to help pedestrians better navigate the downtown area.
"The goal is to put signs throughout downtown so people can walk rather than taking Lyft or Uber," Warner said. "People think they can just take out their cell phone and look up their destination, but a lot of times I see people just holding their cell phones and looking around."
In 2016, Warner said the DLBA worked to transform a lot at Pine Avenue and Ocean Boulevard into a public space called The Loop. This space features free live local music on Friday afternoons. According to Warner, the DLBA is looking into upgrading The Loop next year.
Warner himself has been a downtown resident for more than 10 years. He said it was the "diversity" that attracted him to the neighborhood.
"I think it's a big draw," he said. "It's also an urban area with urban amenities. You can walk to the grocery store, restaurants and bars. It's got great transit and bike facilities with the recently introduced bike share program. We've got the Metro Blue Line, so you can get to Downtown L.A. within an hour. You can get to Alamitos Beach in a short walk to take a run. For me, it checked off all the boxes."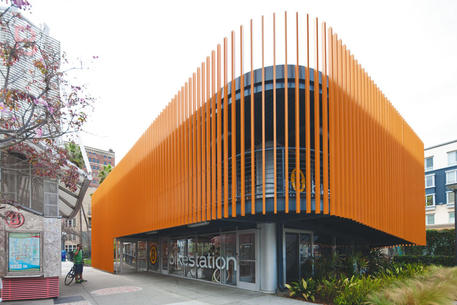 Bikestation Long Beach, located on the transit mall in downtown, offers bicycle parking, rentals, repairs and more. (Photograph courtesy of the DLBA)
And according to real estate brokers, the area is also 'checking off the boxes' for two main demographics: young professionals in their 20s and 30s, and empty-nesters in their 50s and 60s. Stepp Commercial Multi-Family Investments President Robert Stepp said he noticed a "new wave" of young professionals coming to the area about three years ago.
"Five or 10 years ago, it wasn't even safe to live here," he said. "Now there's better retail, restaurants and more things to do."
Mike Dunfee, owner of the Mike Dunfee Group, a property management company, said the same amentities attract the empty-nesters.
"They like the idea that they can buy a nice condo, walk to the bar to get some drinks, get on their bikes and ride on the bike path," he said. "They can also lock the door and travel for a month and everything will be fine." Dunfee remarked that he found many in this demographic are moving from Rancho Palos Verdes and are looking to downsize.
Stepp estimated that about 30 development projects are currently underway in downtown, which add value to the area.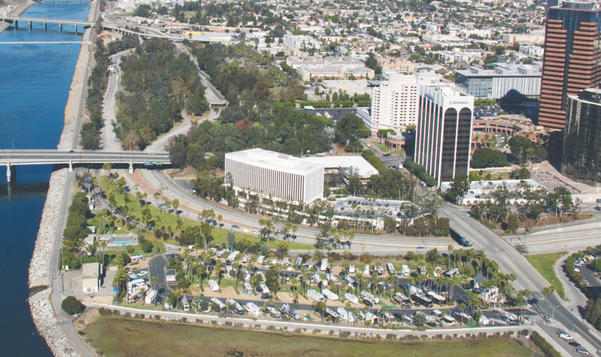 The Golden Shore RV Resort, pictured in the foreground, is located on the west side of Downtown Long Beach. Amenities include a heated pool and spa, laundry room, recreation room, convenience store, showers and restrooms, and a picnic and barbecue area. (Business Journal photograph by Evan Patrick Kelly, December 6, 2017)
"There's a lot of institutional money coming into the market that we haven't seen in the past," he said. "It's building new product, which all has parking underneath it. [These developments] are helping to bring a higher-end demographic to the area, which has more income to spend on restaurants, retail and entertainment."
President of the Downtown Residential Council (DRC) Bob Kelton estimated that about 220 restaurants are located within a couple of miles of where he lives downtown, which is one of the factors that drew him to the area.
"We can easily walk out and get a variety of different cuisines," he said, describing the convenience as "fabulous."
The DRC has planted more trees in the area and is holding four informational forums next year. The first one is on public safety and another is about parking.
As for additional amenities, both Dunfee and Coward said they would like to see more areas built for families, such as nearby parks, as some of the young professional crowd are starting to have kids. Whereas in the past they would migrate to another area, Dunfee and Coward said they have noticed more of them are sticking around Downtown Long Beach.
"It used to be that, if you had kids, you were 'voted off the island,'" Dunfee said. "Now people are starting not to want to leave."