Grand Food & Beverage, the catering company that operates and manages the events venue, The Grand Long Beach, is a family-owned, local business with a long history and deep roots in the community. As owner Jim Choura put it, "My whole life has been right here."
Choura was brought to Long Beach in 1947 by his parents, who decided to relocate from the Chicago area where for two generations the family had found success operating several meat markets.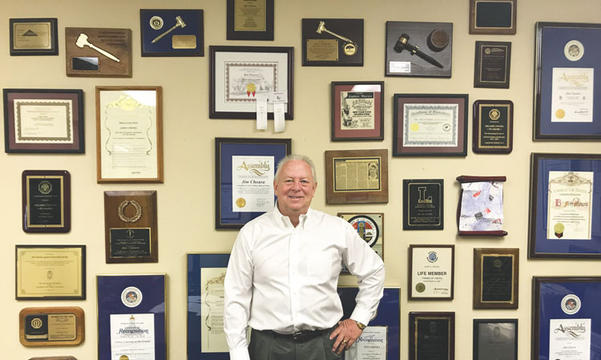 Jim Choura, founder and owner of Grand Food and Beverage, stands in front of a wall in his office that is covered floor to ceiling with awards he and his business have amassed over the years. Choura's company manages and operates The Grand Long Beach. (Photograph by the Business Journal's Samantha Mehlinger)
"My grandfather and my grandmother came here from Czechoslovakia in about 1913 and opened up meat markets in Chicago," Choura said, adding that his father grew up working in the family businesses. "One of their customers was Al Capone's brother."
Eventually, the Chouras decided to move to California for the weather, and opened up a meat market called McCoy's at Bellflower Boulevard and South Street. Choura grew up working in the business with his father. "I was the youngest journeyman meat cutter in the union in my senior year of high school," he noted. A local through and through, Choura attended all Long Beach schools – Mark Twain Elementary, Hoover Middle School, Lakewood High School, Long Beach City College and California State University, Long Beach.
In 1969, when Choura was a senior in college, he and his father opened up Galley Sandwich Shop at the traffic circle. "That was our first venture into restaurants," Choura said. The sandwich shop was an instant success, with lines out the door on day one, he recalled. "Today, if you ask 100 people, quite a few are going to remember that sandwich shop."
Catering opportunities organically sprung up from the success of Galley, eventually leading Choura to create a catering business under the same name. "It went fast – everything from weddings, private events, business open houses," he said. Galley catered the hospitality suites at the first-ever Grand Prix, managed catering and the gift shop at the Long Beach Airport for 12 years, and served as the in-house caterer for the El Dorado Golf Course, the Los Alamitos Joint Forces Training Base, seven resident care facilities and other locations for many years.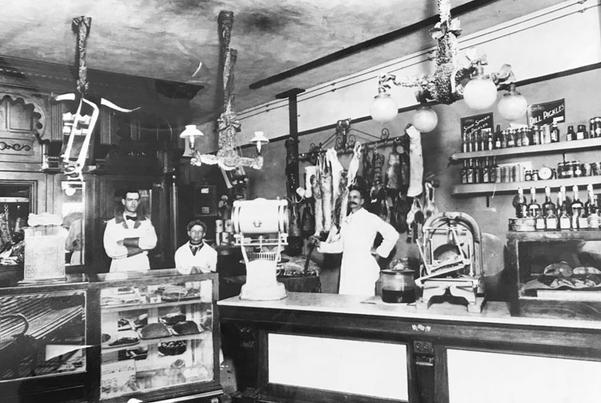 This vintage photograph, circa 1915, shows the interior of a meat market owned by Jim Choura's grandparents in the Chicago, Illinois area.
In 1997, local businessman and property owner Don Temple came to Choura with an opportunity. What is now The Grand was at the time an aging Elks Lodge owned by Temple, who asked Choura to step in and convert it into a banquet center to be managed by Galley. "What we [now] call the Monarch Room was a racquet ball court," Choura recalled. "The Pacific Room was a card room that just stunk of cigarettes and all that. The Catalina Room was where the secret meetings took place. It was actually an auditorium with seats in it," he said. The Garden Room was a restaurant.
Choura undertook the task of renovating the building to accommodate banquets and events, calling it a dream opportunity for a caterer. "A caterer would love to have a banquet facility because . . . you're not working out of a van anymore," he said.
Choura's son Ryan joined the business after graduating from Biola University, and, like his father, ended up becoming an entrepreneur himself. "He worked here for like 10 years and became general manager. He was running The Grand and increased business greatly," Choura said. The two eventually started a separate rental company for events, which Ryan now owns and operates as Choura Events. "He is doing all the tents at Coachella [Valley Music and Arts Festival]. It is like the second largest tenting job in California," Choura noted.
About three years ago, Choura rebranded Galley as Grand Food & Beverage. When conducting market research, Choura said he discovered that other catering companies often have very extensive menus with generic offerings. "We want to have a catering company that is so unique we don't have a menu," he said, explaining that the company works with clients to create unique menus for each event. "It has been really successful."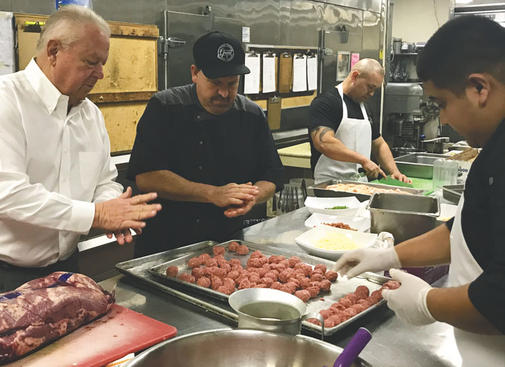 Jim Choura, owner of Grand Food & Beverage, rolls meatballs with cooks and kitchen staff at the event venue he manages, The Grand Long Beach. Choura started his long career in the food industry as a meat cutter in high school. (Photograph by the Business Journal's Samantha Mehlinger)
This year, each of the Grand's rooms are receiving cosmetic and technology upgrades. Plus, the Grand is launching a new program for nonprofits. "Our owner, Sumer Temple, and her family have joined hands with us to offer to nonprofits special pricing and special accommodations," Choura said.
Choura is committed to giving back to the communities he serves, which include both Long Beach and Carson, where Grand Food & Beverage manages catering at The Carson Center. Choura has served on the Long Beach Unified School District Board of Education and is a former chair of the board of Community Hospital. He is one of the founding members of the Long Beach Education Foundation, and currently serves on multiple boards, including those of ChildNet, Musical Theatre West, Executives Association of Long Beach and the Boys and Girls Club of Carson.
Asked what some of his favorite memories of events are from his years working in Long Beach, Choura chuckled. "That's like asking an author what is his favorite book," he said. "You have custody of their memories. And the responsibility that goes with that, all the way down to clean, shiny glasses and silverware – just every little detail that we can stay on top of, that's the most memorable when you think about it," he reflected. "Since 1969, I could have married your parents. I could have done your first birthday. I could have done your graduation from high school. . . . It's just huge when you think about it in those terms."