The JetBlue Long Beach Marathon & Half Marathon is still going strong after more than three decades returning to Long Beach's streets and beaches. Now in its 33rd year, the event's success is evident in the investment of new ownership. Plus, its title sponsor, JetBlue Airways, has just entered into negotiations to stay on as a sponsor in years to come.
Long Beach Marathon's longtime operator, RUN Racing, was bought out by Motiv, a company that puts on 28 marathons and races in the United States and several others in Australia and the United Kingdom. RUN Racing's founder, Olympian Bob Seagren, retains partial ownership as a shareholder and continues to function as the local leadership behind the Long Beach Marathon.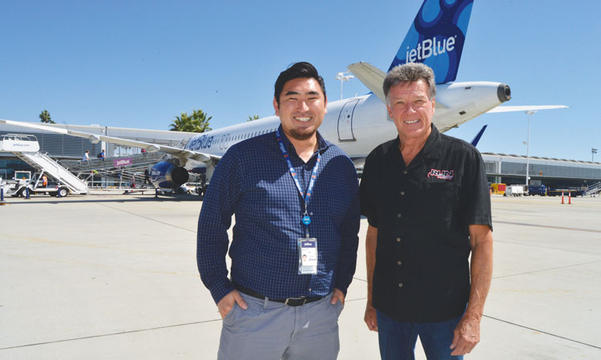 Jace Hieda, left, communications manager of the JetBlue Airways' west and central regions, is pictured with former Olympian Bob Seagren at the Long Beach Airport. Seagren's company, RUN Racing, was purchased by Colorado-based Motiv, which operates 28 marathons in the U.S. Seagren and his team continue to oversee the JetBlue Long Beach Marathon & Half Marathon. (Photograph by the Long Beach Business Journal's Larry Duncan)
"It's worth mentioning that from the title sponsor's perspective, the business structure change has really been transparent to JetBlue," Jace Hieda, communications manager of the airline's west and central regions, said in an interview with the Business Journal that included Seagren. "The marathon is operated well, and we expect nothing less than the same. The same team is at the helm, and it continues to be fantastic to work with them." He added, "What this means for us as a sponsor is a larger audience, at the end of the day."
Locally, Motiv also owns the Surf City Marathon in Huntington Beach and the Malibu Triathlon. According to Seagren, Motiv is among the top few running industry companies in the world. "If you take all of our events worldwide now, we're closing in on 200,000 finishers annually," Seagren said. "It's a significant number of runners that we reach."
The Long Beach Marathon is one of Motiv's largest events, with an expected 18,000 participants during the course of the October 6-8 weekend. Activities include the marathon, the half marathon, the Aquarium of the Pacific 5K and 1-Mile Kids Fun Run, and a 20-mile bike tour.
JetBlue's three-year contract as title sponsor runs out this year, but Hieda said he hopes to reach a new agreement to continue the partnership with Motiv. "The relationship and exposure and needs that this fulfills for JetBlue are the same this year as what we are talking about for years to come," he said. "We hope to announce by the marathon that we are coming back. But at this point, we're currently in negotiations with Motiv."
Seagren noted that the marathon's longest title sponsor, International City Bank, was a wonderful local supporter for many years. "But International City Bank is very local. Part of my goal was always to bring in a national brand, which gives us a lot more recognition, and also I think it's a little more credibility to have a national brand behind you," he said. "I think it really validated that we put on a very good event and it was good enough to attract JetBlue as a title sponsor. . . . I am very happy, and hopefully we will keep them around for a long time."
Hieda referred to the Long Beach Marathon and the Boston Marathon, which JetBlue also sponsors, as the airline's mainstay sponsorship events. "It's a great event. It has such a great build to the October race weekend," Hieda said of the Long Beach Marathon. He noted that JetBlue is the largest air carrier operating out of Long Beach Airport and that the marathon provides visibility in the local market.
Seagren said this year's event will remain consistent with those in recent years, with the same event maps and the annual Health & Fitness Expo continuing on strong with about 115 vendors. The expo features many industry vendors selling products and operating giveaways, he noted.
"I love the expo," Hieda said. JetBlue ramps up its presence at the expo every year. "This year, we want to take a slightly different angle and just have fun. We are partnering with a company called OM Digital. . . . We are basically going to bring in a 360-degree slo-mo video booth to the expo floor," he explained.
Having souvenirs to bring home from events is important to participants, Hieda said. "Expo attendees will be able to take this 360-degree video of themselves. . . . Our partner slows it down, packages it up, and in a minute or less you can e-mail it to yourself and share it online," he explained. "We're tying that in with a giveaway of tickets too."
A major part of the marathon weekend is the impact it makes on local nonprofit organizations and communities through its charitable giving options for participants. "We started a charity program at least 12 to 14 years ago now," Seagren said. "We empower charities to use our event to raise money for their particular charity. And we like to have as many Long Beach-based charities as we can, but we also bring in national charities."
The marathon and its participants raise between $250,000 to $350,000 for charities each year. "It is amazing, the amount of dollars raised just through marathons on an annual basis," Seagren said.
JetBlue's mission is to "inspire humanity." Each year, the airline does something different to give back and inspire. "With the JetBlue Long Beach Marathon specifically, the first year we made the donation for every mile run. Last year, we had a partnership with an organization called Blind Start, where our crewmembers helped folks who had vision impairments run marathons," Hieda said.
"This year, we have partnered with the Orange County Rescue Mission and an organization called Up and Running Again," Hieda said. "Two of our crew members are participating as coaches of a team of 40 individuals that are either homeless or destitute or just otherwise displaced." JetBlue funded these individuals' entry fees, he noted.
Both Hieda and Seagren look forward to standing at the start and finish line every year to support participants. "It's so fun to stand at the finish line. You see when these people finish that it's a life changing experience for a lot of people. I mean, some of them just break down in sobs that they couldn't believe they did it," Seagren said.
"A lot of them bring so many different stories to the start line as well," Hieda chimed in. "I think last year we had a proposal."
About 70 JetBlue crew members representing 22 JetBlue cities are participating in the marathon. Overall, the marathon typically draws participants from every state and as many as a dozen countries, Seagren noted.
Hieda's last thought was a wish for the weekend's participants: "To the runners and to our participants, a great run as always and a great experience."