From experiential marketing firms to website designers, public relations agencies, startups, architects and more, creative sector companies are becoming a growing force in Downtown Long Beach. These firms are investing in the downtown area, renovating office and retail buildings, hiring local talent, and spending with local businesses.
A sign of the growth of this sector came when WeWork, an international provider of workspace with locations in 13 countries, recently opened its new creative space in The Hubb, an office complex at the southwest corner of Pine Avenue and Broadway. The company completely gutted 33,000 square feet of office space on the third and fourth floors of the building, and opened the doors to the third floor in early December.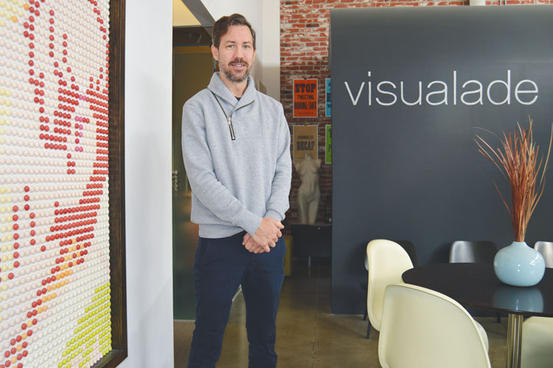 Jesse Dean is the owner and founder of Visualade, a creative sector firm specializing in website and business management applications. Dean is a downtown resident, and opened his office at 405 Pine Ave. in part because of his passion for downtown. (Photograph by the Business Journal's Larry Duncan)
The industrial, contemporary-style facility offers offices to rent on monthly payment plans or longer, ranging from one-person setups to an office large enough for 100 employees. Basic membership gets you access to WeWork's common workspace, built-in pantry and kitchen (complete with free coffee and beer on tap) and access to any of WeWork's offices worldwide.
Lexey Radcliff, senior community manager for WeWork's Southern California locations, said the company was drawn to Downtown Long Beach because of its location and its unique place in the Southern California market. The creative sector here, she said, is growing. "More people and businesses are coming down here because it's less expensive, and also, what's not to love? It's a beautiful downtown area right next to the beach," she said while giving the Business Journal a tour of the third floor with her colleague, Sam Stevens, community manager of the Long Beach location.
Stevens pointed out that the city is working on initiatives to grow the creative sector and to encourage startup companies by streamlining business licensing processes. About 30% to 40% of WeWork members are startups, the two noted. Many of these are within the creative sector – PR, marketing, advertising and media companies are common members, according to Radcliff.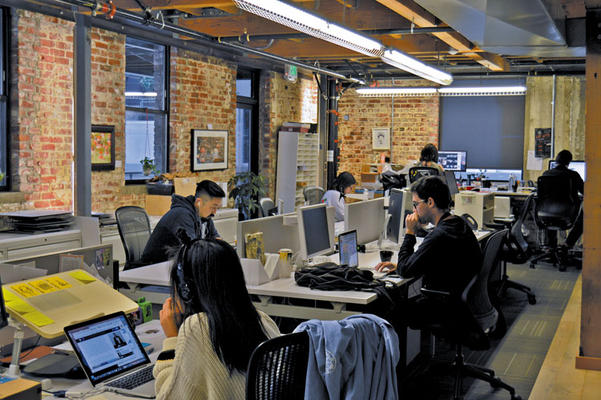 The creative offices of Intertrend and Imprint Venture Lab are in one  of the oldest (built in 1905) commercial buildings in Downtown Long Beach, known by locals as the Psychic Temple. The building features exposed brick and open ceilings. (Photograph by the Business Journal's Larry Duncan)
"We are right on the water, and there is not a whole lot of available real estate anywhere up and down the West Coast. Long Beach happens to be kind of the hidden gem," Stevens said. Radcliff chimed in, "We think there is going to be a lot of growth in Long Beach for the next couple of years."
Julia Huang, CEO of marketing firm Intertrend and creative-startup funder Imprint Venture Labs, told the Business Journal that recent investments in downtown by WeWork and architecture and design firms Retail Design Collaborative and Studio One Eleven will attract other creative businesses and entrepreneurs to the area.
"It's really exciting for us because creative people and creative services kind of rub off on each other. And the fact that there are going to be so many of the same kinds of businesses thinking about innovation and thinking about creativity is great," Huang said.
Huang's offices are located in one of the oldest commercial buildings in Long Beach, at 228 E. Broadway, a building known as the Psychic Temple. After purchasing and restoring the property, her firms moved in to the building, which features open creative office space, in June 2015.
"We are on the street level," Huang said. "You kind of feel the atmosphere changing, and all the businesses and the residents around this area kind of responding to that change of atmosphere. And it's just wonderful."
A lifestyle balance of work, live and play is integrated into Huang's business culture, she said. "We were originally [considering] whether or not to build a fitness center within our building, but then we found that there are so many great fitness businesses around downtown, like Groundwork [Fitness], Olive Yoga and KP Pilates," Huang said. So her firm created a program for employees to work out at local fitness businesses at a discount, thereby encouraging an active lifestyle while investing in the local community, she explained.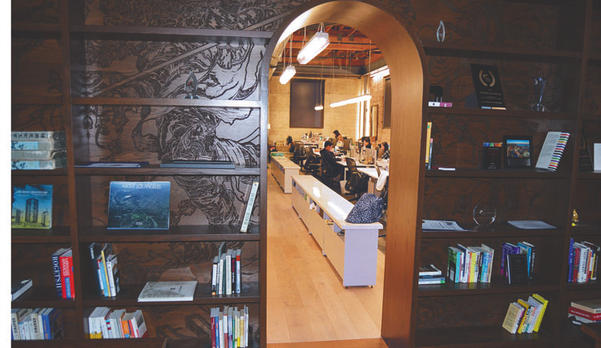 Inside the Psychic Temple (Photograph by the Business Journal's Larry Duncan)
"It's a trajectory. We already see a lot of small creative shops popping up around," Huang said. "That is just going to bring more creativity and more creative services and people to the city. And we have great restaurants, coffee shops and bakeries and all that to sustain that."
Visualade, an interactive agency specializing in websites and business management applications, originally opened its doors in the Kress building on Pine Avenue in 2001, according to owner Jesse Dean. He relocated the business to the city's Zaferia district on East Anaheim Street in 2004 when the business became more brand development oriented and needed more space. But he ultimately moved Visualade back to downtown in 2008. The creative firm is currently housed on the ground floor of the Walker Building at 405 Pine Ave.
"I have a vested interest in downtown," Dean said, adding that he lives in a loft less than a block away from his office. When he moved back to downtown in 2008, he said, "I got really tired of seeing all these open buildings and office spaces in downtown. And I said to myself, 'There has got to be a way for Visualade to occupy one of these spaces.'" Dean said he makes an effort to hire Long Beach locals and students from California State University, Long Beach.
While Dean said growth in the downtown creative sector has had its ups and downs, the overall trajectory is toward growth. "I think right now is the best I've seen it the entire time I have lived here. I like what I'm seeing, and I like the progress that's being made," he said. "I feel like we have a strong and vibrant creative community, not only with our freelance talent pool that exists in the area but also with some local firms I am friends with in the area, like JLOOP," he said, referencing a creative web, app and software firm in the East Village Arts District.
SET Creative, an international brand experience agency, opened an office in Downtown Long Beach several years ago partially due to the advocacy of Israel Kandarian, the office's executive creative director. The firm has a creative office space at 130 Pine Ave.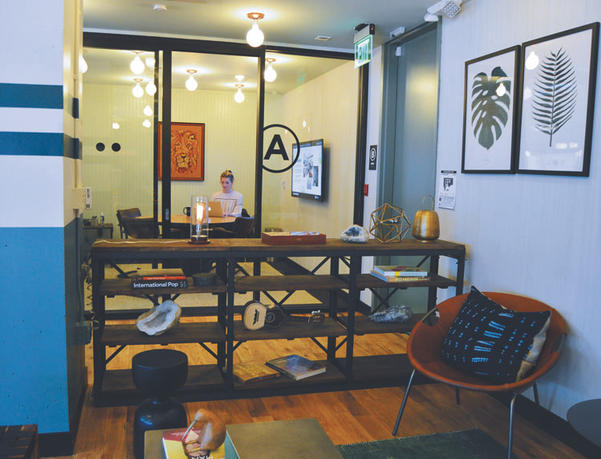 The common space at WeWork's new Downtown Long Beach digs is available for any WeWork member to use. It includes booths, desks and tables, and a built in pantry complete with a coffee bar and beer on tap. (Photograph by the Business Journal's Larry Duncan)
"I personally moved to Long Beach in 2010 very strategically," Kandarian said. "So when we were looking at our clients that we had and wanted to go after, as I was talking to SET I explained why I personally moved to Long Beach. I said [that it has] proximity to Los Angeles and . . . to Orange County," he said. "I also highlighted the fact that the Long Beach Airport has nonstop flights to a lot of the cities where our blue-chip, key clients are based." Plus, SET Creative has clients at Douglas Park, a growing business park adjacent to the airport, he noted.
Being located on Pine Avenue is also beneficial for employees. "We're right here on Pine Avenue. So proximity to The Federal Bar and BO-beau, even down to The Pike for some good old-fashioned fun, we absolutely take advantage [of that]," Kandarian said. "I think George's Greek Cafe might be our official lunch spot."
Kandarian said he likes that Downtown Long Beach has "an edge" to it and has not been completely gentrified like other beach cities. "I feel like Long Beach is an up-and-coming city that has that blue-collar, working-class, we-get-things-done spirit. And I love that," he reflected.
Zwift, a technology firm that has created a digital platform for cyclists to explore, ride and compete with others, opened an office at Shoreline Square on Ocean Boulevard within the past year or so. Scott Barger, founder of the company, told the Business Journal that Downtown Long Beach was chosen for its convenient proximity to Los Angeles and Orange counties, as well as its "competitive pricing and cool arts district."