Spring has arrived and, with it, the distant roar of engines. An institution that dates back nearly half a century, the 2019 Acura Grand Prix of Long Beach runs April 12 through 14 – and for the first time in 39 years, with a new title sponsor. Honda luxury and performance brand Acura has succeeded Toyota to become the leading partner with the Grand Prix Association of Long Beach, the organization that puts on the event. When association President and CEO Jim Michaelian announced the title sponsorship in early February, he declared 2019 to be the start of a "new era" for the United States' longest-running street race.
Acura's involvement has kicked off that new era, Michaelian told the Business Journal. "Quite frankly, we couldn't be happier with the way this thing has evolved," he said. "It really is an entirely new feeling, with regard to how we work together, how we achieve things." He called the process "invigorating" for his organization.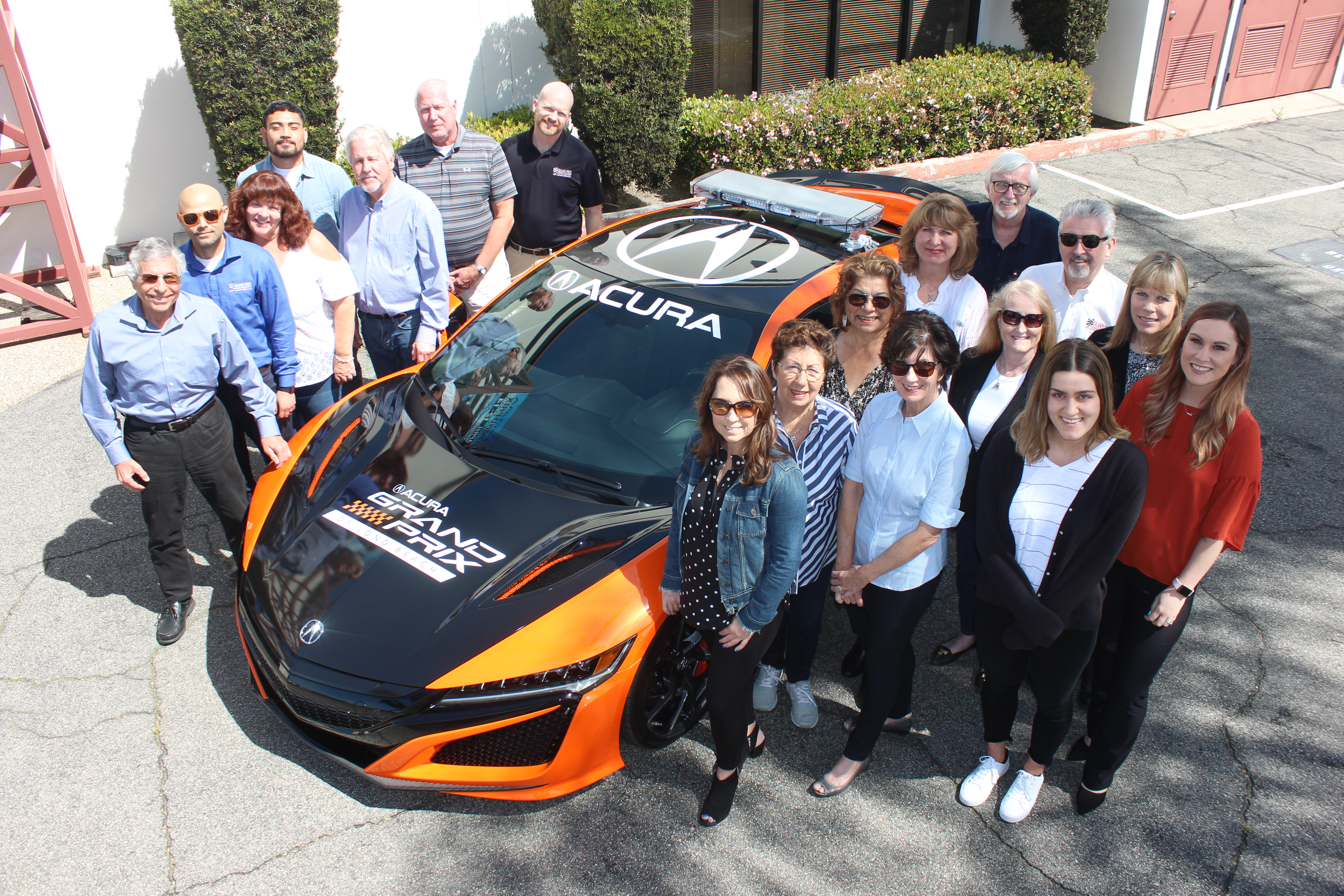 That Acura and its parent company Honda have participated in the Grand Prix of Long Beach, and that Honda has won more races at the event than any other automaker, were major deciding factors in obtaining their sponsorship, Michaelian said. By his estimation, the Grand Prix Association gave presentations to at least 16 different companies, both automotive and non-automotive, after Toyota ended its sponsorship in 2018. Few had either the financial capability or understanding of the event that made for a good match.
In a typical year, planning for the next Grand Prix begins in July or August, Michaelian explained. With the Acura title announcement occurring in February, just two months out from the race, the opportunities for advertising were more truncated than normal. Yet, Acura dealers began running commercials in March. "That stuff turned around in less than 30 days," Michaelian said. "I dare say there's virtually few, if any, companies around that would have had not only the resources but the inclination to activate that quickly around a program like that. . . . They have so far turned out to be an ideal partner."
The proximity of Acura's headquarters to Long Beach was another key factor in their decision, Michaelian continued. Located in Torrance, the company is just a short drive from the Grand Prix Association's office, allowing for fast and easy communication. "You couldn't do that with a company that's located in Chicago or in New York or anyplace else," Michaelian said. And, by being positioned nearby, Acura has a unique understanding of the event's local impact. Last year, Grand Prix weekend drew 185,000 people to the Long Beach area.
Ticket sales leading up to this year's event have matched 2018's, Michaelian said. "We're just a slight bit ahead of where we were last year, so that's a good sign."
A number of community events and festivities are planned for the days leading up to the big race weekend. On April 10, "Roar in the Shore" takes place on 2nd Street in Belmont Shore, with live music and classic car displays. The Long Beach Motorsports Walk of Fame Induction Ceremony and Thursday Thunder at the Pike Outlets are scheduled for April 11 and are free to the public. The latter features freestyle motocross and IndyCar pit stop demonstrations, among other activities.
On the first day of race weekend, Friday, April 12, practice and qualifying races are held. Six racing events are slated for Saturday and Sunday: the BUBBA Burger Sports Car Grand Prix, the Motegi Racing Super Drift Challenge, the Stadium Super Trucks Race, the Pirelli GT4 America, the Historic International Motor Sports Association (IMSA) GTO Challenge, and the featured NTT IndyCar Series event. Each race is meant to appeal to different tastes and demographics, Michaelian said.
The GTO challenge, for example, was selected to celebrate the 50th anniversary of IMSA with classic muscle cars. "Camaros, Corvettes, Mustangs, Berettas, Nissan 300ZX, all those kinds of cars," Michaelian said. "You're not going to hear anything like that all weekend long. But when you hear them, you're going to go, 'Whoa!'"
On Saturday and Sunday, Robby Gordon's 600-horsepower super trucks will launch themselves into the air from temporary ramps placed across the racetrack. "Everybody loves the trucks. Kids, women, men, doesn't matter," Michaelian said. "People just flock to the fence to watch them pirouetting over those jumps."
When it comes to the main event, Michaelian namechecked two IndyCar drivers to watch this year, rookies Patricio O'Ward and Colton Herta. "In terms of where IndyCar is nowadays, those two rookies are beginning to really draw some significant interest," he said.
Hailing from Monterrey, Mexico, O'Ward was the 2018 Indy Lights Champion and will be racing the No. 31 car for the Carlin team. Herta, driving the No. 88 car for Harding Steinbrenner Racing, is the son of IndyCar driver Bryan Herta and the grandson of Thomas Herta, one of the first investors in the Grand Prix Association of Long Beach in 1975. Colton Herta comes to the Grand Prix fresh off his March 24 win at the IndyCar Classic, which occurred just a week before his 19th birthday. "He's the youngest winner of an IndyCar race in history," Michaelian said.
Mexican rock band El Tri is returning for its third Grand Prix appearance as the headliner of the Fiesta Friday Concert. Saturday's concert features Moontower and is headlined by indie rock band Cold War Kids.
"Acura came in here and assisted us in getting Cold War Kids," Michaelian said. He added that this was the first time a title sponsor participated in the process. "It was always our deal; we went out and did it. But [Acura] came on and said, 'You know, let's talk about who we all want to attract to the event,'" he explained, referring to Saturday's concert.
Whether a visitor prefers super trucks, drifting, muscle cars or IndyCar racing, or just the chance to grab an autograph from a favorite driver, Michaelian said that the goal of his association is to put on a great show for everone. "As long as in the end they walk away and say, 'You know what? I had a great time,' that's a winner, as far as we're concerned."
This year's IndyCar series race is set for an exclusive broadcast by NBC with retired driver Danica Patrick as co-anchor, Michaelian said. The beauty of holding the race in the City of Long Beach, he went on, is the opportunity to show off the growth of the downtown area. "They have to cover the whole area with their cameras, because that's where the race takes place. It's an outdoor event in a very attractive venue. So, when people are viewing it and they see, year after year, the high rises that are going up . . . that's all beneficial to us, because it says, this event is taking place in a dynamic, burgeoning city."