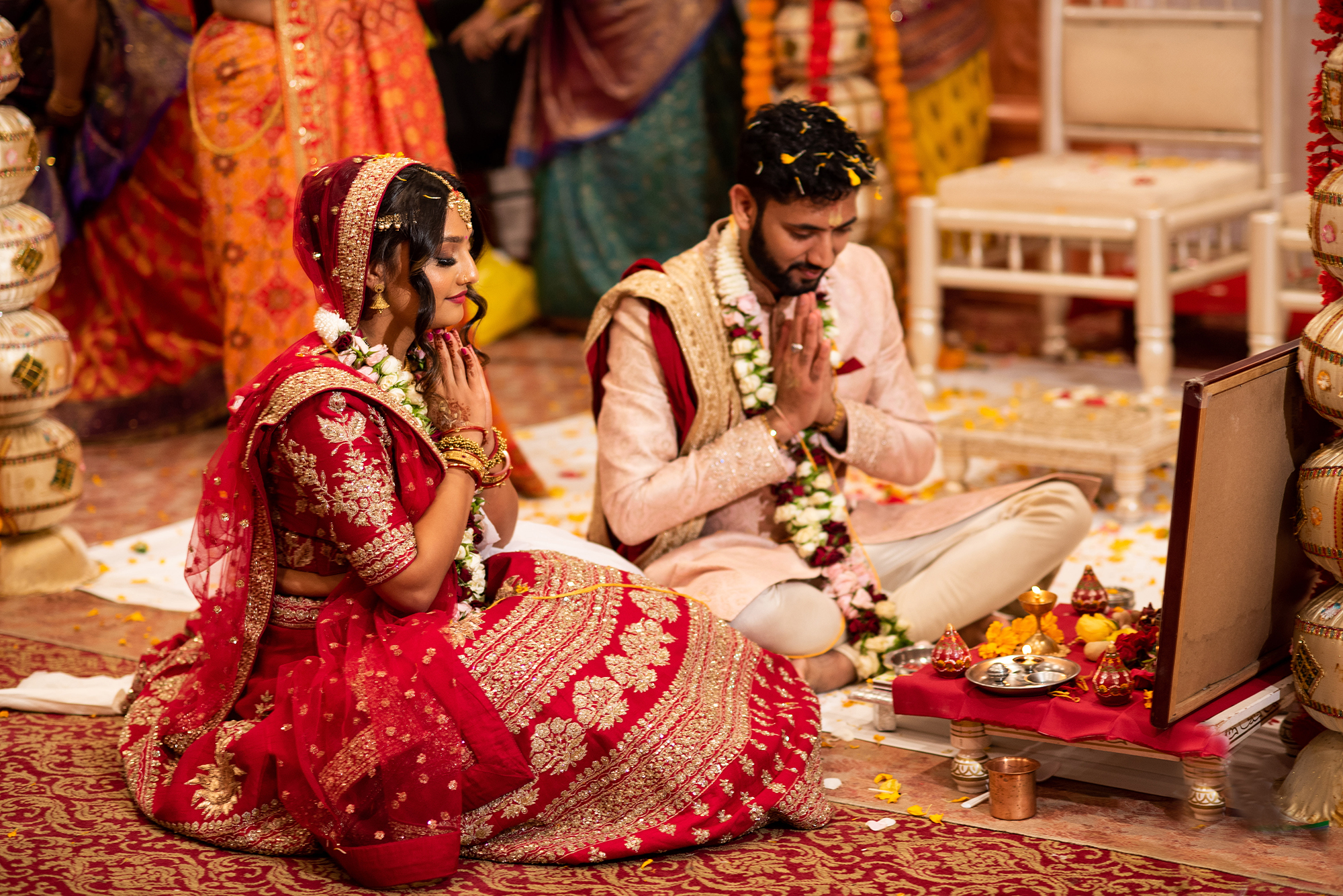 When Nitasha and Jalpen Patel began planning their wedding in January of 2020, they had their sights set on celebrating in their families' home state of Gujarat, located on India's northwestern coast. As is traditional for Hindu weddings, it was going to be a massive event, with roughly 1,500 guests expected to attend.
But, like many other couples, the Patels had to drastically change their plans when the coronavirus swept the world just a few months later.
The ceremony, normally a multi-day event involving rituals performed by uncles, aunts and other relatives to celebrate the union of two families, had to be toned down, in part because not all family members would be able to attend.
"We were not able to do all the ceremonies we would normally do in an Indian wedding," Patel said. "We had to reduce—we basically did everything in half a day."
For followers of many religions, matrimony is an important stage in life, one that is celebrated and sanctioned by their religious institutions. Churches, temples and synagogues have had to make adjustments during the pandemic—and so have religious couples. Still, for some, a religious wedding was non-negotiable.
"We stress the importance of church weddings for the simple fact that they lay the base of a lot of other sacraments in the church," said Sam Christi, business manager of St. Barnabas Catholic Church in California Heights.
While weddings don't constitute a significant source of income for the church, Christi said they fill an important role in the spiritual journey of its members. "You are expected, as part of being a Catholic, to follow the Catholic ceremonies and all the rules and all the sacraments. Getting married in the church is one of them," he said.
But until recently, couples who wanted to get married in the church had to do so in an outside tent, set up after the state's public health department issued opening guidelines for houses of worship on July 29, 2020—not an ideal environment for a spiritual milestone, the church's pastor said.
"For me, as a priest, it's important to have the wedding in the sanctuary of the church, because it creates a sacred space," said Father Antony Gaspar.
Now that weddings in the interior of the church are possible again, requests for wedding ceremonies have begun to pick up. The church has also been performing blessings, a re-statement of vows in the church that allows couples to have the church wedding they were denied during the pandemic.
"They feel a sense of sacredness and holiness in the church," Gaspar said. "That the sense of solemnity was taken away in the tent."
In the Jewish faith, weddings generally take place outside of the sacred space of the synagogue.
Rabbi David Cantor, of Temple Beth Shalom in Bixby Knolls, said wedding requests have always been rare within his small congregation and he hasn't received any requests for post-pandemic ceremonies so far.
Anecdotally, however, Cantor said he's heard of couples who have made adjustments to the spiritual portion of their wedding as a result of the pandemic.
"Some people have delayed their weddings. Some people have chosen to have a secular wedding now," he said. "Life goes on, but the public celebration is being put on hold."
The Jewish faith did away with priesthood several thousand years ago, meaning that a rabbi isn't required to sanction the union between two people for them to be married. Most couples, however, opt to have a rabbi present to guide them through the ceremony, Cantor noted.
"I'm just there to make sure that they marry each other correctly," Cantor said about the rabbi's role at Jewish weddings. "And I kinda feed them their lines," he added, smiling.
Still, Cantor said he enjoys officiating weddings and witnessing the union formed between two members of the faith. As a conservative rabbi, Cantor only officiates weddings for couples where both partners are Jewish.
"Everybody's happy at a wedding," he said. "It's not just a transaction, It's two people being best friends for life."
For Nitasha and Jalpen Patel, celebrating their union under the ceremonial guidance of a priest was non-negotiable, despite the many hurdles they faced in planning their wedding.
"The temple that I normally go to wasn't allowing ceremonies, so I had to find one that did," Nitasha Patel said.
"We always wanted a traditional Hindu ceremony—that's what felt would actually unite us," she added. "Doing it in a temple, we knew that God would be present there."