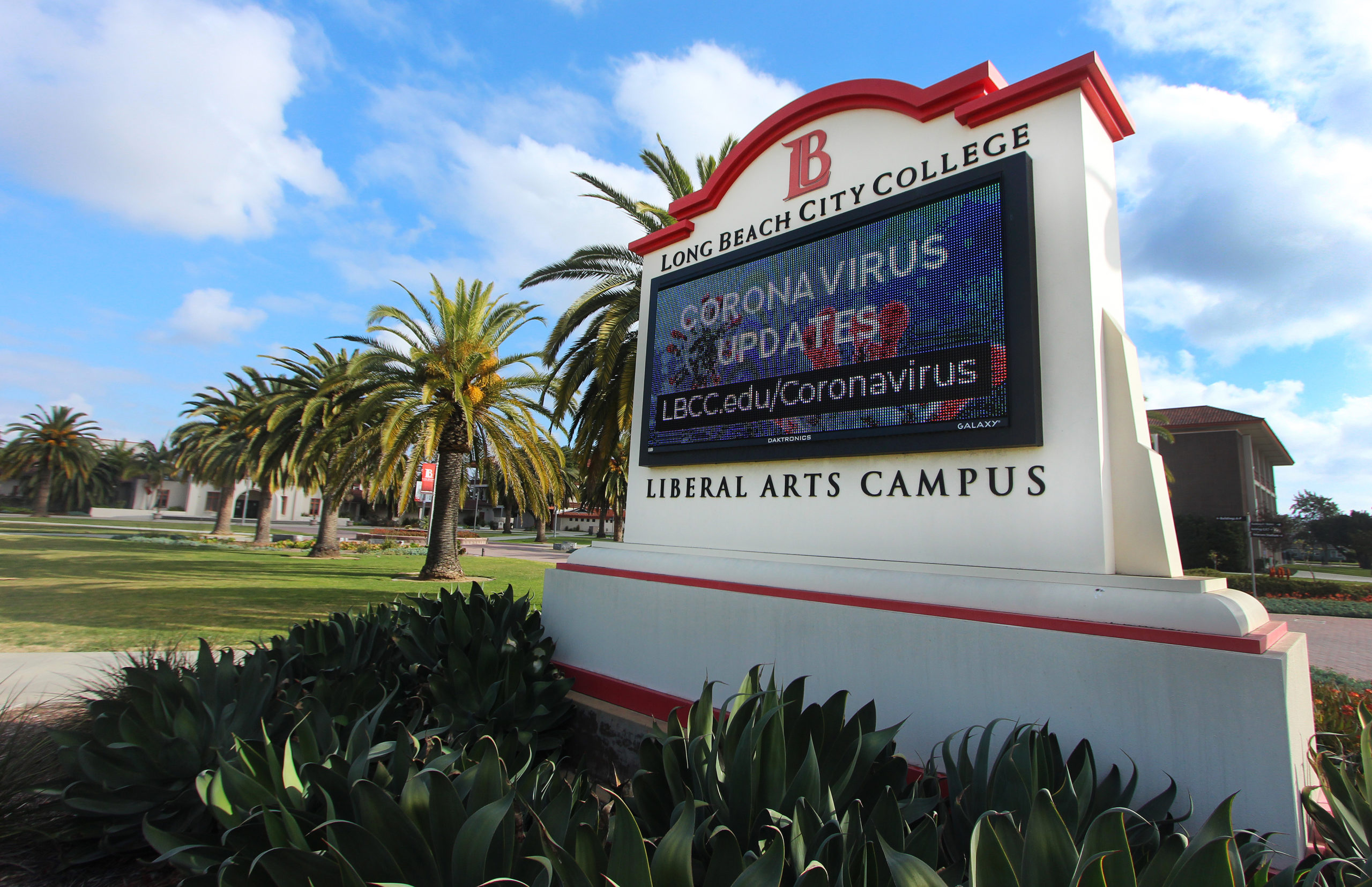 About 10% of on-campus students at Long Beach City College remain noncompliant with the school's COVID-19 vaccine mandate—and college officials are continuing to encourage vaccinations.
Even with the relatively high compliance rate, though, it appears COVID-19 is still impacting enrollment at the college.
A report presented to the Long Beach Community College District Board of Trustees on Wednesday night highlighted that just 1,045 of the 10,131 on-campus students (currently enrolled in in-person or hybrid classes) are out of compliance with the mandate, which required students to provide proof of vaccination or submit a successful exemption request prior to Jan. 24 to remain enrolled in in-person and hybrid classes.
The number is strikingly similar to LBBC employees, who currently maintain an 83% vaccination rate. While a large majority of management (92%), part-time faculty (91%) and full-time faculty (91%) have been vaccinated, other groups like exempt workers (67%) and classified hourly workers (53%) have brought the average for employees down.
The mandate, though, exempts outside vendors and visitors; they are allowed on campus if they show proof of a negative test and will exclusively remain outdoors while on campus.
That exemption was called into question on Wednesday by Trustee Sunny Zia, who pushed for a vaccine requirement for anyone on campus. Vice President of Business Services Marlene Drinkwine, though, explained some of the nuance behind the decision.
"When we looked at visitors, these could be spectators at outdoor sporting events or commencement exercises," Goodwine explained. "We didn't want to be more strict than what a public health order would be for indoor uses versus outdoor uses."
The 10% of students who have not fulfilled this requirement are barred from visiting the campus for any reason, including for any on-campus services or events. While many students who had not followed the mandate were immediately dropped from in-person and hybrid classes on Monday, 1,700 students have been able to re-enroll in classes with case management from LBCC.
The case management program began on Jan. 10 for students who were expected to not be in compliance with the mandate, though officials did not expand on how those students were identified. Those students, though, were supported by a "collaboration between counseling, student affairs, enrollment services, student equity, and leadership from (counselor) Dr. Erainia Freeman," Superintendent-President Mike Muñoz said, that helped provide students the knowledge and resources to submit their records and re-enroll or explore options that do not require a COVID-19 vaccination.
LBCC continues to work with students still in violation of the mandate to get them back in classes. The school began its case management program with 2,387 students, and the 1,700 that have re-enrolled after submitting vaccination records represented a significant portion of students in violation of the mandate.
"We're not just dropping them and leaving them alone. We are following up with those students to assure they have educational options at Long Beach City College," the college's Interim Vice President of Student Services Nohel Corral said.
These numbers come as LBCC continues extensive efforts to encourage vaccination, including $1,000 incentive payments to 2,285 students who met the timeline for the mandate, with an additional 428 students set to receive this incentive. The school has also conducted significant outreach, contacting over 2,800 students via text, email or phone to ensure awareness of the mandate.
The mandate, though, comes as enrollment numbers continue to drop as the pandemic lingers. General enrollment for the winter 2022 session was almost 9% lower than it was the year prior, which has resulted in a low fill rate for classes, particularly those requiring in-person attendance.
Just over 60% of classes requiring in-person attendance were filled for the winter 2022 session, compared to 81% for those conducted in an online-only format. The fill rate for classes overall is about 77%, but that number dipped dramatically from the 87% overall fill rate in winter 2021.
O. "Lee" Douglas, the vice president of academic affairs, said that a glaring reason for these lower numbers was an abnormally high number of dropped classes in the first few weeks of the session.
"I would imagine that some of the drops are in part likely due to the rise of omicron," Douglas said, "which happened to coincide with the first few weeks of our winter session."
While the spring semester of this year has seen only a slight decline in overall enrollment, the fill rates for classes overall show an even greater reluctance to attend classes in person.
Less than 55% of in-person only classes have been filled, and hybrid enrollment has about 64% of its classes filled for spring 2022. However, online-only class enrollment remains steady, sitting at 82.7%.
Douglas noted that enrollment numbers for the spring were improving slightly before the past week, when numbers dipped to lower than average levels. Douglas explained that this drop is directly connected to the cutting of low enrollment classes during that time frame, as well as drops initiated due to lack of compliance with the vaccine mandate.
Another update will be presented to the Board of Trustees at its Feb. 23 meeting.