Residential and commercial real estate markets are benefiting from job gains and wage growth, while industrial real estate remains hard to find throughout the region.
Like other major coastal cities, particularly those in California, Long Beach continues to experience constrained supply of residential properties for sale and high demand from buyers, which translates to price increases. In the commercial real estate sectors, the office market is showing improvement and the retail sector is lacking in some areas but has its bright spots, according to economists and real estate professionals.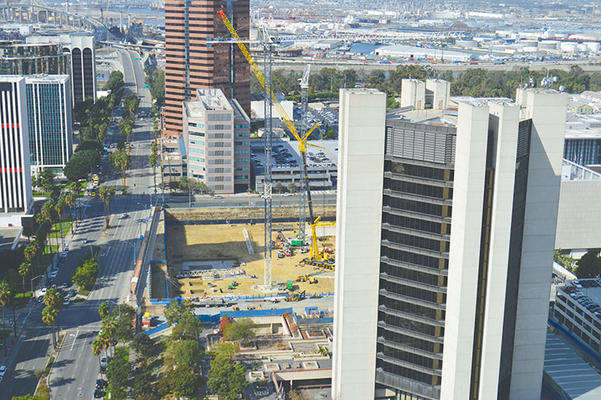 Just past the existing Long Beach City Hall tower, construction has begun on the new Long Beach Civic Center, which will include a new city hall, main library branch and port headquarters, plus multi-family residences, retail and possibly a hotel. (Photograph by the Business Journal's Larry Duncan)
"Coastal California markets in particular all have inventory constraints where we're just not seeing that inventory come back up," Skylar Olsen, senior economist for Zillow, told the Business Journal. "It used to be a story of underwater homeowners couldn't sell their homes, and that's why inventory was low," she observed. Now, though, it seems would-be sellers are hanging on to their properties either because they're hoping sales prices will continue to appreciate or because it's too hard for them to find other properties to move into.
Year over year, the median sales price of single-family homes in Long Beach has appreciated by 6.9%, Olsen said. By comparison, the median sales price of homes in the City of Los Angeles increased by about 10%. "We do expect homebuying to slow down as home values increase and keep pushing against affordability in terms of what one needs to save for a down payment," she said.
The median age of homebuyers in the United States is 33 years old, the older demographic of the Millennial generation, according to Olsen. "Millennials are aging. They are finally reaching those major life events that will precipitate homeownership," Olsen said. "They tend to be a little bit more urban than older generations, but they too are still looking for the traditional single-family home with space."
Sales transactions have decreased in recent months, according to Robert Kleinhenz, economist and executive director of research for Los Angeles-based Beacon Economics. Increasing home prices and strict lending standards may be partially behind lagging sales, in addition to low inventory, he said.
"Homeownership rates for the state, as well as for the nation, are at 50-year lows," Kleinhenz noted. "So we're dealing with repercussions from the Great Recession and the housing downturn in that homeownership has not yet picked up." As a result, many people are renting. In the City of Long Beach, as much as 61% of households occupy rental properties, according to a recent report by Beacon Economics.
Pressure on the rental markets has led to consistently increasing rents since 2011, according to the report. Rents have increased by 5.8% from the second quarter of 2015 to the second quarter of 2016.
With high occupancy rates of multi-family units and increasing rents, local real estate professionals report that the demand to buy these properties is high. But because property owners are earning good returns on investment, they aren't as motivated to sell, resulting in low inventory. One local agent, Eric Christopher, described multi-family market dynamics as "the same song we've been singing for some time now:" high demand, low inventory, rising prices.
To accommodate demand for rental housing, there is a "huge boom" of building in that sector nationwide, Olsen said. In Long Beach, there are several new apartment buildings underway or planned in the downtown area, with new ones announced seemingly every other month. One indication of strong demand is that the developer of the 35-story luxury high-rise apartment tower adjacent to The Current recently petitioned the city to add 94 units to the project.
Petra Durnin, the Southern California director of research and analysis for CBRE Inc., wrote in an e-mail to the Business Journal, "New developments in Downtown Long Beach like The Current and the recently announced Oceanaire provide a strong indication that the renaissance is well underway." Oceanaire is a seven-story, 216-unit multi-family project planned at 150 W. Ocean Blvd. by developer Lennar.
The Long Beach industrial market is also experiencing new construction, with a new three-building addition to Sares-Regis' Douglas Park. The industrial market in Long Beach and the South Bay is very tight, with about 1% vacancy or lower, according to Kleinhenz.
In this area, "industrial [real estate] has long been recognized as having very low vacancy and benefitting from both the ports of Long Beach and Los Angeles," Damon Wyler, regional manager at the Long Beach office of Marcus & Millichap, said. That sector is becoming an increasing point of focus for his firm, he noted.
The slowest real estate sector to recover from the Great Recession has been the office market, but it is now showing signs of improvement. "We are seeing occupancy levels increasing. We're seeing Class B downtown office space at 90%, which is the highest it has been in recent memory," Wyler said. "And we are also seeing an increase in rents. There are a number of reasons for that, but most importantly it's jobs."
According to Cushman & Wakefield, overall vacancy in the Long Beach office market is about 15%.
"Vacancy rates [of office space] are lower. And it appears as though in the South Bay region, which includes Long Beach, the vacancy rates are falling more quickly than in the county as a whole," Kleinhenz said.
"Long Beach is really a tale of two markets," Durnin wrote, referring to the local office sector. "Over the past few years fundamentals have strengthened significantly in suburban Long Beach, primarily because of proximity to the 405 Freeway and expansion of larger tenants already in the market," she continued. "The longer outlook for downtown is bright due to high levels of commercial investment, tenant expansions and older product conversions in the market that will greatly improve the long-term demand for office space as supply diminishes."
While local real estate agents report new businesses moving into office space as part of the reason for the decline in vacancy, another cause has been the removal of some office buildings from the market. Buildings like the Ocean Center Building at 110 W. Ocean Blvd. and the Security Pacific National Bank building at 110 Pine Ave. are both set to be converted from office to residential.
Job gains, too, play into increasing occupancy of office space – and into increasing retail sales activity, according to Kleinhenz. "With the unemployment rate in Long Beach as a whole as low as it has been in years and, corresponding to that, you've got household incomes on the rise and firms are doing better – all of these are the fundamental drivers of retail sales activity," he said. "So one would expect to see that new retail establishments, including eating and drinking establishments, will continue to open up around the city."
Long Beach's retail real estate sector is "still in transition," Wyler said. Some bright spots include Retro Row, Pine Avenue and the revamped The Pike Outlets, he noted. "I think that we still have a little ways to go to see how successful they are," he said.
While Durnin acknowledged that the city's retail market was "mildly affected by the recession," she had mostly positive things to say about its current state and outlook. "Long Beach has often been described as the Brooklyn of Los Angeles, with emerging markets that attract young Millennials and creatives and an eclectic group of retail tenants that have targeted Long Beach's 18.7-million-square-foot retail market," she wrote. "Long Beach is a mecca for hip restaurants with numerous wildly popular dive bars along with craft cocktail taverns. Vintage shops and boutiques have also targeted the city, along with all major credit tenants."
Plus, Durnin pointed out, "Long Beach Towne Center is the second largest non-mall center in SoCal at 1.3 million square feet, with an occupancy that hasn't dipped below 96% in 10 years."
Overall, "we are trailing Downtown Los Angeles as far as urban core renaissance and revitalization. However, in the past few years we have seen a tremendous surge in revitalization activity," Wyler said. "Long Beach is probably one of the best positioned submarkets in the Greater Los Angeles area."