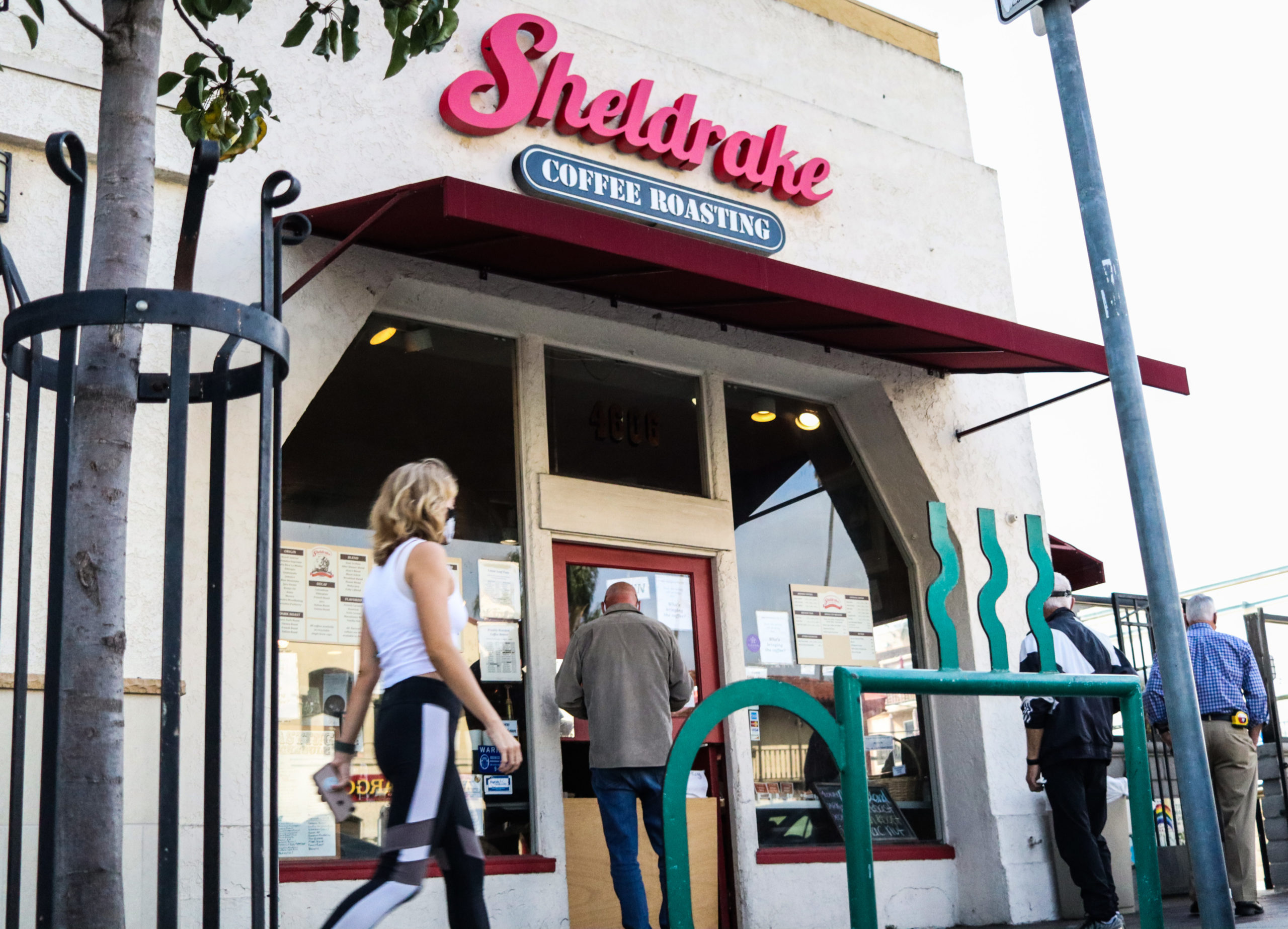 Over the weekend, new signage for Sheldrake Coffee Roasting went up, replacing the Polly's logo that has graced the Belmont Shore coffeehouse for more than four decades.
In 1963, Mike Sheldrake began working at a Kentucky Fried Chicken franchise. The owners of the chicken joint went on to open the first Polly's Pies Restaurant and Bakery, bringing Sheldrake along.
"At the time, they were getting their coffee from The Coffee Bean & Tea Leaf. When that relationship dissolved, they wanted to control their coffee from bean to cup," Sheldrake said. "Since I was the resident coffee fanatic, they assigned me to research and open a specialty coffee store."
Polly's Gourmet Coffee opened its doors in 1976 with Sheldrake at the helm, who operated the business for the Polly's owners until 1989 when he bought them out. For the last 31 years, Sheldrake said people have continued to associate his coffee roasting operation as an arm of the local pie empire and not the independent coffeehouse it is (though, he still sells his fresh coffee to Polly's when the restaurants aren't shut down by global pandemics).
The brand change was announced Oct. 1 but has been implemented in stages to slowly phase out the Polly's name, Sheldrake explained. First a small sign went up in the window, then coffee cup sleeves were updated and now the new signage adorns the facade.
The new logo has the feel of a historic company, even older than the 44-year-old coffee roaster. The black and white image of a man beside coffee-roasting equipment filled with beans—an image Sheldrake had created back in 2012—is meant to convey that roasting is a craft done by artisans, Sheldrake said.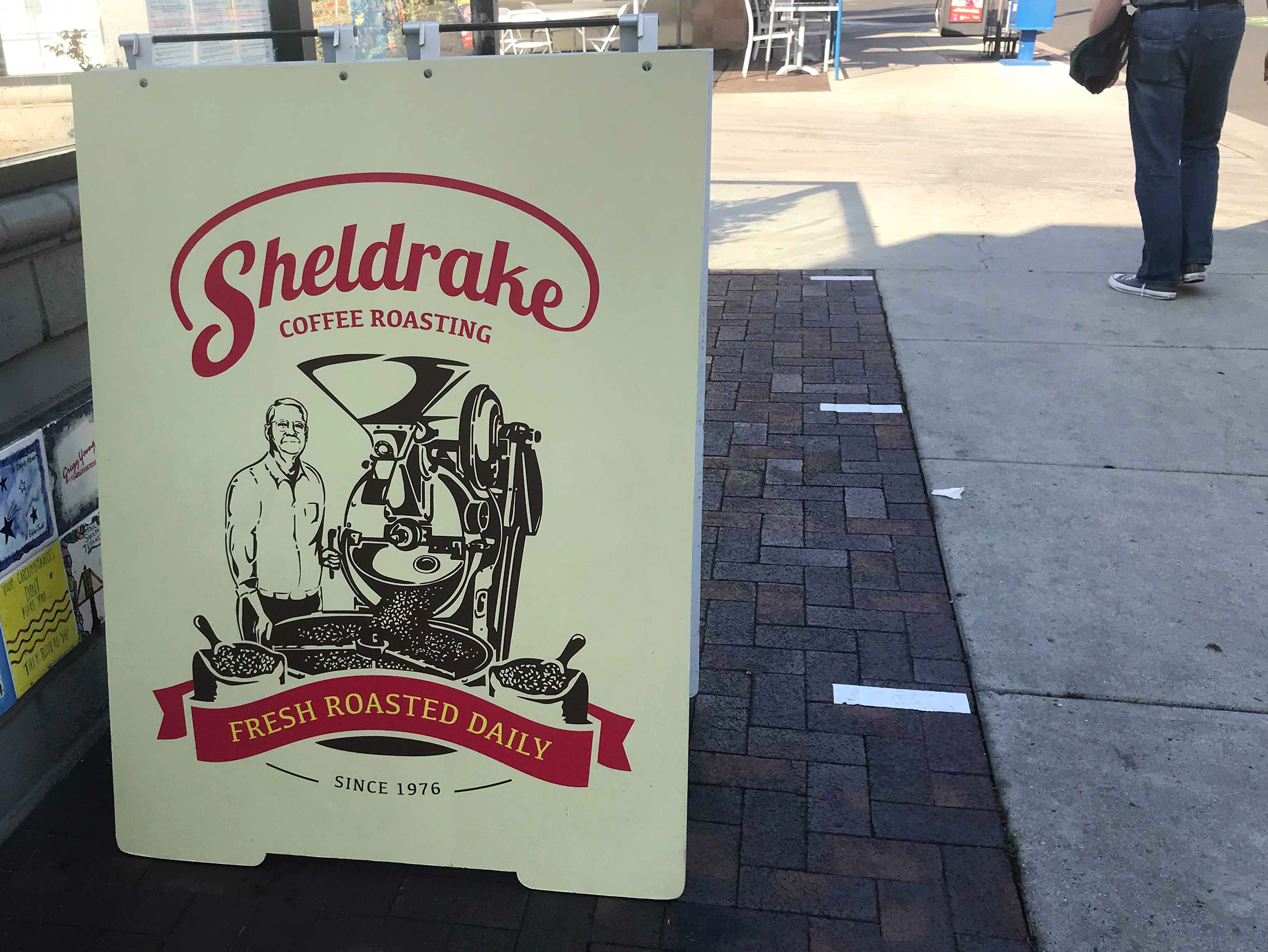 Aside from alleviating the brand confusion and ensuring people did not assume they sell pies, Sheldrake said the original name did not highlight the focal point of the business: roasting.
"A lot of people did not know we roast," Sheldrake said. "There are a lot of sophisticated coffee drinkers out there that know how important it is to have freshly roasted coffee."
Since the name change, retail sales are up 10-15% over last October and November. While retail sales have improved, wholesale business remains down around 90% due to business closures. During a normal month, between 10,000 and 11,000 pounds of coffee would be roasted on site—about 60 tons of coffee annually. However, during the pandemic, production has been cut to 2,000-2,500 pounds per month, Sheldrake said.
Despite the past, present and future challenges of this year and the next—with COVID-19 cases spiking locally and across the country—Sheldrake said he has never been concerned about whether or not his business would endure.
"I'm sure we're going to make it. I never doubted that at all," Sheldrake said. "I've been doing this a very long time. We've survived a whole lot and we're going to survive this."
As Polly's, and now Sheldrake's, the roasting business has always had a healthy dose of competition along Second Street: Starbucks, Peet's Coffee, The Coffee Bean & Tea Leaf, Philz Coffee. Yet Sheldrake's business has continued to prosper, even after Peet's and Coffee Bean left the area, surviving four recessions and the Great Recession.
Sheldrake says one key to his success is the sourcing of coffee beans from around the world. He has visited Costa Rica to purchase Hacienda La Minta beans and Kona, Hawaii to purchase beans from Greenwell Farms, which was established in 1850. But a lot of his coffee is sourced through a broker in Davis that gives him access to brands he may not have otherwise, including Sheldrake's and customer favorite, Blue Mountain from Jamaica.
"Do everything you can to take care of your customers and don't worry about the competition," Sheldrake said. "Because you have no control over the competition."