For the team in charge of making the Aquarium of the Pacific's new Pacific Visions wing a reality, May 24, 2019, has been a long time coming. On opening day, the massive, $53 million expansion will finally open its doors and present to the public the results of over a decade's worth of planning, fundraising and manual labor necessary to accomplish this ambitious project.
In the early aughts, the Aquarium was already eyeing expansion, but the details were still unclear. "The question was: where are we going?" Doug Otto, vice chair of the Aquarium's board of directors, remembered. "There were a variety of competing ideas and Pacific Visions was the one that won out."
In 2009, the search for collaborators began. Otto, who chaired the committee overseeing the Aquarium's long-range plans, said there was a common theme to the selection of companies that ultimately worked together to create Pacific Visions. "We were looking for people with a vision that carried on the mission of what the Aquarium was," he explained.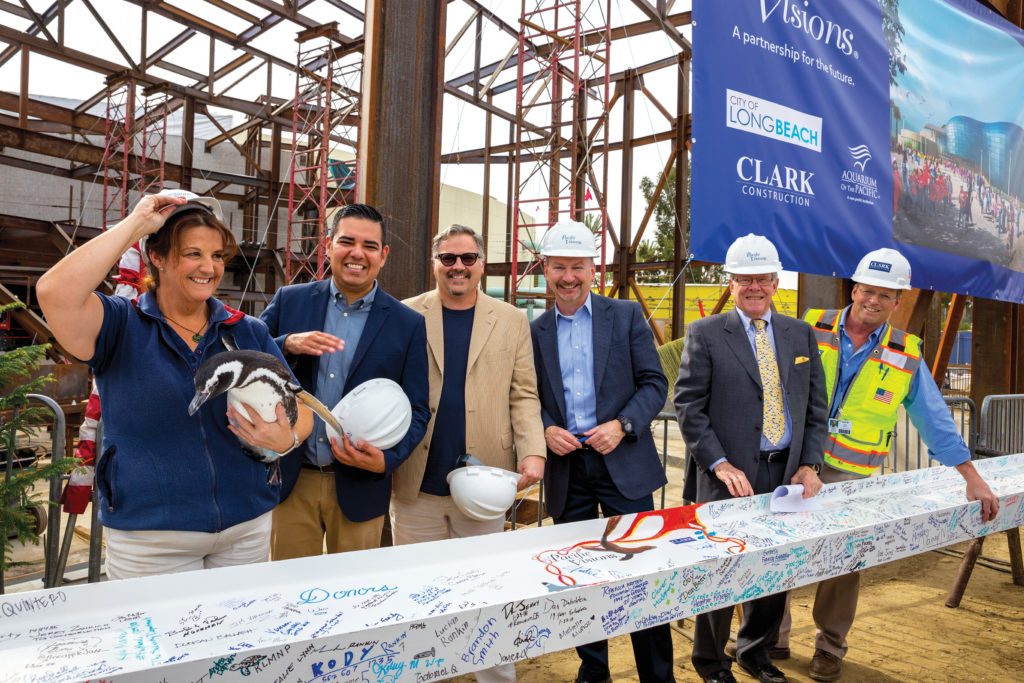 For the design of the building, leadership decided to award the contract to EHDD Architecture, which had devised the plans for the Aquarium's original building. "EHDD knows us well in terms of the design of this building, so we felt like they would be very good at figuring out what new facade or new look would go well with the existing building," Fahria Qader, the Aquarium's director of Pacific Visions and architecture, told the Business Journal.
Turning EHDD's vision of a rounded glass facade, emulating the ever-changing shades of the nearby surf, emerged as one of the project's biggest challenges. "It wasn't just about constructability and the structural aspect, but it was also about the look," Qader said. Requirements set by the California Coastal Commission that the building facade be non-reflective to protect the lives of sea birds added another level of complexity. "We wondered whether we were ever going to find exactly what we wanted, because there's not a lot of people that do this," Otto remembered.
Eventually, the Aquarium found two California-based companies, Woodbridge Glass, Inc., of Tustin and Burro Happold of Los Angeles, to accomplish the feat of producing and engineering a paneled glass facade that was earthquake-safe, bird-friendly and as iridescently blue as the ocean. "At the end, we finally got something we were happy with, but it took a while," Qader said.
Despite this challenge, Qader said bringing Pacific Visions to life was smooth-sailing all around. "There were really no conflicts. People would be very solution-minded," she remembers. John Rouse, the Aquarium's vice president of operations, agreed. "We were surprised, at least I was surprised, how easy it went. We had very few contentious meetings. That's atypical of a construction project of this nature, and we remained friends throughout the whole thing," Rouse said. "The other thing that was surprising was how little effect it had on the regular attendance. We had budgeted our attendance to be down a certain percentage, and we really haven't seen that. We never really had any guest complaints."
Considerations for the guest experience remained front and center throughout the process, said Qader, especially in the plans for the new wing. "We focused on the components, the need for the spaces and the sizes of the spaces, and that developed the exterior form. That doesn't always happen when you're designing new projects," she noted. "We really worked from the inside out."
The result is an experience that furthers the Aquarium's long-standing mission of promoting sustainable practices, and inspiring curiosity and compassion for the oceanic world. "A lot of people think of aquariums as places where you go and look at fish or fish tanks, and we were not doing that," Otto said. "This was more of an opportunity to engage people in a sophisticated, technological way and make them think about the future and what's going to happen to the ocean, the importance of the ocean to everybody's lives."
Raising the funds necessary to make this vision a reality was no small feat, either, but the unique character of Pacific Visions made it an easy sell, said Charlotte Ginsburg. Ginsburg is a member of the Aquarium's board of directors and a long-standing ambassador. Together with her husband, Dr. Allen Ginsburg, she contributed over $1 million and helped fundraise for the remaining cost of the project. "This is something that's going to be around for a long, long time," Ginsburg said. "It's a labor of love."