This year marks the 10th anniversary of the Long Beach College Promise, a program put in place to increase access to higher education for all Long Beach students regardless of race, gender or socioeconomic status. A report was released earlier this year to show the progress of the program and showed large gains in several indicator areas for all three educational institutions involved: Long Beach Unified School District (LBUSD), Long Beach City College (LBCC) and California State University, Long Beach (CSULB).
"I would say it has exceeded expectations," Reagan Romali, superintendent-president of LBCC, said. "When we saw how successful it was, particularly the graduation rates here and . . . at Long Beach State – it's groundbreaking. It's changing the shape of education today."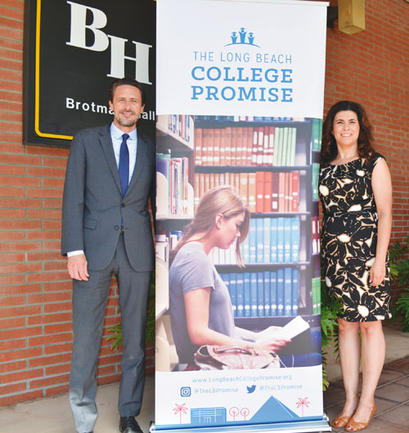 An examination of The Long Beach College Promise 10-year report shows positive growth on Long Beach Unified School District's graduation rates, as well as Long Beach City College and California State University, Long Beach, enrollment and graduation rates. Christopher Lund, pictured left, assistant superintendent of research, planning, evaluation and school improvement for the district, and Hilda Martinez, director of public engagement for The Long Beach College Promise at the university, agree that the promise has met and exceeded expectations over the last decade. (Photograph by the Business Journal's Pat Flynn)
The College Promise introduces the idea of attending college at an early age, with all LBUSD fourth graders taking a field trip to LBCC and all fifth graders taking a field trip to CSULB. This past school year, LBCC hosted more than 5,000 fourth graders, Romali said, noting that for many it was their first time on a college campus.
For LBUSD, much of the work fueling the success of the college promise is done at the high school level, according to Christopher Lund, assistant superintendent of research, planning, evaluation and school improvement for the district. Rather than taking a $60 SAT test at a different school on a Saturday as was done in the past, LBUSD high schoolers take it for free during the school day. Advanced placement (AP) classes are also more accessible, with the district charging students $5 for each test, rather than the full cost of more than $90.
The overall graduation rate for LBUSD has increased each of the last five years. The current high school graduation rate for the district is 84.2%, which is higher than Los Angeles County and state levels at 81.3% and 83.2%, respectively. Because of the SAT and AP support systems, Lund said more students than ever have met university requirements and have earned college credits by the time they graduate.
"Prior to doing in-school testing, we would only end up with about half of our students with an SAT score. So, right off the bat, we had a large number of students who couldn't even apply to a four-year institution because they didn't take the appropriate tests," Lund said. "And over half of our students now, by the time they graduate high school, have taken at least one AP course."
Four years ago, 39% of LBUSD students met the minimum eligibility for CSULB, Lund explained. After the completion of the 2017-2018 school year, that number had increased to 55%. When LBUSD students graduate, Lund said they are 10 times more likely to attend LBCC than any other community college. He added that CSULB receives more of LBCC's students than any other four-year institution.
For both the city college and university, enrollment of Long Beach Unified students is at a 10-year high. Enrollment from LBUSD to CSULB has increased 71% under the college promise. Enrollment from LBCC to CSULB has increased 55%.
The number of first-generation students enrolling at CSULB has increased 151% from 166 individuals in fall 2008 to 417 in fall 2017. Students who are college-ready upon entering CSULB increased from 43% in 2008 to 65% in 2017.
To support students under the college promise, LBCC offers one year free tuition for those who enroll directly out of LBUSD and meet certain requirements. More than $500,000 in Long Beach College Promise scholarships were given out to LBCC students in 2017. By reducing some of the financial burden of college, Romali said graduation rates are increasing. In the year that Romali has been president, graduation rates increased more than 20% and the number of certificates issued increased over 40%, she said.
Data sharing between LBUSD and LBCC is another factor related to increased graduation rates and the college's attempt to graduate students in less time. When a student graduates high school and enrolls at LBCC, rather than simply taking math and English placement tests, the college considers the student's grade point average and performance in previous classes to determine the best placement. This approach reduces wasted time spent in courses students do not need, allowing them to reach graduation more quickly, Romali explained.
Length of stay at LBCC is anywhere from three to six years, Romali said. She explained that the longer a student is in college, the less likely they are to graduate. Additionally, if students take more than three years to graduate from a two-year institution, the financial benefits of a free year are less impactful because additional time means additional money. Romali said the current time frames are not acceptable and that the college is working toward the goal of two to three years for students to reach graduation.
Romali said the school is taking a 15- to 20-pronged approach to strengthen the performance of the college both in terms of academics and student services. The college promise is the foundation of positive change for the college.
"We have made tremendous strides over the last year. That is all built on the base of the promise," Romali said. She added that other cities are using Long Beach as a model for education, bringing the promise to students across the country. That is why we do what we do – to help not only our own students but students far and wide. The numbers we will never see, people we will never know who will benefit from what we are doing here in Long Beach. That is the true magic of what we do."
Hilda Martinez, director of public engagement for The Long Beach College Promise at CSULB, said the program has met or exceeded all expectations. The main factor in this success has been the introduction of the concept of college at the elementary school level. Martinez explained that all three institutions are working to put in place a culture in which students expect to go to college, not just wonder if they can.
Graduates of LBUSD high schools are guaranteed acceptance to CSULB if they meet the minimum requirements, which can alleviate much of the stress and fears surrounding applying to colleges. By removing that stress, Martinez said students are more likely to apply to college. The school is also working to assist LBCC transfers financially with awards to offset costs.
Under the college promise, CSULB has developed programs to give extra academic assistance to students prior to starting at the university. CSULB professors also work with professors and teachers at LBCC and LBUSD to streamline coursework, Martinez said. The instructors meet every quarter, and the collaboration makes transitioning between institutions seamless by ensuring students are not repeating courses. This accelerates their journey through higher education, she added.
"One of the big reasons the college promise is successful is the partnership [between the institutions]. We were lucky enough to have three educational institutions that had leaders who wanted to work together," Martinez said. "That may not seem like a difficult thing to do but it is. With the politics behind education, a promise isn't always welcome because there is a certain level of accountability. A lot of potential partners are unwilling to participate because they have to be very open about their outcomes."
Martinez said that the rate of students going to college among African Americans, Latinos and Asians is increasing. However, so is the rate among white students. Because of this trend, there is still a gap in enrollment rates. Martinez said if this trend continues, there is a question as to whether the rates of ethnic minority enrollment at CSULB will ever catch up to that of white students. Regardless, she said the fact that enrollment rates are increasing among the minority groups is a positive sign.
After the City of Long Beach joined the college promise in 2014, Mayor Robert Garcia and LBUSD Superintendent of Schools Christopher Steinhauser began pushing for increased preschool and internship opportunities in Long Beach. While the district cannot afford free preschool for all, Steinhauser said the district will soon offer it to all students living in low-income households.
"We are not offering free preschool for middle- and upper-class families. We can't afford that," Steinhauser said. "But we can and we are 100% committed to offering a seat for every student who is on free and reduced lunch to go. And we are almost there. The mayor has been a great partner on the early childhood front and the Educare [facility] will be basically a beacon of this policy development for everybody."
In the coming months, Long Beach Unified will open an Educare facility at Barton Elementary in North Long Beach. The mayor said it will create nearly 200 seats for preschoolers in the underserved community. The facility is a public-private partnership between the city and Educare, which supports low-income neighborhoods with early childhood education. Garcia said it is a fully funded program, making it, essentially, a public preschool.
Garcia explained that educational research indicates that early childhood education, such as preschool, is key to a child's future success. He said he still believes in universal preschool, but said the city and community would need to have a discussion as to whether or not to make the large investment to ensure every child attends for free. For now, he said the city is having great success expanding preschool opportunities on its own.
"Where we have the biggest gap [is] . . . middle class working families who don't qualify for government programs. But they may not make enough to fully fund their child into a program," Garcia said. "And so we need to get to universal pre-K and help more of those families. . . . We're not there yet but I'm hoping that's a gap we'll be able to close."
When he first became mayor, Garcia said that Steinhauser challenged him to double internships. Through its partnerships and its internship challenge, the city has doubled the number of internships, according to Garcia. With the addition of preschool and internship opportunities to the college promise, Long Beach is assisting more students from early childhood, through their educational careers and into the workforce.
"As proud as we are of the accomplishments over the past 10 years, we're still looking for additional opportunities to support our students within and across these institutions," Lund said. "The longer the relationship has grown, I think the more we realize the more that we can do. I think we've scratched the surface in many ways but we are looking at ways we can provide students additional support."