Ask a married couple running a business together how they do it – maintaining a healthy marriage while dealing with one another all day, under the stresses of a self-owned business no less – and they're likely to react with a laugh. That, and you might even get the in-unison response: "We get asked that all the time." At least, that's what happened when four Long Beach married couples, all of whom own and run local businesses together, got calls from the Business Journal to be interviewed about what it's like to make their relationship work in the business world and at home.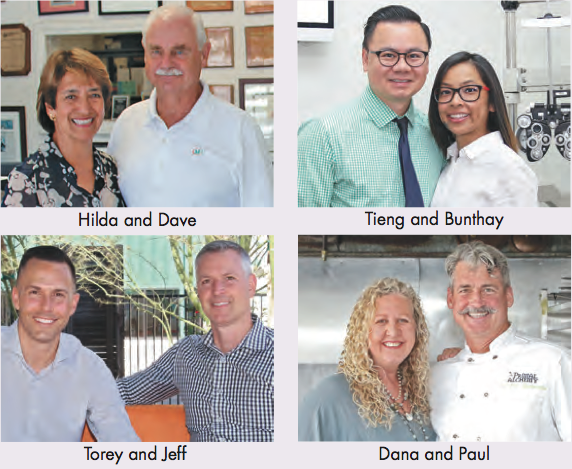 Delve into an online search of the phrase "married couples working together" and you'll turn up an endless array of articles with dismal tips to prevent, at best, friction, and at worst, divorce. With that kind of glass-half-empty attitude prevalent in the blogosphere, one might expect a married couple in business together to grimace when asked about their home/work dynamic. Not so in Long Beach – at least, not for these couples.
Take Hilda Sanchez and Dave Rigby. Married for 38 years, the couple originally met when working together at Mattel, Inc.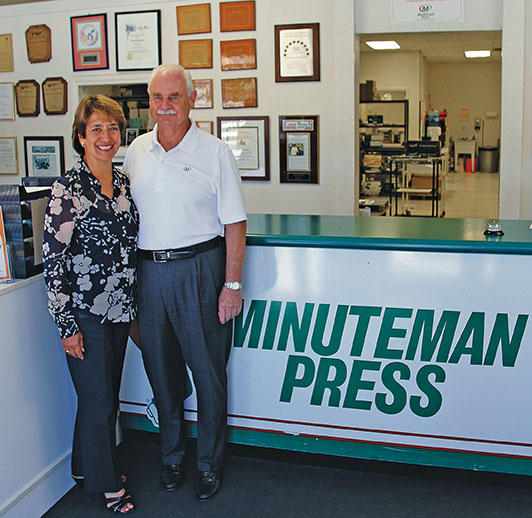 "When we first decided to get married, we were concerned about that. So we did separate our business lives," Rigby said of initial concerns about working together while married. After they tied the knot, the two made a pact to both search for new jobs, and whoever got it first would quit Mattel.
Sanchez found a job first, and for many years the two worked for different businesses. Eventually, both retired, until Sanchez got the itch to start up her own business. "We tried retirement for about a year and a half and I got bored out of my mind," Sanchez recalled. She decided to start up a Long Beach branch of Minuteman Press, a printing franchise. "I just liked the culture and support they offered and we jumped in," she said.
So why did Rigby go along for the ride after that long-ago pact that they would avoid working together? Simple, really: "It was something she wanted to do, and I guess I didn't want to just sit around the house by myself, so I came along," he said, the ease of his statement almost begging for a shrug.
Tieng Tan, who runs Beach Eyecare Optometry with his wife, Bunthay Tan, also originally thought working together could make their marriage more challenging. The two have been married since 2011, and have a young son.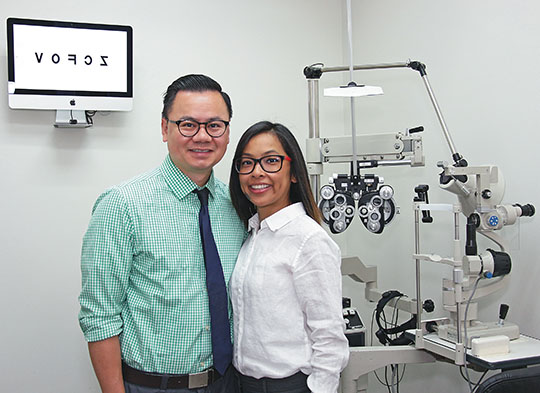 "In my mind, I thought, 'This is not going to work.' You know, if you work with your wife, you don't have any of that time apart," Tieng said. "But it actually worked out really well for us."
After some experience working together at another optometry practice, the two opened their business in East Long Beach in 2013.
"It hasn't been a complication for us," Bunthay said. In fact, working together can even be a bit romantic. "Think about work and how we spend most of our lives working with coworkers. But to be able to work with someone you love and to spend all that time with them, it kind of makes sense to me," Tieng said.
Paul and Dana Buchanan have been married for 18 years and, until about 2002, they hadn't worked together. The couple, who run Primal Alchemy, a Long Beach-based catering company, met through a personals ad placed by Paul in a local newspaper – an enlarged and framed copy of which now hangs above their bed, Dana noted.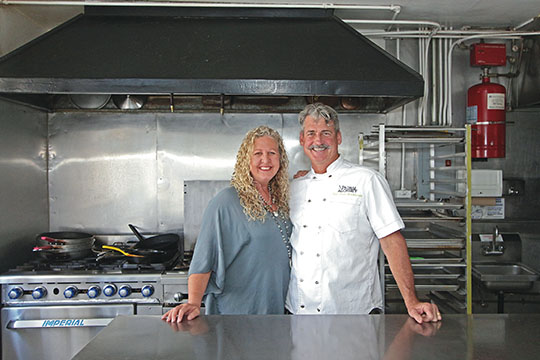 After they first got married, Paul held various chef and catering jobs, while Dana worked in the corporate world until starting an office furniture business on Pine Avenue, which she ran for 10 years.
Paul started up Primal Alchemy around 2002, and Dana joined him in the business after closing her own in 2004. When asked if being married and working together is a challenging dynamic, both looked at each other and laughed. "It's always a challenge," Dana said. Paul chimed in, "It's a work in progress, always."
The biggest challenge? Finding time for each other. Running a catering business and raising a high schooler makes for some crazy scheduling, both pointed out – often resulting in the two of them passing each other going opposite directions on the freeway to different gigs. "It's 24/7," Paul said of their business.
Even when the two are on vacation, they still often find themselves taking work calls.
"I have been [skiing] in Mammoth at the top of the lift, gotten a phone call, and booked a catering job," Paul recalled. Dana added, "He was actually getting off the lift as he was on the phone, starting to ski."
For Jeff Anderson and Torey Carrick, who married in 2008 after gay marriage was legalized in California (and just before Proposition 8 passed, making it illegal again), working together was actually a goal from the start of their marriage.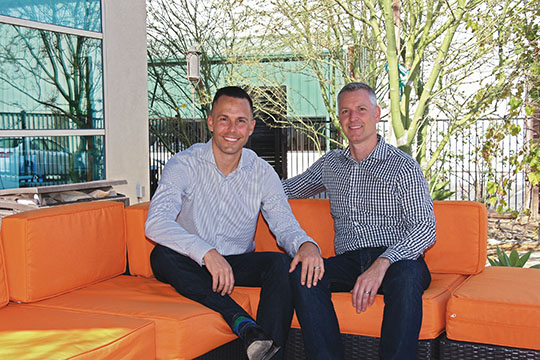 Their experience working with married real estate agents to purchase their first home together in Indiana gave way to the dream of eventually going into real estate together themselves. At the time, Carrick had a well-established career in the pharmaceutical industry, so Anderson got into real estate on his own.
Just before the start of the Great Recession, the two moved to California, where Anderson continued working in the single-family market. "We moved back here, and the market tanked," Anderson said. "He [Carrick] was begging me to get out of the business at one point, because I went six months without selling a home," he recalled. But an opportunity to work with banks to sell foreclosed homes made business pick up again, solidifying Anderson's career.
A job opportunity for Carrick then led the two back to Indiana again, but it was a short-lived move. "This was 2010. The economy was horrible," Carrick said. His company offered "voluntary exit plans" meant to incentivize employees to take a voluntary layoff, along with some pay and benefits. Carrick took the package, and the two moved back to California and used it as a nest egg to start up a real estate business. "We had confidence that we could do it. And we had the cushion," Anderson said.
Now, Anderson is CEO of Anderson Real Estate Group, a Keller Williams company, and Carrick is the listing specialist coordinator. "It's funny because we both have opposite skillsets. And we have known for a very long time that, if we ever work together, this is like a really badass team, and we bring a lot to the table," Anderson said.
Knowing each married partner's strengths and using those skills to divvy up different roles in the business was a common thread amongst these couples. Assuming skill-based, separate roles is a tactic they believe helps their businesses succeed.
"She's clearly the boss; it's her business," Rigby said of his wife, Hilda Sanchez, who is also chair of the Downtown Long Beach Associates' Board of Directors.
"I am basically operations, and she is the marketing and business end of the organization. So she does all the bookkeeping," he explained. Sanchez added that Rigby has an artistic background, so he is able to assist in graphic design needs of their clients. Their personalities also come into play. "I am better with people, so we hide him behind a computer, and I am more out in public," she said.
"We complement each other a lot because, unlike me, she is very detail-oriented," Tieng said of Bunthay. "I am more like a visionary and will think ahead, but she is good at planning the day-to-day," he added.
Anderson and Carrick have a nearly identical dynamic. "I am more of a visionary," Anderson said. "I keep thinking, 'Where does the business need to be in five years? What do I need to start working on today to make that happen?'" Carrick, on the other hand, describes himself as a doer. "You point me in the right direction and I'll get it done," he said. "Jeff kind of steers the ship, and I rally the team to get it done."
Paul and Dana Buchanan's roles in their business are also suited to their skills – he's the chef and, with her experience running a business, she handles the bookkeeping and operations. "She is doing all the finances and paying all the bills," Paul said.
All couples – married or not – have their disagreements from time to time. But how should that be handled when you're both married and working together?
Before getting into a disagreement about work, Dana clearly defines from what capacity she's speaking. "I say, 'Okay, this is not your wife talking, this is your business partner talking,'" she said. "We preface our sentences with that sometimes, because the tendency is to get defensive. That would be my big recommendation, is to make sure you share with the other person what hat you have on before you're communicating," she explained. With a smile, Paul responded, "Well, I know I'm not your business partner when I'm getting a foot rub."
Anderson and Carrick don't worry so much about separating their relationship from work – that's a little difficult to do, they acknowledged. Anderson recalled an incident where he was representing sellers of a home, while Carrick was representing buyers for the same property, and the two parties got into conflict. So, then, did Anderson and Carrick.
"Here we are having this argument in the office, and the next thing, I look over . . . and one of our employees is starting to like, cower under her desk," Anderson said. "It was kind of jokingly," he said, noting that the two don't raise their voices or get mean, but are firm with one another. "But we were both very passionate about protecting our clients. And it did, and has, caused some friction."
Neither, however, seemed to view the occasional friction as a negative to working together. "That's another element of our business that has helped us achieve the level of success that we've had – is that we do have some very different perspectives, and we disagree often," Carrick said. "Through the discussion and disagreement, we pull something together that is so much more robust, and we tend to achieve success at a higher level because it is a more complete thought process."
For Sanchez and Rigby of Minuteman Press, debates are usually tied to a specific aspect of the business. "I always want to buy new equipment . . . and I guess being of the artistic bent, I just see the possibilities only, and I don't see the spreadsheet side of the equation," Rigby said. "Our rule is there has to be a return on investment. It has to pay for itself in a certain amount of time . . . We go at those often," he said.
"We're about to head to the Minuteman Press convention on Wednesday afternoon, so we'll be there at the end of this week," Sanchez said. "There will be lots of vendors there with the latest and greatest equipment. So I've already got the checkbook locked up," she said with a laugh.
Some of Carrick's closing comments reflected the sentiment of all four couples interviewed by the Business Journal: "It doesn't feel like a tedious job. It's like an exciting unfolding career, and we just keep building it together."