As one of its first ventures into aviation, Toyota Motor Sales, USA, Inc. purchased a fixed base operation (FBO) – akin to a gas station with hotel concierge service for private aircraft travelers – at Long Beach Airport in 1989.
The FBO known as AirFlite, first developed by World War II test pilot John Myers, today is ranked among the highest in the industry for customer service and continues to outshine its competitors across the United States and beyond.

(Photograph provided by AirFlite)
This year, for instance, is the second in a row that a survey by Aviation International News (AIN) has ranked the facility the No. 1 FBO in the Western Hemisphere, beating thousands of other facilities in the United States in customer service.
"We are the 'air elite,'" said John Tary, a seasoned pilot who has worked as AirFlite's general manager for six years. "That's our service brand . . . When you come in here, what you're going to get is all the amenities. We are always trying to go the extra mile."
Toyota purchased the FBO just as the Japanese automaker had formed its own flight department in hopes of breaking into the aviation industry.
In 1991, Toyota built AirFlite's four-story terminal building, where pilots, crew and passengers of all kinds walk through on a daily basis. Today, the building offers a computerized flight planning room, food catering, courtesy transportation, five executive conference rooms, showers and other amenities.
Toyota originally envisioned that AirFlite would serve as the corporate headquarters to a series of FBO facilities around the world. The automaker even eventually built its own small aircraft – the single piston TAA-1 prototype – as well as an aircraft engine.
Facing a tough industry, Toyota's foray into aviation dithered, but the corporation diversified its aviation interests. Toyota kept its one FBO facility in Long Beach that would support the corporation's local flight department while also serving as the landlord for other aviation businesses.
Being a global company, Toyota quickly learned the benefit of business aviation and grew its fleet of corporate jets, many of which are housed in AirFlite's vast hangar space.
Despite some negative perceptions of corporate aviation, Tary said such aircraft are necessary "business tools," especially for international corporations such as Toyota.
"In Toyota's case, specifically, these airplanes are business tools," he said. "They allow executives to meet face to face and do business. The airplanes are used 100 percent for business. They allow a global company to really get out and see the industries, be at the facilities, be with the people, take care of problems and create new businesses."
AirFlite's facility employs 70 people, from customer service representatives (trained in Ritz Carlton service standards) to staff for Toyota's corporate flight department and flight maintenance operations, Tary said.
The 16-acre complex has two large 29,000-square-foot community hangars, one of which houses Toyota's own corporate aircraft along with a mixture of other private jets for clients seeking temporary stays.
The other community hangar was converted from Cessna's former Citation service center that moved to Arizona in 2009. The structure, which includes office space, also houses Aircare Facts, an industry leader in providing crew member emergency training using specialized flight simulators.
AirFlite also has 19 individual private hangars totaling about 55,000 square feet for clients seeking a more permanent home for their aircraft, he said.
In addition, the complex operates a state-of-the-art fuel farm, which sells jet fuel and Avgas (for piston engine aircraft) as well as unleaded and diesel fuel to service its own vehicles.
As for the more than 20-year-old terminal building, Toyota has recently invested about $100,000 into the facility, redesigning the customer service desk and adding audio-visual equipment to the conference rooms.
AirFlite's high marks come from its superior customer service, said Tary, who knows firsthand the needs of pilots and crews, as he once flew corporate jets fulltime for Toyota for 10 years before being hired as AirFlite's general manager.
He added that the FBO goes out of its way to accommodate clients, explaining that all staff members wear cards with Toyota's philosophy of high quality standards on their security badges.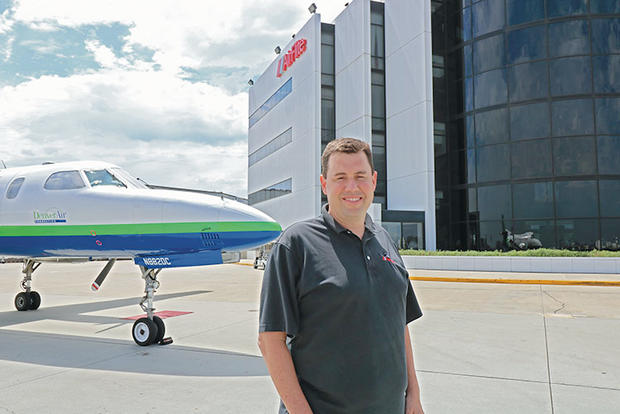 John Tary has served as AirFlite's general manager for the past six years. (Photograph by the Business Journal's Evan Patrick Kelly)
"The key to everything, to me, is consistency; to have good customer service programs and be able to execute them consistently," Tary said. "That's the bottom line. We do small things, such as put cold water bottles in the rental cars that we provide without asking, but we make sure it's there every time."
Part of AirFlite's attractiveness is Long Beach Airport itself, he said, adding that the airport provides a large 10,000-foot long runway to accommodate aircraft as large as the Russian Antonov.
Tary explained that, U.S. Customs and Border Protection was once accepted for private international flights at AirFlite's facilities. He said agents would come to the facility to clear crew and passengers, including Toyota executives.
However, the practice was discontinued in 2006, Tary said. Today, there are some "very rare exceptions" where international flights can be done but would be a "satellite delivery, not a normal non-governmental passenger flight," he said.
Long Beach Airport is currently studying the option of establishing a U.S. Customs facility at the airport at the request of the airport's primary air carrier JetBlue Airways.
Tary added that international clients are still able to utilize the FBO by checking in at other airports in the United States and then flying in, noting that Long Beach Airport has quick freeway access and is centrally located between Los Angeles and Orange counties. He said the airport's prime Southern California location attracts a diverse client base, ranging from movie stars and U.S. presidents to families and business executives.
"Everybody walks through the doors somehow, some way," Tary said. "We refer to Long Beach Airport as 'the easy-in, easy-out airport.' It's a pilot's dream because there are no delays, the taxi times are very short and to get from the airport onto a freeway takes minutes, where other airports have their challenges."