Two of the largest bank failures in United States history occurred days apart three weeks ago. Those failures, combined with a UBS takeover of Credit Suisse that the chairman of UBS described as "an emergency rescue," have led some media outlets to describe the current uncertainty as a "banking crisis."
But Farmers & Merchants Bank CEO Daniel Walker said the closures are not indicative of systemic issues, and that the Long Beach-based regional bank remains a "safe haven" for its account holders.
Founded in 1983, Silicon Valley Bank grew to become the 16th largest bank in the U.S. with about $209 billion in assets. On March 10, SVB failed spectacularly due to mismanagement, interest rate hikes and a subsequent run. Two days later, Signature Bank, with $110 billion in assets, was ordered to close by regulators.
SVB invested heavily in long-dated U.S. government bonds, many of which were purchased when interest rates were unprecedentedly low. The bonds are closely tied to interest rates, so when rates increased, bond prices fell.
After plummeting to nearly zero at the start of the pandemic, where it sat for two years, interest rates began to rise sharply from 0.08% in March 2022 to 4.83%—a more than 5,937% increase—as of March 20, according to macrotrends.net.
As Walker points out, interest rates were bound to increase, but the pace at which the Federal Reserve has hiked rates also is unprecedented.
"Those types of interest rate movements are very rough for banks," Walker said. "Zero to 5% in such a quick period of time is damaging to a bank's portfolio."
Such rapid increases do not allow for banks to sell their investments and reinvest without substantial losses. SVB management, however, did make missteps that led to its demise, he added, noting that bank failures have not become widespread, which indicates other institutions—such as F&M—are taking the hikes in stride.
In fact, SVB received numerous warnings from regulators dating back as far as October 2021, Federal Reserve Vice Chair for Supervision Michael Barr said during a U.S. Senate hearing Tuesday.
"The [bank's] risk model was not at all aligned with reality," Barr said. "This is a textbook case of bank mismanagement."
Senate Democrats, including Elizabeth Warren, are now pointing to the Trump administration's 2018 gutting of the Dodd-Frank Act, which was implemented in 2010 as a direct result of the financial collapse that led to the Great Recession. The 2018 rollback increased the threshold for which banks would be under strict Federal Reserve oversight to $250 billion in assets, which exempted SVB.
Warren and other Democrats have drawn a direct line from the 2018 rollbacks to the SVB collapse. Earlier this month, Warren and Rep. Katie Porter introduced a bill to repeal the rollback and bring the oversight threshold back down to $50 billion in assets.
As for F&M, Walker noted that during a recent examination, regulators said the local bank is "doing the right things." F&M has enough diversified assets on hand that it is not being damaged by interest rate hikes, he added.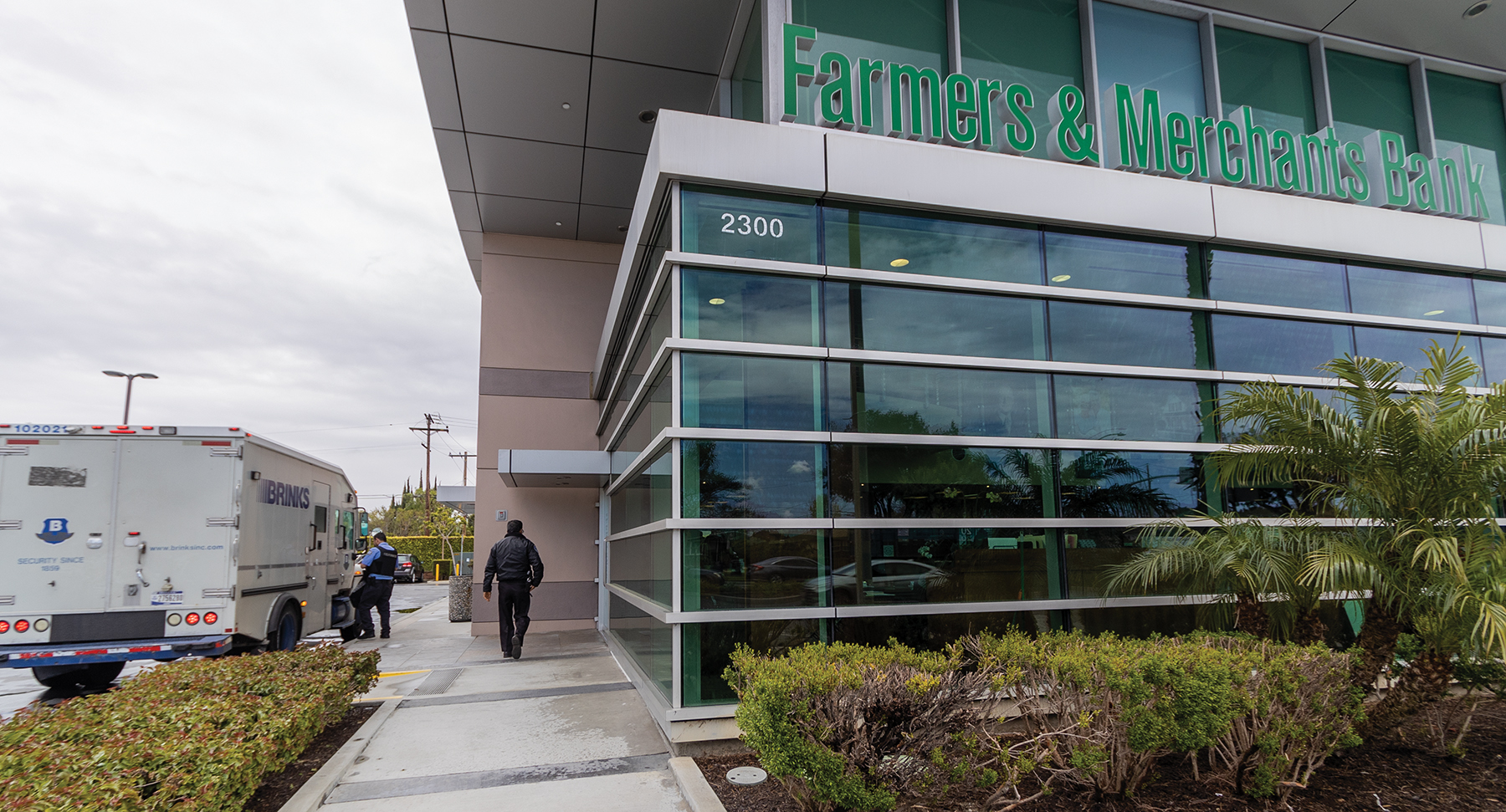 Farmers & Merchants was founded in 1907, and its 116 years of service was made possible through careful and responsible growth, said Walker, whose family established the bank four generations ago. He noted the current executive team collectively has hundreds of years of banking experience.
"We have plans of action for these types of situations. So when they come about, we know exactly … how we're going to proceed," Walker said. "These are the things that experience does."
SVB and Signature Bank were the second- and third-largest bank failures in U.S. history, respectively, but bank failures are not exactly uncommon. During the Bush administration between 2001 and 2008, 50 banks failed—half of which happened in his last year as the Great Recession ramped up.
During President Barack Obama's tenure, 495 banks failed—most during his first three years amid the Great Recession and the beginning of recovery. The Trump administration saw 16 banks fail with combined assets worth more than $6.36 billion—a figure notably eclipsed by the combined $319 billion in assets between the two failures so far under the Biden administration.
Like every other bank, Walker said F&M invests as much money as it can, using the returns to provide personal and business loans. The difference between F&M and the failed institutions is diversifying investments, loaning responsibly and not focusing operations on select high-value customers, as was the case with SVB.
F&M, for its part, ranks within the top 100 out of over 4,000 U.S. banks, with total assets coming in at just under $12 billion, Walker said. The regional bank's primary accounts, however, are not large tech firms and startups but rather tens of thousands of families and small business owners.
When uncertainty loomed around SVB, the bank suddenly faced customers withdrawing $42 billion in a single day with plans to withdraw another $100 billion—far more money than the bank could secure on a day's notice, NPR reported.
"They had a handful of depositors with a tremendous amount of deposits inside their bank," Walker said of SVB. "Those depositors all of a sudden were in need of their deposits. And that caught SVB by surprise."
With the diversity of customers and investments as well as plans of action in place, Walker said F&M is safe from such a scenario: "Everyday people, everyday businesses, everyday activity—we're the bank that is the safe haven."
Being a safe haven in the wake of two massive bank failures has its perks. Walker noted that F&M has seen a surge of new customers leaving other institutions for the Long Beach-based bank, mostly through referrals.
F&M's focus on community has ensured that customers remain as loyal to the bank as it is to them, even during what some consider a "turbulent moment," Walker said.
"Our priorities are set so that we are a safe bank, a strong bank," Walker said. "Protecting our depositors' funds is a sacred trust to us. And that's what we do every day."