Thanks both to the advent of the Pinterest, an online clipboard for pinning craft projects and other ideas, and the tightening of purse strings brought on by the Great Recession, do-it-yourself (DIY) projects have been popular among Millennial couples, according to wedding professionals and planners. But with the economy now bustling along at minimal unemployment and with wages growing, we asked – are Millennials done with DIY?
While some wedding experts felt that the trend is declining, others found it to be alive and well. However, most told the Business Journal that DIY projects are now typically not incorporated in order to save money. Rather, they're done to add a personal flair to a couple's special day.
Alyssa Longobucco, style and planning editor for wedding planning magazine The Knot, told the Business Journal that while DIY projects are still being incorporated into weddings, they are taking a different form than in years past. "It's not so much that it's stopping, it's just being refocused to encompass those handmade, heartfelt touches versus, 'how cheap can I get something,'" she said of the DIY trend.
"Yes, we are seeing couples that just want to farm everything out to vendors and kind of wipe their hands clean of it," Longobucco continued. "Then I have seen couples who are really focused on putting those intentional touches on their day and making it a reflection of who they are and what their relationship stands for and, you know, little moments about their relationship that make them unique."
The Knot's 2018 Real Weddings Study, released on Valentine's Day, found that 75% of couples reported crafting to bring their unique visions to their weddings. More than 14,000 brides and grooms between the ages of 18 to 65 were surveyed for the study. The majority of those craft projects were reception table items such as non-floral centerpieces, ceremony décor, table cards, favors and place cards. Popular centerpiece projects include spray painting wine bottles with colorful hues, while ceremony décor might include a self-constructed backdrop for the vows, according to Longobucco.
Megan Papageorge, owner of Long Beach-based Sweet Peach Planning, said that the DIY trend among Millennial couples is "losing steam." She speculated that as Millennials age they're more likely to have had friends or siblings get married and have perhaps watched them struggle to complete their own DIY projects. "Then they decide they are going to do a much easier wedding and enjoy themselves a little bit more," she said.
Papageorge said that homemade, customized photo station backdrops remain a popular DIY project for weddings. "Generally, you would use it as a Polaroid station or a kind of selfie station. We've had clients before nail pallets together and hang some florals on them," she explained. Another popular trend is folding paper cranes and scattering them throughout the wedding ceremony and reception, Papageorge said, noting that this is based on a Japanese tradition.
Marni Farmer, owner of So Smitten Special Events based at the f/8 Studios Wedding Collective in Bixby Knolls, said that DIY projects are still popular with budget-minded Millennial couples. However, couples who are seeking the personalized flair of handcrafted goods but have more flexible budgets are turning to artisan retailers like Etsy. "The clients that I have who maybe have busier jobs and a little bit more money to spare will buy what essentially would be a DIY project online on Etsy or some sort of site where someone else is doing the DIY project, but you're just buying it from them," she said.
Popular DIY items include party favors and any type of paper goods, including wedding invitations, place cards and signage, Farmer observed. "I have seen people make bigger pieces, like their own arch, before. But sometimes that can be a little disastrous if you don't have a background in construction," she said.
Farmer said she recommends that her clients use services like Etsy rather than taking on monumental craft projects. "There is so much other stuff to be doing and planning and focusing on. Do you really want to be making 120 sachets of party favors, or do you just want to buy them online and get them shipped to your house?" she queried. "If the price is right, is it worth all your time to make those?"
When asked if Millennials were done with DIY projects for their weddings, Tamera Schulz, interim director of food and beverage at the Aquarium of the Pacific, replied, "I'd like to say I wish they were." She explained, "Sometimes couples think they can do a lot of projects and it gets a little overwhelming as they are getting closer to their event. . . . the responsibility ends up falling to the food and beverage provider instead of someone else." She added, "In my world, I like when everything is handled professionally."
At the Aquarium, Schulz is open to creating crafted projects in-house for couples who want a personalized feel to their weddings. For example, for a February wedding, Schulz and her team served food in unique and crafted vessels, including a serving of fish and chips dished into small paper bags. They printed photos of the couple on the front of the bag to add a personal touch.
Lisa Duncan, director of catering and convention services for the Hotel Maya, noted that many Millennials are getting married older than prior generations did. Those who have waited are likely to be more financially stable and able to spend a bit more on their weddings, rather than resorting to DIY projects, she noted. Duncan believes DIY projects are fading in popularity, noting that young couples are choosing to put personalized spins on their special days by hiring unique entertainment, such as fire dancers.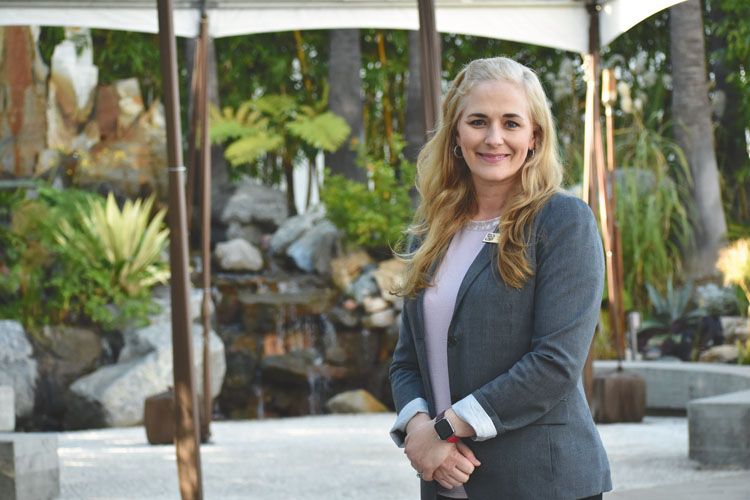 "Those couples that take it on and do everything themselves, more power to them," Duncan said of couples who choose to incorporate DIY projects in their weddings. "But a lot of times, we see when it really comes down to crunch time, the levels of stress are exponentially increased when they also have to worry about making sure someone doesn't forget to bring the most important piece of the ceremony."
The professionals interviewed for this story all agreed that a benefit of incorporating DIY projects in weddings is creating a personalized, memorable aspect of the experience. "To be able to have that talking point of knowing that your family or friends are sitting in front of or using something you made for the day just makes it that much more special," Longobucco said.
The major con of DIY projects is added stress for couples. "I think if you are someone who is prone to stress or someone who is already taking on a lot of your wedding planning duties, adding one more thing to your plate that you are going to be doing until all hours of the night before your wedding is maybe not the best idea," she said.
Longobucco said that DIY elements are likely to continue among the Millennial set. "A lot of Millennial couples really don't want the textbook wedding that feels like you plucked it out of a catalogue," she said. "They really want something that looks like them. I think they all see DIY as a really easy way to accomplish that."