The Arts Council for Long Beach and the arts community had much to celebrate at the council's annual State of the Arts event on September 22. In addition to honoring community members for their contributions to the arts, as the organization does each year, two announcements were made that caused attendees at the packed event at the East Village's Liberty Art Gallery to erupt in applause.
The first of these announcements was made by Mayor Robert Garcia, who co-hosted the event. After lauding the arts community for its accomplishments in recent years and reiterating his own commitment to the arts – as evidenced in his placement of arts leaders on city boards and task forces – he announced that he plans to bring a proposal for permanent funding for the arts to the city council in November or December. Funding would come in the form of a Percent For Art Program like one that previously existed in Long Beach but has not been in place for years.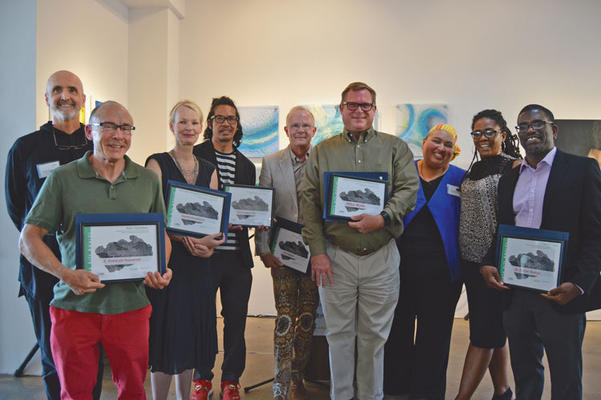 State of the Arts honorees, pictured, from left: Marco Schindelmann, outgoing board president of the Arts Council for Long Beach; X. Francois Hussenet; Kerstin Kansteiner; a colleague of Prumsodun Ok's who accepted the award on his behalf; Ron Nelson; Mike Wylie; Griselda Suárez; Tasha Hunter and Dr. Daniel Walker. See story below for details. (Photograph by the Business Journal's Larry Duncan)
Arts Council Executive Director Griselda Suárez also broke some news, announcing the Cambodia Town Mural Project, which will involve creating nine murals on Anaheim Street. "The Cambodia Town Mural Project will include a public call for artists, and it will also include two upcoming community meetings," she said, adding that more information will be released on the council's website and in its newsletters.
Suárez also announced that Tasha Hunter, executive director of the Uptown Business Improvement District, had recently been elected as the council's new board president.
The recipients of the council's annual arts awards were: Mike Wylie, who won the James H. Ackerman Arts Philanthropist Award for his spirit of giving in support of Long Beach arts; X. Francois Hussenet, who won the Arts Volunteer Award for his free painting classes at The Center; Long Beach Museum of Art Executive Director Ron Nelson, who received the Innovator of the Year Award; local business owner and president of the 4th Street Business Improvement Association, Kerstin Kansteiner, who won the Economic Development Arts Trailblazer Award; and Cherilyn Walker, who won the Arts Educator Award. There were three recipients of the Incite/Insight Award, which is given to people who illuminate "multifaceted arts and varied perspectives of culture in Long Beach," including Elizabeth González, Dr. Daniel Walker and Prumsodun Ok.