More than 7,000 retail jobs have been lost in California in 2017, according to a July 25 story from Bisnow, one of the largest producers of commercial real estate news. The story goes on to note that the 76 store closures in the first half of 2017 are an increase of 15% over the first half of 2016, which saw 66 closures.
"I think, in general, the U.S. probably has more retail square footage per person than any other developed country, so we are probably over-retailed," Alan Pullman, founding principal at Studio One Eleven, said. "I think that with the rise of the Internet taking an increasing share of retail sales, it's sort of exacerbated that over-retailing trend that we've been dealing with already. It's cutting into the amount of space that retailers need."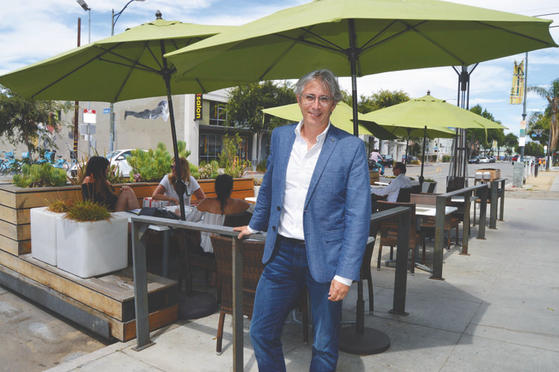 Alan Pullman, founding principal of the architecture firm Studio One Eleven, said restaurant parklets are a good example of a shift toward more experiential retail for customers. Studio One Eleven designed the parklet pictured here for Berlin Bistro, 420 E. 4th St. (Photograph by the Business Journal's Larry Duncan)
According to Pullman, as the economics and demographics of the country change, so do those of the retail market. He explained that middle-market retail is shrinking, with much of the growth focusing on value-oriented retailers such as Walmart and T.J. Maxx. Middle-market stores such as Macy's and Sears have announced the closure of 68 and 42 stores, respectively, this year alone, according to Fox Business.
There has also been growth in the high-end luxury market and even more in what Pullman called the experiential retail market, which includes food, technology and fitness concepts. "[It is] all things that deal with people having experiences. Because we live, as it's been said ad nauseum, in the experience economy," Pullman said. "So you see food becoming a much bigger player in what was more traditional retail shopping center or Main Street than it used to be."
Business improvement districts across the city, including Bixby Knolls, Downtown, Retro Row and Uptown, are experiencing a revitalizing renaissance centered around food and other types of experiential retailers, Pullman said. He explained that people are looking for a higher level of conviviality: being able to walk the city streets, sit at an outdoor cafe or parklet, and be with friends and strangers alike in a friendly atmosphere.
With a shift to Main Street retail, Pullman said shopping centers are being forced to rethink what a traditional retail center is. He explained that more centers are turning to mixed uses, including The Streets (formerly City Place), where Studio One Eleven and Retail Design Collaborative recently built new headquarters.
Many retail centers are going from places of consumption to production with the conversion of large retail space to office or community space. Pullman's headquarters is located in what used to be the Nordstrom Rack store on 3rd Street and The Promenade, now a 125-person office. The landowner of The Streets, Shooshani Developers LLC, also has plans to add additional residential space to parts of the retail center.
"I think that what we've found from a design standpoint is that the most successful retail spaces incorporate adaptability and flexibility. I think that's a really important point because it speaks to sustainability because the building can have many lives without having to be torn down," Pullman said. "It also is sort of an economic resilience for owners to have buildings that can have that adaptability and can accommodate different uses and the market demands over time."
Along with flexibility of space, looking to the future, Pullman noted his company is working with clients to ensure new development and space is not over-parked. He said that with the push to move away from auto-oriented development and mobility, developers and retailers must future-proof retail centers. At the very least, he said parking should be built with a great deal of adaptability so it can be easily converted for other uses.
Doug Shea, chief executive officer of INCO Commercial, agreed that mixed use and a more efficient use of space is becoming the trend for retail. However, he said that Internet sales only account for about 10% of all retail purchases and are not posing as great a threat to retailers as some would have you think.
"It's not that mammoth of a number as people are thinking," Shea said. "Yes, it's going to move up from there. But right now, big box stores should maybe be about 10% to 20% smaller."
One of the biggest retail changes has been in grocery stores, according to Shea. He noted stores such as Whole Foods that offer restaurant-like services within the store, with tasting sections and food bars. Shea said this is a perfect example of creating an experience for customers.
The shift of brick-and-mortar stores to a more experiential model will result in a better retail experience for customers overall, according to Scott Burnham, chief executive officer of Burnham USA, developer of the new Long Beach Exchange retail center on the southwest corner of Lakewood Boulevard and Carson Street.
"Retailers of today that are prepared to modify their models in such a way to adapt to the changes in our consumers' shopping behavior will be best positioned to succeed," Burnham said. "It will be sink or swim, which will translate into better stores and a better overall experience."
Burnham said developers now need to think outside the box and be creative in order to produce a successful store or center with an aesthetic that will draw in customers. He explained that Long Beach Exchange is a model for themed experiential retail, with properly curated tenancy, an appealing aesthetic and design, and a good juxtaposition of innovative shared retail space in the form of the large hangar-like structure that will house multiple small retailers and classic retail storefronts.
Matthew Walsh, principal at Innovation & Design in Architecture, said his firm has noticed stores have decreased in size, as well as in SKU (stock keeping unit) count, to allow for a more boutique level of service. Additionally, he said many retailers are signing shorter leases in order to test certain markets before committing to the standard five- or 10-year lease.
One method noted by Walsh to bring retail into the experiential market is to expand stores into community events through features such as portable carts and kiosks that allow retailers to conveniently move parts of their stores outside.
As experiential shopping becomes the norm, big box retailers cut costs to keep up profit margins as customer demand continues to fall, Walsh explained.
"[Big box stores] are going to have to adapt somehow. A lot of the things that used to be a big box retail area are going into restaurant development or they're turning them into entertainment centers. It's like a natural selection working within the market. They will probably limit their expansion and focus more on just keeping the stores that are working open and up to date as much as possible."