This year, 242 conventions and meetings are scheduled at the Long Beach Convention & Entertainment Center, a lineup that the Long Beach Area Convention & Visitors Bureau (CVB) estimates will bring more than $247 million in estimated economic impact (EEI) to the city. When all tentatively scheduled events are added to that list, the numbers swell to 361 meetings and conventions generating, an EEI of more than $668 million.
As CVB President and CEO Steve Goodling and convention center General Manager Charlie Beirne tell it, the key to booking this business has been the transformation of the center into a versatile facility with turnkey event venues that are not only, as Beirne frequently says, "very cool," but also offer enormous cost savings to clients.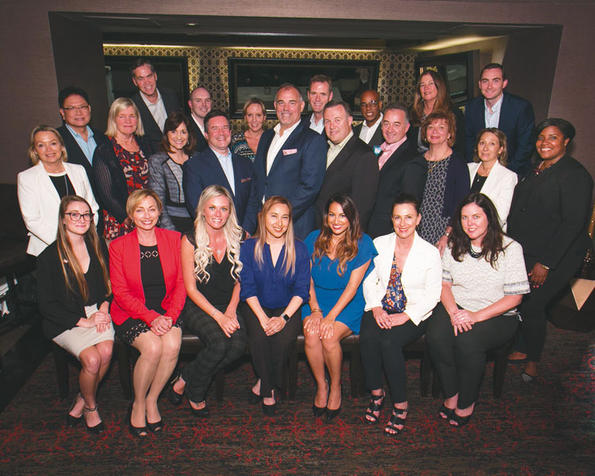 Selling Long Beach In The Nation's Capital: The Long Beach Convention & Visitors Bureau (CVB) traveled to Washington, D.C., last week on its annual sales mission. DC is the heart of national association headquarters. Bringing national association conventions to Long Beach is a major part of the CVB's sales efforts. In addition to the CVB and Long Beach Convention Center sales teams, general managers and sales directors from Long Beach hotels also took part in the sales mission. The week-long marketing effort included sales calls and special events, reaching out to more than 300 professional meeting planners to show why Long Beach is the "perfect" destination for their meetings. The Long Beach team included, front row from left: Erica Morris, Barb Swaiman, Samantha Willburg, Lilian Olguin, Alexis Amato, Bianca Ware and  Kristi Allen. Center row from left: Yvonne Rinner, Caribe Hourigan, Nancy Canzone, Steve Goodling, Stephen Sowards, John Braun, Silvano Merlo, Elaine Gamer, Joan Canterelli and Loren Simpson. Back row from left: Art Rosales, Art Scanlon, James Robinson, Kandy Grzebyk, Gregg Haniford, Travon Jones, Kathy Pape, Brendan March. (CVB photograph special to the Business Journal)
The Cove, a new special events space beneath the Terrace Theater Plaza, is now complete and ready for events ranging from loungey to urban chic and beyond. In a few short weeks, the new pedestrian walkway connecting the Terrace Theater Plaza and the Long Beach Convention & Entertainment Center's Pine Avenue promenade will be complete. And by Thanksgiving, the fountain at the plaza will be transformed into a showpiece reminiscent of the famous fountain at the Bellagio resort in Las Vegas, although of course on a much smaller scale.
These venues and infrastructure are the culmination of about $60 million in improvements made to the center – an investment which is already earning the facility an award-winning reputation in the meetings and convention industry.
Most recently, trade publication Successful Meetings named Goodling one of the Top 25 Most Influential People in the Meetings Industry, a designation for which he was also recognized by the Long Beach City Council on June 6. In March, he was inducted into the BizBash Hall of Fame by BizBash Media, a news and ideas resource for meetings and special events industry professionals and organizations.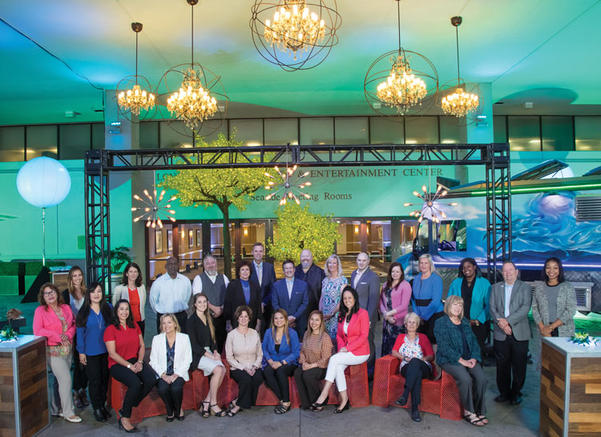 The Long Beach Area Convention & Visitors Bureau staff is pictured at the newly created event space, The Cove, located beneath the Terrace Theater Plaza at the Long Beach Convention & Entertainment Center. Seated from left are: Heather Gonzalez, national sales director; Yvonne Riner, vice president sales; Erica Morris, digital communications manager; Carolyn Derrico, executive assistant; Claudette Baldemor, membership director; Lillian Olguin, sales coordinator; Jennifer Kohatsu, national sales director; Cindy Robbins, controller; and Kathy Ford, sales coordinator. Standing from left are: Blanche Campain, national sales director; Jamie Weeks, digital communications manager; Lori Elgayar, convention services manager; Susan Valen, CMP, national sales director; Michael Mitchell, visitor services manager; Gary Watters, sales coordinator; Jan Miller, membership director; Gregg Haniford, senior vice president sales; Steve Goodling, president and CEO; Jeff Forney, vice president of marketing and membership; Barbi Mason-Ajemian, CMP, vice president, convention services; James Robinson, national sales director; Jenni Pearl, senior convention services manager; Caribe Hourigan, national sales director; Loren Simpson, director of digital communications; Bob Maguglin, director of public relations; and Terrie Jackson, administration assistant. (Photograph provided by the Long Beach Area Convention & Visitors Bureau)
The improvements to the facility, spearheaded by Goodling with Beirne's partnership, were in response to shifting trends in the conventions and meetings industry that Goodling tapped into when the convention center was host to the now world-renowned TED Conference.
"TED was ahead of the curve," Goodling said. As he explained it, TED changed the communication pattern of conventions. Rather than an event centered on someone making a presentation and attendees having to sit, listen and then go back to their hotel rooms, the event's organizers devised a formula that was flexible and conducive to making connections.
"TED broke those barriers and those molds of, you don't have to be the good student and sit in the front," Goodling said. "You can also be a little bit of the rebel and hang out in the lobby and still take it in. But you take it in at whatever pace and engagement you want." In addition to allowing attendees to tweet and text in questions during talks, the organizers created breakout lounge areas where attendees could grab customized food and drinks and connect with others while still catching the talks on big screens.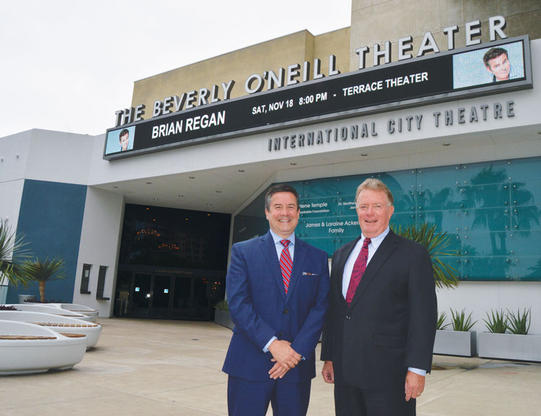 Steve Goodling, president and CEO of the Long Beach Area Convention & Visitors Bureau, is joined by his board chair, William Collier, Jr., at the Beverly O'Neill Theater. The renovated venue, formerly known as the Center Theater, debuted last year and now hosts performances by many of the city's major arts groups. (Photograph by the Business Journal's Larry Duncan)
"It was all TED inspired," Goodling said of the convention center improvements. "All the furniture pods, TED inspired. All the decor, TED inspired. If you go through our promenade, you will see cool furniture. You will see cool chandeliers. You will have charging stations."
Goodling continued, "In addition, then we activated spaces that were basically underutilized because they were outdated. So the first project, of course, was the arena project."
The Long Beach Arena is home to the Pacific Room, an events venue featuring a full theatrical rigging system that sometimes offers up to hundreds of thousands of dollars in cost savings depending on the size of the event. The Terrace Theater Plaza and Lobby have also been equipped with stage lighting, and any part of the convention center is now able to be transformed with contemporary furniture and decor available through the convention center.
Beirne said the arena is such a hit that he hardly has any open dates to book events there. He also doubled his stage crew, which operates full time on staff at the center.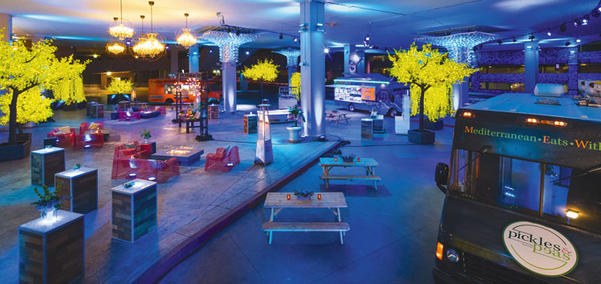 The Cove is the Long Beach Convention & Entertainment Center's newest event venue.  The space, which is located at the Seaside Way entrance of the center beneath the Terrace Theater Plaza, features LED-lit crystal chandeliers, barnacle-inspired lighting fixtures affixed to pillars, an underwater motif decorating the ceiling, and the full range of décor and furniture available to any group planning an event at the center. The CVB markets the venue as ideal for food truck events, parties, dinners and as a pre-function space. (Photograph provided by the Long Beach CVB)
"We are creating unique spaces, and nobody else has done it yet," Goodling said. "Convention centers aren't there yet. The private sector is there in terms of creating social spaces. But they aren't there yet in terms of creating unique special event venues."
In addition to wanting venues that can "wow" attendees into sharing photos and posts about events on social media, meetings planners are also seeking venues that can accommodate what Beirne has dubbed the three C's: connecting, collaborating and communicating. "I think that's the most important key, and it has been for the last couple of years," he said.
Convention and meeting planners are now seeking to work with CVBs that will work closely with them to ensure the success of their event, according to Goodling. In years past, they were simply looking for "rates and dates" – a space to rent for an affordable price.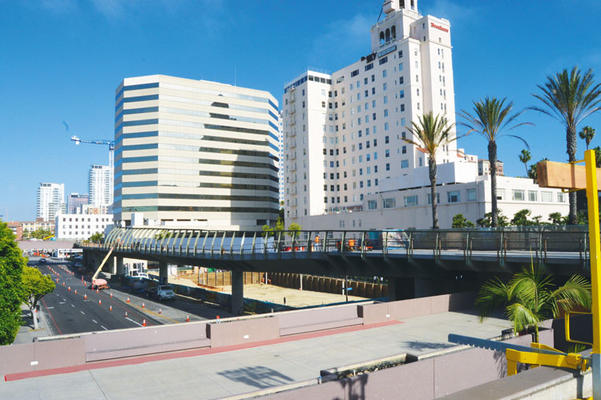 A pedestrian bridge is under construction above Seaside Way. The bridge, scheduled to open in July, connects to the Promenade along Pine Avenue on the west to the Long Beach Performing Arts Center to the east. The Promenade stretches from Rainbow Harbor, past the Hyatt Regency and the entrance to the Long Beach Convention Center, up to Ocean Boulevard and the Renaissance Long Beach Hotel, then moves north past several restaurants to 3rd Street. (Photograph by the Business Journal's Larry Duncan)
"In our type of field, we're now competing with large box hotels which have expanded significantly in Southern California and across the nation," Goodling said. "We are competing with thousand-room hotels that have the same amount of convention space that our center has. . . . Now our main competitive advantage is we have unique special event spaces and they don't."
Goodling and Beirne believe Long Beach is competitively positioned in the regional and national convention marketplace. In addition to the upgraded facilities, they believe the partnership between themselves and their staff, as well as the greater hospitality and tourism industries in the city, puts Long Beach at an advantage.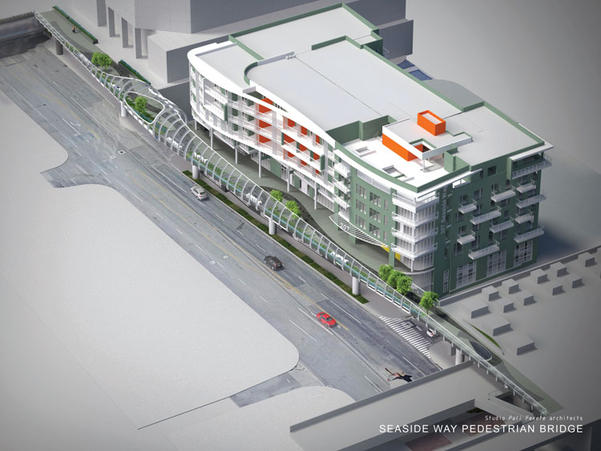 This rendering shows the completed pedestrian bridge adjacent to a residential project now under construction.
During the week of June 12, CVB staff was joined by Long Beach hotel managers on a trip to an annual trade show in Washington, D.C., where major national organizations interact with convention center and CVB staff from across the country to decide where to host their conventions. In years past, the mayor has attended as well.
When prospective clients visit the city, the CVB and convention center partner with Long Beach's major hotels to host a lunch and site inspections. "I have had many clients say in their decades of doing this, they have never had any city show up with full representation to welcome them and show them that they are there as a partnership," Goodling said.