In the office of Chris Wacker, CEO of Bixby Knolls-based software firm Laserfiche, one window blind is rolled up, revealing a less than inspiring view of an empty dirt lot across a small side street. A pair of binoculars rests on the window ledge, a clue that, while the view may not seem like much to the average onlooker, to Wacker it represents his company's future. The site is undergoing remediation, and in October Wacker intends to submit plans to the City of Long Beach to build a new, three-story, 105,000-square-foot building for Laserfiche. The company will also continue to operate from its current headquarters.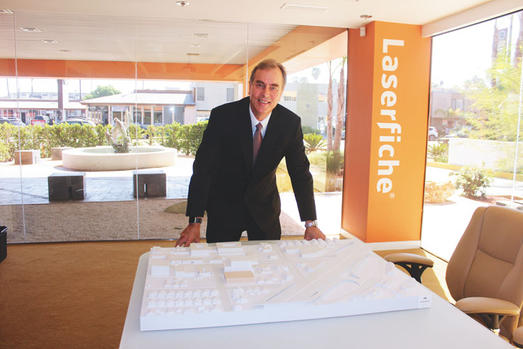 Chris Wacker is the CEO of Laserfiche, a software company with 400 employees based in Bixby Knolls. The growing firm has plans to construct another building next door to its headquarters, with plans expected to be submitted to the City of Long Beach in October. Wacker is pictured standing over a 3-D model of the project plans. (Photograph by the Business Journal's Brandon Richardson)
The software firm is in growth mode, with six full-time recruiters on staff and an average of five new clients each week. One of those includes the City of Long Beach – in August, the city council approved a $4.3 million contract for Laserfiche to get city departments on a common software system designed to reduce paper use, streamline permitting and forms processes, and make the city a truly digital-based operation.
Laserfiche was incorporated in 1987 by founder Nien-Ling Wacker, Chris Wacker recounted. "Prior to that, we were a custom software company developing custom applications on mainframes and mini [computers] for our customers that included Fortunate 500 companies, including Carnation and Honda America in Torrance," Wacker said. Laserfiche was located in Torrance until the firm moved to Long Beach in 2001.
In 1987, Honda was facing a product liability suit for its motorcycles, and asked Nien-Ling to develop a program to digitize thousands of papers related to the litigation and make them searchable. "That was the genesis of Laserfiche," Wacker said. Nien-Ling Wacker passed away in 2014.
"We started out as a very efficient and high-performance alternative to the file cabinet," Wacker said. "That is, its features and functionality offered easy [digital] storage and easy retrieval." As new types of files were invented and became commonly used, such as audio and video files, Laserfiche integrated them into its platform. The company then began developing digital forms, allowing them to be originated with its software rather than requiring a paper document to be scanned.
In 2001, Laserfiche purchased its current building on Atlantic Avenue. Long Beach's location central to Los Angeles and Orange County enabled the company to recruit new talent from a wide region, Wacker noted. Laserfiche expanded into a global presence with five international offices, in Canada, China, England, Hong Kong and Mexico.
The company is now focused on offering its product via the cloud, negating the need for physical infrastructure such as servers or storage devices, according to Wacker. Using the cloud also allows clients to more quickly and easily upgrade their software, and allows them to pay for the service on a monthly basis rather than out of an annual capital budget.
Laserfiche's content management and business processing software is built in an open architecture, non-proprietary format that allows easy integration with "the army of PC [personal computer] developers around the world," Wacker said. "The user can benefit from it within half a day. They could begin scanning pages and retrieving them and working with them," he said of Laserfiche's product. "Then, to customize it for particular industries or applications, we have a business case library of about 120 different templates . . . that can also be modified."
Laserfiche's client base includes both private and public entities. Examples of corporate clients include financial firm TransAmerica and Long Beach-based Farmers & Merchants Bank. In addition to the City of Long Beach, Laserfiche has worked with many other cities, such as Santa Monica, Santa Ana and Anaheim, according to Sam Hall, the firm's state and local government marketing manager.
Wacker said the client he is most proud to have is the City of Long Beach. While Laserfiche has been working with the city government for about a decade, the city council's August 21 decision to approve a new contract with the company is greatly expanding that partnership, he noted.
"What we'll do for them is to automate all of the city's processes, which heretofore have been manual. For example, we'll build forms for them which they'll put on their website and allow them to remove the paper from that process entirely," Wacker said. "Not only will it make it more efficient and faster, but it will also eliminate any kind of data entry errors from paper into a computer. . . . We are very proud of that and excited about what we can do for the city.
About seven years ago, Laserfiche began working with the Long Beach Police Department and City Prosecutor Doug Haubert to assist with a gang injunction program, Wacker noted. Gang injunctions are court orders that prohibit gang members from being in specific areas at certain times. Wacker explained that this is an easier way to prevent crime, as gang members are on average arrested for just one out of every nine crimes they commit. "This is much less expensive, the civil approach," he noted.
Laserfiche's software enabled officers to pull up digital injunction forms at the scene, as well as images and other identifying documents to ensure that they were approaching the correct individuals, Wacker explained. Hall pointed out that this function was a major reason for the program's success. Other cities that have attempted gang injunction programs to combat criminal activity have come up against litigation, he explained.
"Los Angeles had a big issue with them because they weren't able to prove that these were the people who were on the gang injunction," Hall said. "There was a lot of wrongful imprisonment, and so the ACLU really had a big to-do over it. Here in Long Beach I think the success is . . . because in the field, the officer is able to pull up the actual document and show and prove to this person that this is the person associated with the document."
The Justice Lab, a project of the Long Beach Innovation Team, has partnered with Laserfiche to expand use of this technology to assist police officers. For example, if a domestic violence call comes in, officers can pull up a map indicating prior cases of domestic violence in the area and who was involved. "They will be able to actually see in real time who is in that neighborhood that they are in," Hall explained.
The growing company currently has a staff of about 400 employees, according to Wacker. "We have six full-time recruiters scouring the countryside and world for talent," he said. During a time when the nation is at what most economists consider to be full employment, there is a scarcity of talent, he noted.
To attract employees, Laserfiche has cultivated a company culture with employee-centric perks. "We do lot of innovative things to attract them: good wages, challenging work environment, challenging assignments, extracurricular activities, free lunch and snacks during the day," Wacker said. "We have several clubs: golf club, sailing club. We offer yoga training in the office." Laserfiche also owns corporate housing near its office for new employees to live in while they look for a local residence.
"It's in our DNA. We are an intellectual capital company: intellectual capital is our stock and trade. So we like to keep our fingers on the pulse of everyone in the company, and provide them the best possible experience that we're capable of," Wacker said.
Through the window outside of Wacker's office, trucks and workers can be seen populating the site of the company's planned new building, where environmental remediation work is taking place on abandoned oil wells. "We are going to fill the new building with up to 500 people," Wacker said. "We're expanding our headcount and increasing our user base. We are gaining new customers on a very regular basis. . . . The business opportunity is growing because of the quality of our software, and we're racing to meet that opportunity and meet that challenge."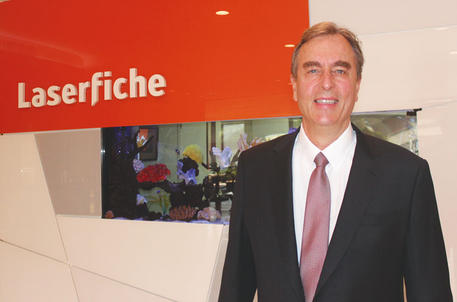 When asked about his company's client base, Laserfiche CEO Chris Wacker said he is most proud of the company's relationship with the City of Long Beach. The firm has implemented software solutions to assist the city's police department for about eight years now, and its contract has been expanded to digitize files and forms for the remaining city departments. (Photograph by the Business Journal's Brandon Richardson)
"It's totally environmentally compliant," said Wacker of the new building. "It's LEED-certified and wellness certified. And it's going to be very energy efficient," he added. Laserfiche will retain its current building to operate its scanning subsidiary, Accuflex, Wacker noted.
Once the new building is complete, Wacker intends to create a high-tech incubator program onsite to foster new talent in the industry. "We can perhaps offer them space and programming assistance," he said. "We can work with companies that want to improve their offerings and work with their users that would like to make them more functional."
Hall, who sits on the board of the Institute for Innovation and Entrepreneurship at California State University, Long Beach, noted that he plans to explore incubator partnerships with the institute and the city. The collaborations could benefit Laserfiche if applied to its platform, Hall explained. "We see it as an opportunity for us to develop more niche solutions than what our development team is focused on," he said.
As Laserfiche grows in Long Beach, it continues to expand community outreach. Every last Thursday of the month, employees volunteer at the Long Beach Rescue Mission, according to Hall. Employees also participate in monthly beach cleanups. The firm supports many nonprofits, including the local chapters of the Boys & Girls Club, the YMCA, the Boy Scouts, Habitat for Humanity and others, Hall noted. "Essentially, if you name a nonprofit in this town we probably do something with them or are planning to," he said.
Overall, Wacker said he is excited about what the future holds for Laserfiche in Long Beach. He reflected, "We believe the management and elected officials in the city are very dynamic and they have a vision and, in addition to that, they are acting upon that vision. . . . we appreciate the leadership that they provide. I think it will just create more opportunity for us."