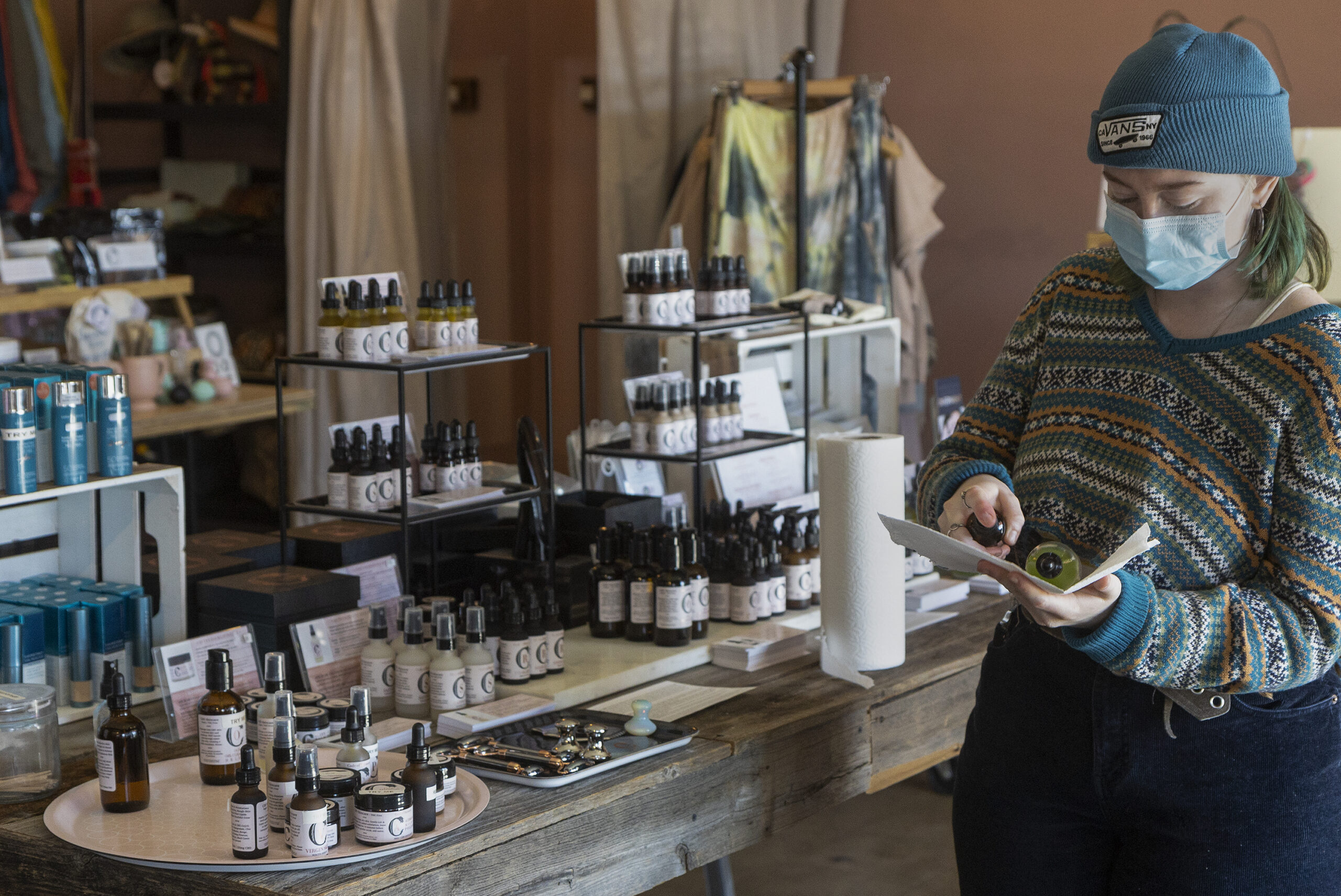 Coming out of 2020, Johanna Moynahan had to face the facts: Things were not looking great.
The owner of Far Outfit on Retro Row, which sells recycled vintage clothes, saw her sales drop and her costs continue to rise. Things were getting too expensive for her to keep up.
As the pandemic dragged on through 2021 and into 2022, costs kept increasing.
Moynahan isn't alone in her plight. Small businesses across the country are facing the consequences of a skyrocketing inflation rate.
"I noticed a shift near the end of last year," Moynahan said. "Food costs were going up, and rents were going up, and I had just renewed my lease."
"I have all these loans from the governments and grants as well, but it still wasn't enough to cover the losses."
About 22% of the 1,504 small business owners who responded to a survey for the National Federation of Independent Businesses's (NFIB) Small Business Economic Trends report in January 2022 believe that inflation and its various consequences are the biggest obstacles for their businesses' success.
The NFIB Research Foundation has put out quarterly surveys since the fourth quarter of 1973 and monthly reports since 1986. The concern about inflation is the highest it's been since the recession in the early 1980s.
In January, when business owners took the survey, the country experienced a 7.5% inflation rate over the previous 12 months, the Labor Department would later report. It was the highest 12-month increase since June 1982, when prices were increasing by double-digit rates, according to the NFIB.
"Inflation is at the highest level since the 1980's and is having an overwhelming impact on owners' ability to manage their businesses," NFIB Chief Economist Bill Dunkelberg said in the news release for the report.
The problem is hitting owners in different ways. Of those surveyed, 34% of owners who reported negative profits attributed the problem to the cost of materials, while 19% saw weaker sales as the reason.
At Long Beach's Code of Harmony—a skin care store and clinic that offers facials with CBD and other botanical products—owner Janet Schriever felt the effects of rising costs firsthand.
"I have still been able to get the oils and things I use for my products, but some things have gone up [in price] 30-40%," she said.
While the actual product itself was accessible, shipping conflicts with China created a new issue entirely: packaging. Almost all cosmetic packaging comes from China, Schriever said, and this left her with a problem.
With standard packaging no longer being readily accessible, she had to try and find economical replacements. But costs are higher than ever, and she has yet to find a sustainable solution.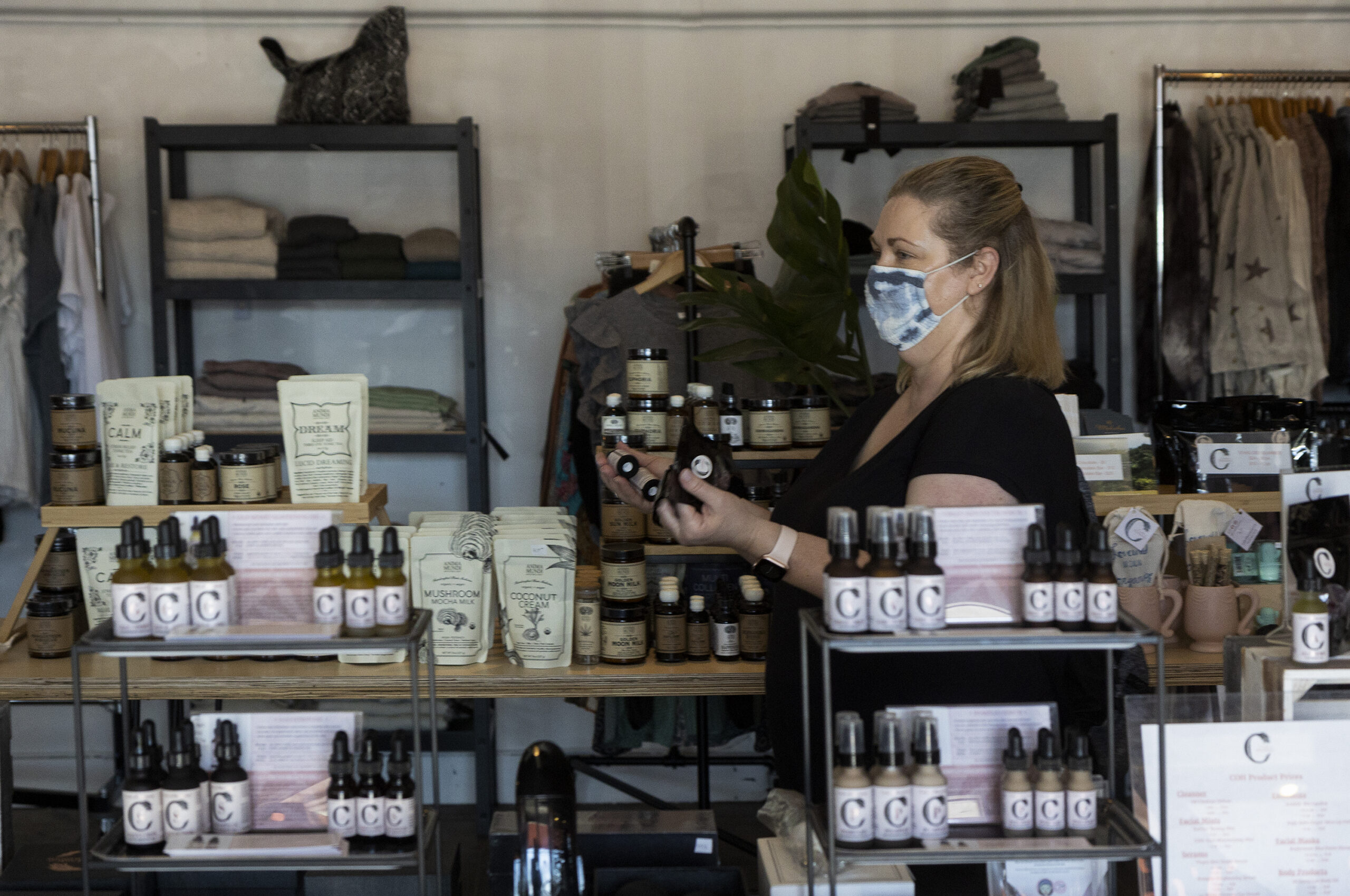 "We have had a few failures with things like spray caps," Schriever said, "because now we are getting the worst quality available, because that's all there is."
"I had to order a lot of a certain bottle that I didn't even know I was going to use because I wasn't sure if that was all I was going to get anything else," she added.
Price changes—the most direct impact of inflation—have been unavoidable for many businesses. Overall, 62% of business owners surveyed have reported charging higher sales prices to customers, while just 5% reported lowering prices.
At Far Outfit, Moynahan's need to raise costs took such a toll that she made a big change: Moynahan added a whole new category of clothes to her store.
"I had to ask myself, 'OK, everybody else is going up, but what can I do to bring costs down?'" she said. "The answer to that was to bring in thrift merchandise, which costs less to me and costs less for the consumer. So I started doing that about a year ago, and that actually helped a lot."
Far Outfit defines its vintage merchandise as 20 years or older, while thrift clothes are more recent and cheap items. Right now, Moynahan says her thrift merchandise, which she started selling about a year ago, is mainly shorts and T-shirts, but even this limited selection has helped boost her sales.
Schriever noted that while she has been able to weather the increasing costs and prices with a dedicated group of customers who believe in her product, it's still been difficult.
"I have had to increase my pricing structure, which didn't go over well with people who are already hurting in this climate," Schriever said.
"Consumers are understanding to a point, but if they can no longer afford [things], they just stop buying them."
The cost of labor is also more of a concern now than it has been, with 11% of business owners saying it is their top business problem.
Moynahan eagerly hired several employees during the pandemic, but she had to let them go just a few months later when it became apparent that keeping them would cost more than she could afford.
Both Moynahan and Schriever are in the same position on this front: They want to hire but do not have the income to do so.
Moynahan in particular is looking to hire soon.
"I haven't had a vacation in two and a half years, and I really could use a good long break," Moynahan said.
"Aside from that, I need help," she said. "It is very challenging to do this by yourself."