With current travel demand reminiscent of the early post-9/11 era, JetBlue announced a consolidation plan Wednesday that will drastically reduce flights in the Los Angeles region. The plan could see daily flights out of Los Angeles and Long Beach reduced by nearly 90%.
The reasoning behind JetBlue's drastic consolidation is evident at Long Beach Airport, where passenger traffic plummeted 92% in March compared to the same month in 2019, according to an airport spokesperson. Passenger traffic from January 1 to the end of March is down 60% compared to the same period last year.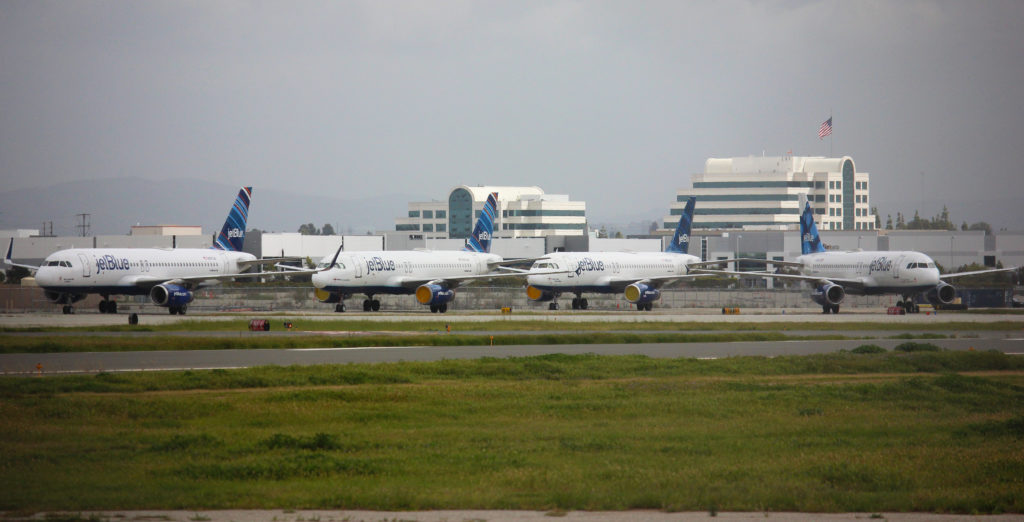 The airport expects JetBlue to continue flying two or three departures daily, down from 22 daily flights at the beginning of March. Further reductions are expected as all airlines continue to adjust their operations in response to the COVID-19 pandemic, the spokesperson noted.
"We miss our passengers that usually make our airport so vibrant," Director Cynthia Guidry said in an email to the Post. "But we are grateful that everyone is taking the order to stay at home seriously and avoiding non-essential travel."
As part of its consolidation efforts, JetBlue will freeze service out of Burbank and Ontario, flying only out of Los Angeles International Airport and Long Beach. The company estimated that JetBlue usually offers about 44 flights per day in April but under the new plan it would fly just five.
JetBlue's consolidation isn't limited to the L.A. area. In the Boston, New York, San Francisco and Washington D.C. metro areas, the airline is reducing flight operations from multiple airports in each area to just one or two.
"We face new challenges every day and can't hesitate to take the steps necessary to reduce our costs amidst dramatically falling demand so we can emerge from this unprecedented time as a strong company for our customers and crewmembers," Scott Laurence, JetBlue's head of revenue and planning, said in a statement.
The plan is expected to run from April 15 to June 10, as the airline aims to reduce "excess flying during a time of unprecedented low demand" for flights. The announcement did not include daily flight projections for May or June.
Long Beach Airport won't penalize JetBlue for operating fewer flights: Last month, the airport waived minimum monthly flight slot utilization requirements through May 31, which was in line with Federal Aviation Administration guidance to other flight-slot-controlled airports.
It's not clear yet what the long-term impacts of the cuts will be, but one concern is construction at Long Beach Airport: The Phase II Terminal Area Improvement Program currently underway is funded through passenger fees.
The new ticketing building and checked baggage inspection facility are currently under construction; however, the spokesperson said the program will continuously be evaluated as the coronavirus situation develops, adding that nonessential capital projects are being deferred.