As millions of Baby Boomers reach retirement age each year, medical technology continues to advance, allowing people to maintain active lifestyles. A common ailment threatening the older population's activity level is osteoarthritis, which occurs frequently in the hip and knee as cartilage deteriorates in the joints causing friction.
Earlier this year, the MemorialCare Joint Replacement Center at Long Beach Memorial became the first hospital in Long Beach and North Orange County to utilize Stryker's robotic-arm assisted total knee application on its Mako system. The system came into use around the same time as the American Academy of Orthopaedic Surgeons projected a 673% increase in total knee and hip replacements by 2030.
"Total knee replacements have come a long way. The advances have really come with the robotics where we are utilizing the Stryker Mako system," Dr. Andrew Wassef, medical director of Memorial's joint center, said. "The system allows us to provide an individualized plan for each patient and also be able to perform the surgery with extreme precision and really recreate the plan that we put forth initially with limited chance of error, which is a huge advancement."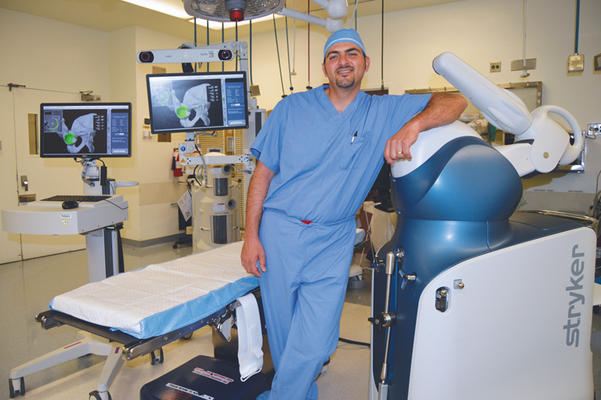 Earlier this year, the MemorialCare Joint Replacement Center at Long Beach Memorial became the first hospital in Long Beach and North Orange County to use the Stryker's total knee application on its Mako system. Dr. Andrew Wassef, medical director of the joint replacement center, said the system gives surgeons real-time feedback, allowing them to make adjustments mid-surgery for a better-balanced knee replacement. (Photograph by the Business Journal's Larry Duncan)
During a knee replacement, surgeons remove the bad cartilage and adhere metal to the bones with plastic in between to allow for a smooth surface for the joint to bend without bone friction causing discomfort. Wassef said that in the last 10 years, the plastic used for knee replacements is a much higher grade, allowing for replacements to last longer.
Wassef explained that the Mako Total Knee allows surgeons to obtain information about an individual patient's anatomy that was previously not available, which allows for a better re-creation of the individual's normal body mechanics. Additionally, Wassef said the system is the only one that gives surgeons live feedback, allowing them to make adjustments mid-surgery to ensure a good balance, which equates to more comfort and longevity.
"The problems occur more frequently when you don't have a well-balanced knee, and that can give the patients pain, not really the metal and plastic," Wassef said. "So being able to perform a very precise surgery, where you're able to balance the knee exactly the way that you want to, allows you to stay away from a lot of the pitfalls of poor balance with a total knee replacement."
Combined with more advanced and less invasive surgical techniques, Wassef said the hospital is focused on patient recovery. He explained that recovering from a total knee replacement used to be a long and painful process, sometimes keeping patients in hospitals for up to a week. With current practices, Wassef said Memorial's length of stay is under two days on average, with patients walking almost 300 feet before leaving.
Traditional techniques required surgeons to drill into the intramedullary canal of the bone, which caused more bleeding and increased risk, as well as caused post-surgery pain and longer recovery times. Newer, less invasive techniques do not require drilling into the bone, resulting in less blood loss, less risk of transfusion and less postoperative swelling.
"I have some patients that are back playing racquetball within six weeks of surgery and are very happy," Wassef said. "Other people take a little more time to get there. It just really depends on how long they have been deteriorating. It's really individualized. Every patient is different."
With these advancements, Wassef said he and other surgeons are more willing to do replacements on younger patients when medically necessary and with caution. The reason for the willingness is the precision and longevity of current knee replacements thanks to technological advancements such as the Mako Total Knee, which has drastically decreased revision surgeries.
Since putting the Mako system into use for total knee surgeries and being the only hospital in the area to utilize it, Wassef said he has noticed an increase in knee replacement patients, as they begin to understand the technology and seek it out. He said they like to know there are secondary checks and that these instruments allow for much greater precision.
"The nice thing is it's allowing us to mobilize our patients much faster. It's allowing us to get people up and going," Wassef said. "We have an excellent program here at Memorial where we really focus on rapid recovery and getting people back in their home and, really, back to normal life."
Dr. Brett Crist, an associate professor of orthopedic surgery at the University of Missouri School of Medicine, said the Stryker Mako system has not yet become as popular for hip replacement surgery as it has with the knee. However, he acknowledged that as technology continues, he fully expects robotics to be increasingly integrated into all types of medicine.
In regards to hip surgery, Crist said one of the major changes was the shift away from metal-to-metal joint replacements, which created metal debris. He explained that currently a ceramic femoral head is attached to the thigh bone, while a metal shell is attached to the pelvis, which eliminates potential metal debris, with a plastic liner between.
"So really, the advancements are working more toward, are there any other new surfaces that can be used to make joints last longer," Crist said. "It's not just any plastic that goes in there. It's a highly crosslinked plastic that is meant to last a long time. But that's still the part that wears down, so people are continuing to try to make improvements on that since metal-on-metal didn't really work out great."
Another area being looked at for improvement is the approach of surgeons during the operation, according to Crist. He said the direct anterior approach, which was popularized in the United States 10 to 15 years ago despite being practiced in Europe for the last 50 years, is still the approach that has stood the test of time. However, different approaches such as the direct superior approach and the superPATH approach (a combination of the superior and PATH approaches) avoid having to cut through tendons and soft tissue that older methods could not.
Decreasing blood loss during surgery has been another area of focus, according to Crist. He said inexpensive medications such as tranexamic acid being placed in the wound have helped reduced blood loss during hip and knee replacement surgeries.
Crist said he thinks the most important gains for hip surgery in the last few years have not been technological but rather the focus on postoperative programs and rehabilitation. He explained that faster recovery times have been a big push at hospitals, not to necessarily get patients out of hospitals more quickly but to return them to function faster.
"Also, we're trying to have patients' friends and families more engaged in the patient care too. To try to standardize the way people are treated afterward is a good thing, to try to minimize the chances of complications," Crist said. "I think in just arthroplasty in general, that's a big push to try to systematically make sure everybody gets on the same page, whether it's the patient or the hospital or the facility that they go to afterward, or the home health afterward or the physicians."