Formed as a professional auxiliary of the Assistance League of Long Beach in 1986, CAMEO was inspired by the jewelry-making method of carving women's faces on jewelry because the group was formed and represented by women, according to CAMEO Philanthropy Chair Daphne Ching-Jackson.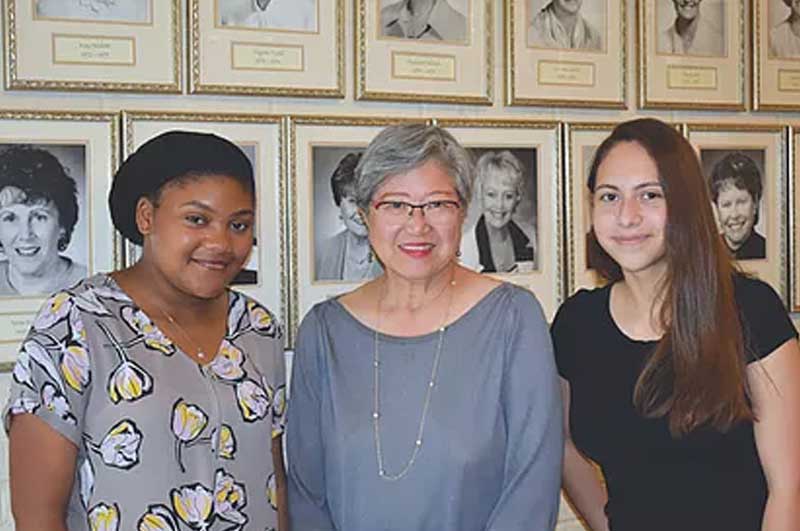 The founders of CAMEO consisted mostly of teachers, counselors and principals. The group's academic backgrounds inspired them to mentor high school students, according to Ching-Jackson. Many of CAMEO's programs focus on mentoring students to succeed in the job force and their academic careers.
One of those programs provides high school students with internship opportunities at a local government office, nonprofit or business.
Each year, CAMEO asks counselors at local schools to recommend students who have the potential to excel in their academic careers but face certain impediments, such as financial issues or lack of familial support. Each recommended student then has the chance to apply for the internship program and go through an interview process before being accepted.
Two separate summer internships take place during the course of three academic years for high school students. The students are paid minimum wage for their internship hours through co-funding from CAMEO and the participating organization that employs the student.
Along with the guidance from mentors assigned to each participating student, the program provides access to cultural activities and career-oriented workshops for three years for each student.
After a student has completed at least 80% of the internships, activities and workshops from the three-year program, as well as maintained a C-level grade point average or higher, they are eligible to receive a $1,000 scholarship and a laptop toward furthering their studies. According to Ching-Jackson, CAMEO gave away a total of about $30,000 in scholarships last year.
An annual fashion show raises the funds for CAMEO to provide the program and all its amenities to local students. The fashion show typically raises about $100,000 each year, Ching-Jackson said.
"There are not a lot of programs now that address confidence, feeling good about yourself and learning skills," Ching-Jackson said. "Back then [when CAMEO was first formed], there were hardly any. So, we were kind of like pioneers."
One of the first students who benefited from the internship when it first began was a young man from a Long Beach high school who eventually received a full scholarship to the University of Southern California (USC), according to Ching-Jackson. "We knew then that this would be a really good program for us to have," she said.
"I have been a mentor for over 30 years," Ching-Jackson said. "And every year that a group graduates, I always have tears in my eyes because I can see the growth."
Amirah Jenkins, a senior at Millikan High School participating in CAMEO's internship program, said her experience working in 8th District Councilmember Al Austin's office was the most impactful she has ever had. A major aspect of Jenkins's internship was to interact with 8th District constituents, which helped her improve her communication skills.
"I believe that my experience in CAMEO has definitely helped me grow as a person because I know that when I first started, I was pretty shy," Jenkins said. "It has definitely helped me to open up and not be afraid to take on roles that I normally would not have before."
A junior at Long Beach Polytechnic High School, Areli Morales, also gained communication skills from participating in CAMEO's internship program and working for CTI Environmental, which is a local small business.
"I feel like the internship really helped me in that aspect of being able to put myself out there because my boss also gave me the opportunity to go with her to attend some networking events," Morales said. "It actually also helped me open up, too. And it gives us an opportunity to actually see the real world."
Gail Bradley, public relations chairman of CAMEO and mentor to Jenkins, sees the internship as a valuable asset for local organizations who hire the student interns. "I want to emphasize that the only way we can make this program, from a summer internship perspective, work is that we work with our community," she said. "So, anybody who is interested in working with us, whether they are a small business or a nonprofit or a large business in the Long Beach area, they can contact us and we would be very happy to talk about that with them."
For more information about CAMEO, contact the Assistance League of Long Beach at 562/627-5650, or email: CAMEO@ALLB.org.