The Long Beach Airport (LGB) serves not only as a regional nexus for domestic travelers, but also as a major commercial hub. According to Interim Director Claudia Lewis, LGB and the businesses that lease space on its property generate $360 million in state and local tax revenues, and $790 million in federal tax revenues. "The airport itself employs approximately 130 people," Lewis said. "However, about 45,000 high-paying jobs are created as a result of the Long Beach Airport aviation complex." Lewis noted that the figure equates to about 6.4% of all jobs in the City of Long Beach.
According to a 2016 economic impact report conducted by Jacobs Engineering, the LGB complex and its tenants contribute an annual $10.3 billion to the economy. A number of aviation and aerospace businesses operate from the 1,166-acre airport, including Gulfstream Aerospace Corporation, Airserv, Long Beach Flying Club and Academy, and Anthelion Helicopters. DASCO Engineering Corporation, a component manufacturer for commercial and military aircraft, only leases a parking lot from LGB, but its 40,000 facility is directly adjacent to the airport.
The largest leaseholder at LGB is jet manufacturer Gulfstream, which employs close to 900 workers and has operated at LGB since 1986. Its 22 acres include five hangars, a completions center for servicing its G650 and G550 aircraft, and a service center for all Gulfstream models. In late 2017, the company submitted to the city a proposal to develop an additional 31 acres on the west side of the airport. Thomas Anderson, vice president and general manager of Gulfstream's Long Beach operations, told the Business Journal that discussions on the expansion are ongoing.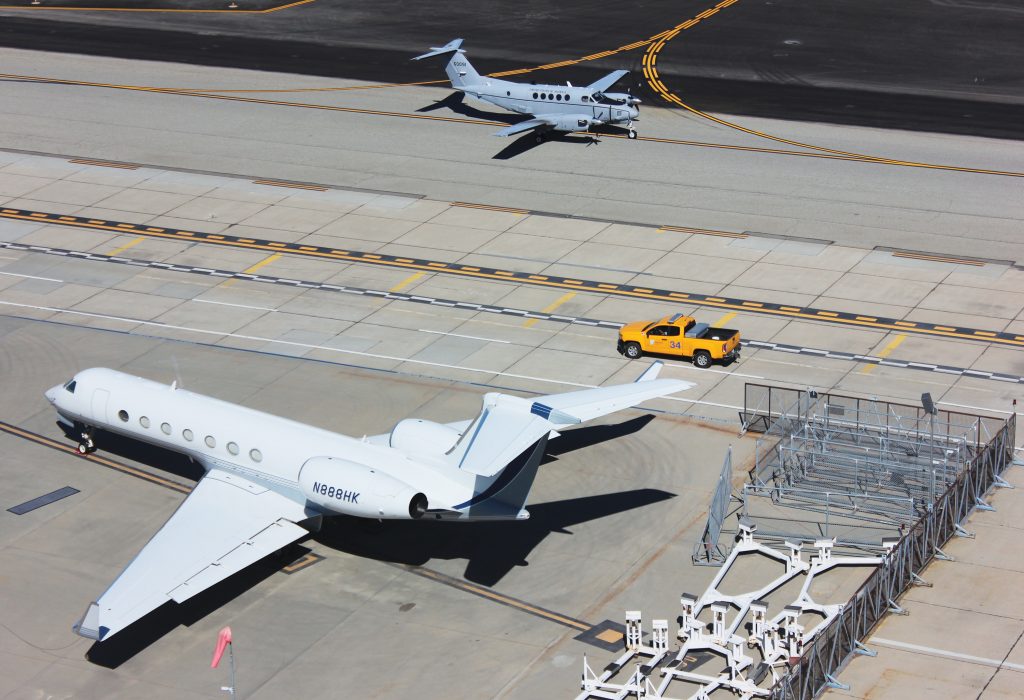 Anderson called LGB "a prime location" for its operations due to the large surrounding population and a high volume of Gulfstream aircraft in Los Angeles County. "Having a maintenance facility near our aircraft operators and owners gives them a convenient location to bring their aircraft to us for service and support," he said. "Gulfstream Long Beach is also a more readily accessible location for customers and prospects based on the West Coast, Asia Pacific – our biggest international market – and Latin America."
In an era of increasing environmental concern over emissions, Anderson noted that, beginning early this month, Gulfstream will begin selling sustainable alternative jet fuel (SAJF) to customers at its Long Beach facility. SAJF is an industry term for nonpetroleum-based fuels that are more economically and ecologically sustainable than traditional fuel. Anderson said that Gulfstream's SAJF is a biofuel produced by World Energy at its refinery in Paramount, located only 10 miles from its Long Beach facility.
Kevin McAchren, president of Airserv, a ground support and leasing company for charter flights, noted that cleaner jet fuel is becoming more common across the nation. His operation is dependent on automotive fuel, which becomes more expensive in the summer months. Despite the cost, however, McAchren said that business is doing well.
Inbound and outbound flights of local and visiting sports teams keep Airserv occupied at an almost perpetual clip, he said. "We just finished a couple weeks ago the NCAA [National Collegiate Athletic Association] men's basketball teams," McAchren said. "Baseball finishes up at the end of September, but then hockey season starts in the middle of September. So we have nearly a year-round and steady schedule of teams coming in, which is great."
Earlier this year, the City of Long Beach expressed interest in making Downtown Long Beach the new home of the Los Angeles Angels of Anaheim. McAchren threw his support behind the plan. With the exception of late-night flights that go to Los Angeles International Airport, all departing and arriving flights for the team have been from LGB, he said. "We like that, and we look forward to that being the case for many years – especially if they move here, which I certainly hope happens."
McAchren has been running Airserv at LGB for 47 years, and said he plans to continue doing so at least until the company reaches the half century mark.
Richard Garnett has been teaching students at the Long Beach Flying Club and Academy since 2002, and has served as chief instructor since 2011. The company offers multiple tiers of flight training, beginning with private pilot training and moving all the way to commercial pilot and multi-engine courses. Garnett said that the academy is handling more students now than it ever has before, at a record 125.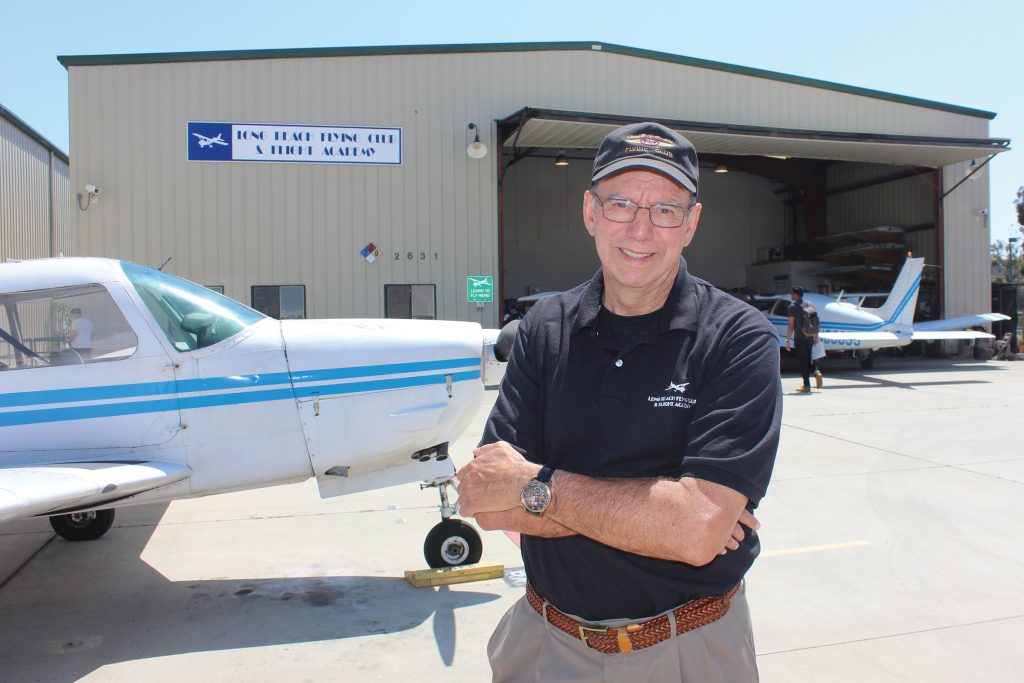 The academy is one of only two or three flight schools in the area that offers international flight training, according to Garnett. "Right now, we have 25 international students training out of 125," he said. While demand for new pilots is high across the United States, Garnett said it's even greater overseas – especially in Asia.
Garnett said Long Beach Airport is an ideal training airport. Students are able to train over the ocean, which is located just five minutes from LGB. "We have a whole area over the breakwater that's smoother and cooler and has lots of room," he said. LGB also provides students with the experience of communicating with a mix of general and commercial aviation businesses. "It gives students a good insight into the operations of the airlines, so they're not intimidated later on," Garnett said.
Alex Chaunt, CEO and founder of Anthelion Helicopters, also praised LGB as a training airport. With a fleet of nine helicopters and 12 employees, the company offers charter flights, tours, photo and video excursions, as well as pilot training. Anthelion's range of services keep its pilots fairly busy, though the record rains in January and February of this year reduced flyable days by about 30%, Chaunt said. In the last few months, the price of fuel has also risen about 30%, leading to a bumpy start to 2019, he noted.
Chaunt is undaunted, however. Anthelion's fifth anniversary is in June, and Chaunt said he's constantly thinking about ways to expand revenue and operations. He recently returned from a demonstration in Las Vegas of a new high-definition camera system for Anthelion's two-seater helicopter. The Shotover B2 is a miniature six-axis camera that offers 4K resolution, giving it a competitive edge over less sophisticated drone cameras, he explained, adding that Anthelion was the first helicopter company in the world to use it. "It's a completely new vertical for us. It's on the cinematography side, but we're doing something to completely disrupt the market right now."
DASCO Engineering has expanded its Long Beach operations, adding to its current two manufacturing facilities with two adjacent buildings on Airport Way. While some of their intended services remain confidential, Vice President Terry Rogers said a portion of the buildings will be used for offices and assembly operations.
DASCO employs 120 people, the majority of whom have operated out of the private company's 66,000-square-foot Torrance facility. Rogers said that the company plans to vacate one of its Torrance buildings and migrate its administrators, program managers and accounting to the new buildings it has acquired in Long Beach. When the process is completed, Rogers estimated that DASCO's Long Beach workforce will expand from 30 to 80 people.
The private company has exhibited steady growth every year, Rogers said. "Even during the down times we're still growing." DASCO's interest in increasing its Long Beach footprint is part of a larger desire to maintain that upward trend, he explained. "We don't want to limit ourselves on the facility side."