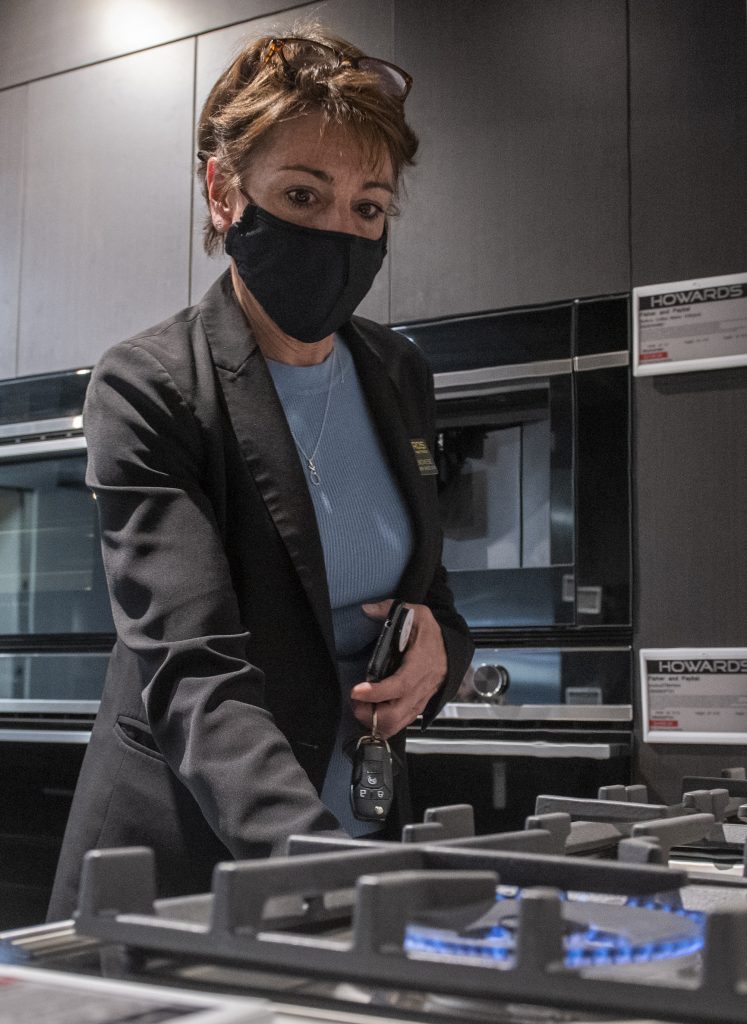 The growing retail landscape of East Long Beach has been joined by a new member catering to an upscale clientele: Howard's Appliances. 
After picking up groceries at Whole Foods or Gelson's, shoppers visiting the corner of 2nd and Pacific Coast Highway can now admire—and try out—smart fridges, barista-worthy coffee machines and even a osteria-style pizza oven at the Southern California chain's newest location.
Once gatherings are safe and permitted again, the company hopes to use its built-out kitchen and entertainment environments for live events, for example inviting chefs to cook using the for-sale appliances.
Formerly located in Signal Hill, Howard's has moved its Long Beach area store to the Marina Pacifica shopping center, where it fills the spot left vacant by Sports Authority after the company's sale to Dick's Sporting Goods in 2016. 
"We wanted something unique and different," Howard's CEO John Riddle said about the new store, which seeks to offer a hands-on shopping experience. "We thought this would be the perfect location to do that."
The pandemic has made the process of opening a new store more difficult, in part because of new safety requirements and delays at city hall, Howard's chief operating officer Kathy Genovese said. 
As a result, the new store doesn't yet offer the full experience. A coffee bar featuring products by luxury appliance company Fisher & Paykel, for example, still sits idle near the entrance. But the location has performed surprisingly well since its Labor Day opening, Riddle said.
"In the first week, the store jumped up into our Top 5," the CEO noted.
Howard's has not spared any costs in setting up its new Long Beach location. According to Riddle, the company spent $1.7 million on the 22,000 square-foot store. In return, the company expects annual revenues of $10-15 million.
While the pandemic has created new hurdles for retailers, Riddle said being cooped up at home has led many to use their appliances more—and consider an upgrade or replacement.
"Our products are products that really serve an opportunity for a person to have a more pleasant experience in their house," he noted. "It's been an amazing growth opportunity for the home appliance industry."