Gone are the days when audiences file in to a theater, wait for the lights to dim, listen to an orchestral performance, clap when the lights go up and then leave to talk amongst themselves in the lobby – at least, such is the case at Musica Angelica performances. For the historically informed baroque orchestra and relatively new resident performing arts group in Long Beach, the audience is an active participant in the musical experience.
Martin Haselböck conducts Musica Angelica, a Long Beach-based baroque orchestra for which he serves as music director. The orchestra plays with instruments that were either made during the periods of the pieces they perform or are replicas. (Photograph provided by Musica Angelica)
New concertgoers attending a Musica Angelica performance at the Long Beach Performing Arts Center's Beverly O'Neill Theater can expect direct contact with the players, Music Director Martin Haselböck told the Business Journal from Austria during a conference call conducted at the Long Beach Convention & Visitors Bureau offices.
"They are sitting very close and have personal contact to the performance," Haselböck said. "They can meet the musicians after the performance. This direct contact with the music is a feature we really want to push with our programming."
Why the emphasis on getting up close and personal? The answer involves the orchestra's historically informed nature. "Today's normal symphony orchestras use different instruments than those that were used when the composers wrote the music," Haselböck said. "The instruments we use are exactly the instruments which were used at the time when the music was written. So, if we use a piano, we don't use a modern Steinway; we use a piano that is either an original or a copy of an instrument which was built 250 years ago."
This requires that all members of the orchestra – the number of which fluctuates from seven to 25 depending on the piece of music – be well-researched specialists in their historical instruments. As such, they are all, at one time or another, highlighted as soloists. "We could say the sound is authentic. It is related to the pieces when they were composed and written," Haselböck said.
During performances, Haselböck speaks directly to the audience to explain the historical background of musical pieces and to discuss the instruments being used. After performances, audience members are invited on stage to see the instruments up close and to chat with performers.
"What Musica Angelica really does well is build a two-way interaction with the audience," Ben Parr, author of "Captivology: The Science Of Capturing People's Attention," told the Business Journal. Parr is a former co-editor and editor-at-large for Mashable, an online news source, and is also a general partner of DominateFund, a venture capital fund. While he hasn't yet been able to make it to a performance of Musica Angelica, he's seen their performances online, and is a fan.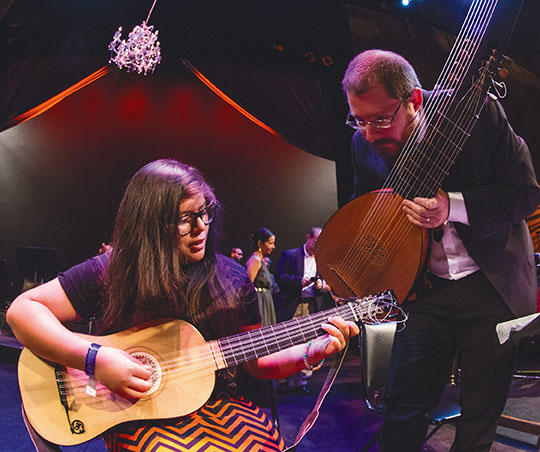 A musician with baroque orchestra Musica Angelica chats with a local student musician onstage following a performance. Audience members are invited onstage after Musica Angelica performances to learn about the historical instruments used by orchestra members. (Photograph provided by Musica Angelica)
"They make it so that it's not just that you're the audience, you're listening and then you leave. You're involved. You come on stage, you provide suggestions, you get to learn, they talk to you," Parr said of the orchestra. "That doesn't happen in the vast majority of orchestras, and it's a mistake on their part in the modern era. You see this through social media and you see this through our new communication tools," he said. "We expect and want communication with the things we interact with: the brands, the TV shows and the performers. What Musica Angelica is doing is absolutely the smart way to go about it."
Being based in Long Beach provides Musica Angelica with an opportunity to get to know and build a relationship with a community, Haselböck noted. "If you know your audience and you can develop an attachment to your audience, you can react better," he said. "You can finally ask the people, 'What do you want to hear? In which direction should our programming go?'" He continued, "Usually, with a big symphony orchestra, you get tied to a certain repertoire. We are open."