This year's Regional Economic Forum, presented on April 29 by California State University, Long Beach's Department of Economics, promises to put the state of the city's economy in larger context with respect to trends in California and the nation.
Providing this big picture expertise is Christopher Thornberg, founder of Beacon Economics, an independent research and consulting firm that also just so happens to be working in tandem with the City of Long Beach on its economic development efforts.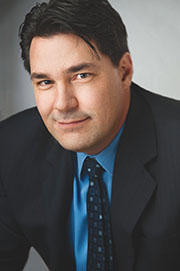 Beacon Economics has had a behind-the-scenes relationship with CSULB's Department of Economics for several years, assisting with the annual forecast event by providing data and materials.
"When I struck out and started Beacon Economics, we recognized immediately that working with universities and helping them do this is really good for everyone," Thornberg said, adding that his time as an economist at UCLA's Anderson Forecast instilled this sentiment in him. "Supporting places like Cal State Long Beach and their work in the local community to us is a part of our mission, and it's kind of a win-win transaction," he said.
(Christopher Thornberg, founder of Beacon Economics, is speaking at CSULB's Regional Economic Forum on April 29)
Wade Martin, chair of the department of economics and the organizer of this year's forum, invited Thornberg to provide national and regional context to his own analysis of Long Beach's economic standing. Attendees will leave with "a better understanding of the national and regional economies' impact on Long Beach, [and] a better understanding of what the community is doing to make Long Beach more innovative, more dynamic, more responsive to business and citizens' needs in a more sustainable way," Martin said.
"There's no such thing as an economy in a vacuum," Thornberg said. "While obviously everybody is most interested in Long Beach, you have to recognize the global forces – whether we're talking about issues around the world, [or] issues in the U.S. economy and the California economy – play a predominant role in what happens in Long Beach."
The forum is just one way Beacon Economics is lending a hand to the Long Beach community. The firm recently began working with the City of Long Beach to analyze confidential data – which will not be released individually – on the city's businesses in order to paint a larger picture of what's going on in the local economy.
The data includes "business by business information that can be used to create a really interesting mapping of the city and the economic forces at play," Thornberg explained. The analysis will yield information on income, employment, skillset of the local workforce, taxable sales, building permits and other information pertinent to economic development efforts in the city.
"From a planning perspective, this is a gold mine," Thornberg said. "I mean, knowing exactly how businesses are performing, what industries they're in, whether employment is going up or down, having some idea of the skill of the workforce by the average wages for that group . . . for an economic developer, this is a dataset that is really unparalleled."
In a discussion with Mayor Robert Garcia and city staff at the onset of these efforts, Thornberg said he had emphasized the importance of research and data analysis in economic development.
"If you want to develop the city, if you want to get down and really help the people of the city and the businesses, you first have to know what the hell's happening," Thornberg said. That's where Beacon Economics comes in. "Economic plans in a vacuum are bound to fail. But when they're based on real data and real analysis, well then you really have a good chance of spinning things in a positive direction, and that's what we're doing."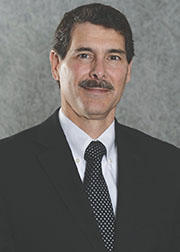 (Robert Kleinhenz, left, recently joined Beacon Economics as its executive director of economics research)
Beacon Economics' ability to leverage its expertise to effect change was what drew its new executive director of economics research, Robert Kleinhenz, to leave his previous post as chief economist at the Los Angeles Economic Development Corporation. He joined Beacon Economics on March 1. "I have been chasing him for like three years," Thornberg said. "He's a great economist and knows his stuff, and he's a perfect fit for what we're doing."
"In this role, and specifically working at Beacon, I'll be able to branch out beyond doing sort of narrow economic development research to work with cities [and] help them with revenue forecasts, help them to understand their local economies," Kleinhenz said. He added he'll also be able to work with both public and private sector entities to, for example, "determine exactly how a given real estate development may play out in terms of jobs created and long run impact."
Both Kleinhenz and Thornberg believe strongly that it's important for businesses, government officials and the general public to know more about how trends in the national economy affect them at the local level. For that reason, both "try to be fairly plain spoken and try to get past the economics jargon to explain these things so people understand what's happening and can make smarter decisions," Kleinhenz said.
"We've got good news about the economy right now. In the last several months, we've seen job growth hold up nicely for L.A. County," Kleinhenz said. Despite concerns about the economy brought on by "wild gyrations" in the stock market at the start of the year, "the local L.A. County economy maintained its footing, and, for the month of February, it added jobs at a 2.5 percent rate year over year," he noted.  Health care, transportation and warehousing, and leisure and hospitality continue to lead countywide job gains, he added.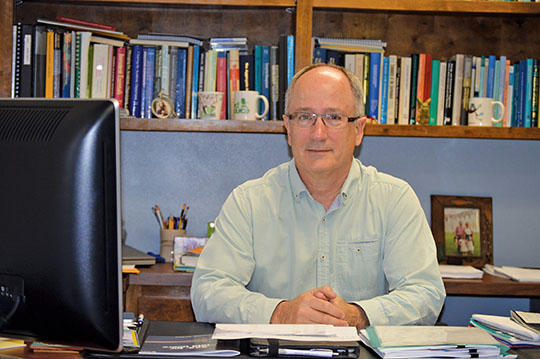 Wade Martin is the chair of California State University, Long Beach's Department of Economics. At the department's annual Regional Economic Forum on April 29, which he organized, he is presenting an analysis of Long Beach's economy. (Photograph by the Business Journal's Larry Duncan)
Martin and Thornberg will provide more information about the economy, with Long Beach-specific information, at the upcoming forum. The event also includes a panel with John Keisler, director of the Long Beach Innovation Team, and Jeffrey Fullerton, who as director of Edgemoor Infrastructure & Real Estate is a lead on the new Long Beach Civic Center project. Keisler is slated to discuss innovation and employment in Long Beach, with Fullerton focusing on the civic center project and its potential to benefit the local economy.
"Our vision is that the forum becomes the dominant annual event that talks about the direction the economy of Long Beach is headed and how it is a central driver in the region," Martin said.
The forum takes place from 8 a.m. to 10:30 a.m. at the Long Beach Convention & Entertainment Center's Seaside Ballroom, 300 E. Ocean Blvd. General admission is $40, and various levels of table sponsorship are available. To attend, register at www.csulb.edu/economics.forum by April 22. For more information, contact ref@csulb.edu or 562/985-8135.