Private sector demand for workers skilled in a variety of technical fields, from digital technology to automotive work to manufacturing, is increasing – but are enough students graduating from our public school systems prepared to enter these growing fields? And are they all receiving the training and education to meet technical skills requirements that are becoming increasingly standard among all industries?
Universal Technical Institute (UTI), a national private sector post-secondary school for automotive, diesel, marine, motorcycle and other vehicular technical fields, is striving to meet a growing need for more skilled workers, according to Larry Hohl, president of the Long Beach campus at Douglas Park. That campus offers automotive and diesel technical programs, as well as a collision repair program.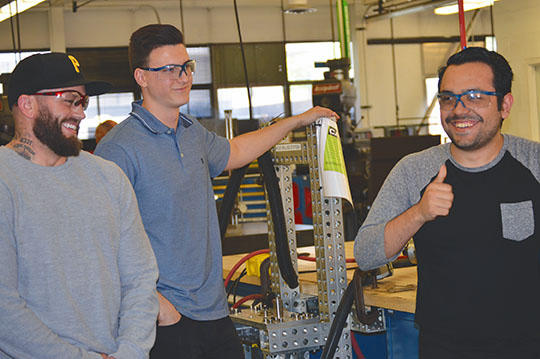 Engineering students at California State University, Long Beach discuss the process for drilling perfect holes for aeronautical equipment in a lab full of equipment donated by Boeing. Pictured, from left are: Brennan Weir, Andres Sanfelippo and Luis Valdivia. (Photograph by the Business Journal's Larry Duncan)
"When you look at the national numbers, they project that there will be more than 1.2 million jobs in automotive/diesel collision repair, or motorcycle and marine technician type categories, by the year 2024," Hohl said. "That means we've got to find and fill 37,000 technician jobs on average every year," he explained. "The projections for California are that between 2012 and 2022 the need for technicians will increase by 15 percent."
UTI, which Hohl said is the single largest provider of post-secondary education in these fields, cannot keep up with this level of demand.
Part of the problem is that today's youth are often given the impression that attending a college or university is their only post-high school option – attending a technical school isn't often pitched as a viable path, according to Hohl. "Our society tends to suggest to our youth that you need to go the traditional path of a four-year university or, worst case, a two-year community college, and almost implies that if you don't, you're a failure," he said.
"And I'm not saying that we shouldn't try to encourage students to go that route if it makes sense for them. But it doesn't make sense for everybody," Hohl continued. "There clearly is a group of students who are different types of learners with different types of in-demand skillsets . . . who would do much better if they went the route of trade schools like ours."
Another issue is a common societal misperception about automotive-related technical occupations – one summed up well in the "grease monkey" stereotype, Hohl said. But in reality, "It has become a very high tech, computer-oriented type profession," he said. "I mean, we often quote that there are more computers in a car today than there were in the early Apollo spaceships that sent men to the moon. So it's a whole different world."
UTI's entire education model is centered on getting its students into technical careers with skills-based learning – and to do so, the school partners with industry giants like Ford, Peterbilt and BMW. "We have relationships with manufacturers in the transportation industry that represent over 30 of the best-known brands in all of transportation," Hohl said. "They also support us in equipping our campuses with the right tools and training aids, and the types of things our graduates are going to need to be able to use when they go on to start a career in the transportation technician industry."
In Long Beach, the school, which just opened in 2015, already has courses designed around Nissan and Mercedes-Benz products. In fact, UTI students take courses on site across the street at Mercedes-Benz USA's one million-square-foot western region facility, Hohl noted. "We will have one more brand-specific program in Long Beach. It is still to be announced. But we do have space dedicated for an additional program."
When asked if Microsoft is able to find the types of skilled workers it needs to fill open positions, Celeste Alleyne, director of citizenship and public affairs for Microsoft's western region, said: "No. We're not able to find them." She said the root of the issue is likely that today's youth aren't getting necessary technical training in schools. It's particularly difficult to find women interested in or trained in science, technology, math and engineering (STEM) fields, she added.
About 77 percent of jobs will require some level of tech skills within the next decade, according to Microsoft.
"A lot of schools don't have technology programs, and that's one of the areas Microsoft hopes to support, to build more opportunities and more kinds of classes and sessions, more teachers who have skilled technology training so that we can bridge this gap," Alleyne said.
To help cities and schools around the country better prepare students for the workforce of the future, Microsoft is leveraging its own resources and employees' hours. Last week, the company, in partnership with the City of Long Beach, held two "Digi Camp" events for 91 Washington Middle School students, who were about evenly split between boys and girls.
The Digi Camps featured a keynote speech from Dwaine Streater, executive director of Paramount Pictures' property operations, and a career panel made up of top-level Microsoft professionals and 1st District Councilmember Lena Gonzalez, also a Microsoft employee. After engaging in a Q&A with these professionals, students were then divided into groups and taught basic coding skills by Microsoft employees Alleyne described as "technology gurus."
Mayor Robert Garcia told the Business Journal that the city has had a business relationship with Microsoft for many years. Last year, the city formed a "digital alliance" with the company to partner on programs like Digi Camps, aimed at providing tech education to the city's youth. He said more Digi Camps and other events are to be held in the future. "The plan is to have more and more of these camps that provide unique, hands-on digital and technology experience for students," Garcia explained.
"Students are going to learn coding and about a lot of different programs out there, and about jobs," Garcia said. "It's just a great opportunity for them. And the students participating are from some schools or neighborhoods that don't have as much access to technology. So I think that's an important part as well."
Similar to Microsoft, The Boeing Company has a need for workers skilled in STEM who have basic technical training, and strong communications and teamwork skills, according to Tamika Lang, global corporate citizenship western region manager for the company, and Mitra Rogers, manager of government relations.
Lang said the public school system is "making strides" in preparing students for skilled technical careers through programs like Long Beach Unified School District's Linked Learning pathways, in which students' curricula are centered around specific industries, such as engineering or forensic sciences.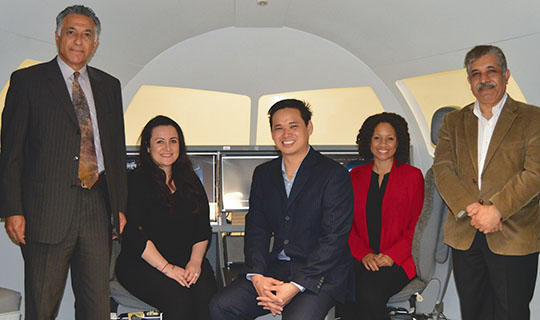 The Boeing Company and California State University, Long Beach's College of Engineering have a growing partnership through which Boeing provides equipment and laboratories, such as the one pictured, as well as internships. Boeing benefits by contributing to the education of a skilled workforce, which it needs for its aerospace programs. Pictured, from left, are: Dr. Forouzan Golshani, dean of the College of Engineering; Mitra Rogers, Boeing's government relations manager; Dr. Daniel Whisler, assistant professor in the Department of Mechanical and Aerospace Engineering; Tamika Lang, Boeing's global corporate citizenship, Western region manager; and Dr. Hamid Rahai, associate dean for research and graduate studies.
 (Photograph by the Business Journal's Larry Duncan)
For example, LBUSD's newest high school, the Sato Academy of Mathematics and Science, has learning pathways centered on biomedical sciences and engineering. The high school opened this year, and currently has 120 ninth graders enrolled, according to Principal Mona Merlo.
Coursework at the Sato Academy is designed to meet college entry requirements, but also prepare students for careers through hands-on and industry-related learning. All students are required to take a course backed by the national nonprofit Project Lead The Way, which focuses on how the human body works, going beyond textbook learning. "The students have mannequins and they're building all the organs and the internal structure of the body and the muscle, so they truly have an understanding of how it's all connected inside the body," Merlo said of the class.
Another required course is an introduction to engineering design. This too, provides students with hands-on learning, and gives them a chance to learn how to use advanced technology. "We have 10 3D printers so that all students truly have an opportunity to create and print," Merlo said.
To further schools' progress in preparing students for future workforce needs, Boeing wants to become increasingly involved in public-private partnerships, Lang said.
"If you look at the K-12 level, a big area where we invest in is actually in teacher professional development," Lang said. "What we're finding, especially in common core and next generation science . . . is there is a much higher expectation of teachers to really be proficient in STEM," she continued. "And many of those teachers don't have that experience, that content knowledge, or know how to teach those areas, number one, and two, don't know how to get students excited about pursuing careers in those areas."
The main way Boeing supports teacher and student development is by funding nonprofit organizations. "We work with the Mind Research Institute, which works with Long Beach Unified in helping with math skills," Lang said. "We work with Engineering In Elementary, which is an engineering teacher professional development program that we've funded with ABC Unified."
In addition to funding programs, Boeing also sends its employees out to schools to engage teachers and students about STEM. For the recent National Engineers' Week, Boeing sent employees to California schools to teach lessons related to engineering, such as how to build a plane or a helicopter, Lang noted. "They talked about those concepts and then they led those kids in a design challenge where they said okay, now you go ahead and design your own helicopter."
California State University, Long Beach's (CSULB) College of Engineering works closely with Boeing, and has been the beneficiary of donated laboratories and equipment, as well as internship programs, to help prepare students for future employment in the aerospace industry. Recently, following the shutdown of Boeing's C-17 Globemaster III program, CSULB and other local schools were able to visit the C-17 production site and take valuable equipment needed for their programs.
"I'm pleased to say that . . . we had over a dozen schools come to the C-17 facility and basically load their trucks and drive off with things that were on their wish lists," Rogers said. "Several of the schools shared with me that these items really made a huge difference in the success and continuation of their program."