Traditional art galleries and museums offer the public a chance to admire works from artists all over the world. Long Beach is no exception, with institutions like the Museum of Latin American Art and the Long Beach Museum of Art debuting a multitude of exhibitions each year.
However, art can also be appreciated beyond the confines of a physical gallery. Some entities exhibit their local works in public settings, others promote interactivity through unique concepts, and some opt to merge art with education.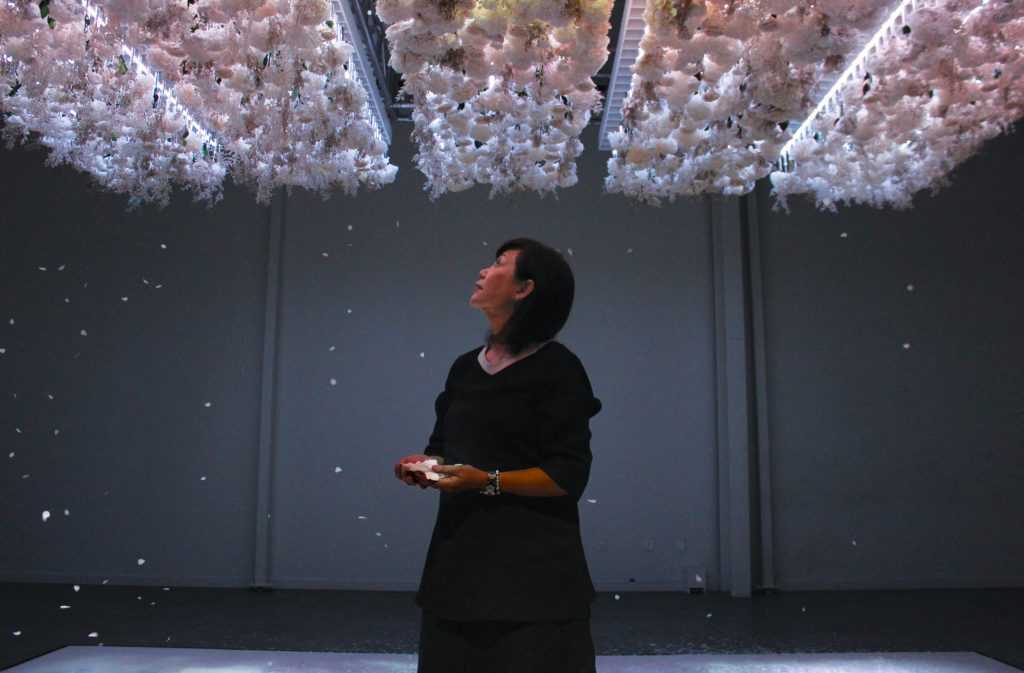 For instance, walking straight into a place filled with animal skulls and human remains sounds to many like the stuff made out of nightmares. But Jeremy Schott and Jeremy Cross have made a living for three years selling and showcasing these kinds of unique oddities, along with art, at The Dark Art Emporium in Downtown Long Beach, 256 Elm Ave. Founded in 2016, the emporium serves two purposes: to exhibit local artists' work and to present weird, unusual items to the public, according to Schott.
Schott said he toured the world as a camera operator for heavy metal bands and pro wrestling organizations in the years prior to opening the emporium. Growing weary of living life on the road, Schott opted to take his personal hobby as a collector of oddities and fine art to the community. "We sell strange and unusual bugs encased in Lucite, taxidermy specimens, animal skulls, human remains, candles, tarot cards [and] exotic and strange jewelry," he said. "All kinds of interesting things that you're definitely not going to find at a Wal-Mart."
The emporium also specializes in demonstrating dark art, a movement within the art community inspired by macabre works that are grim and mysterious. Schott said dark art is meant to elicit a strong emotional response from the observer through eerie and visually stunning displays. "All good artwork reflects the environment in which the artist is creating," he said. "Dark art is currently on the rise as a movement. . . .  And it's not negative. That's a massive misconception. A lot of dark art can be funny [and] can be brightly colored. It's really about reflecting an underground environment and an underground sensibility in the work."
Cross, an artist with more than a decade of experience, learned about the emporium months after it opened. Fascinated by Schott's exhibition concept, Cross expressed interest in collaborating with him to provide his own works for the emporium. Eventually, the duo worked so well together, Cross became involved in running the day-to-day operations. "My passion for art has always been strong," Cross said. "I just want people to come in here and feel something, whether you walk through the door and you look at the art and absolutely love it or absolutely hate it. . . .  It needs to evoke something out of you, because that's what good art does."
The next show at The Dark Art Emporium is the Spookhaus, an interactive exhibit utilizing blacklights to reveal hidden details in various paintings. The October 12 show will be presented by artist The Creep. For more information, visit darkartemporium.com.
Downtown is also the temporary home of The Art of Bloom pop-up exhibit. Concluding its showing at the end of September, The Art of Bloom is an installation at the Edison Theatre, 213 E. Broadway, that blends technology and nature to create a meditative experience. The display is curated by interTrend Communications, a creative agency that focuses on culture and emerging trends. "We wanted it to not just be a gallery, but [a place] where people can interact and interface with the space itself," Julia Huang, president of interTrend, said.
The exhibit is largely inspired by Japan's cherry blossom season, a springtime occurrence when cherry blossom flowers bloom and their petals coat the country. To replicate a similar experience, the interTrend team solicited help from various partners. Daigo Daikoku and Mika Tohmon, Japan natives who work at interTrend, designed the installation to provide a virtual nature experience.
The Art of Bloom has two rooms, Huang said. When individuals enter the space and look up, they witness thousands of real flowers hanging from the ceiling. About six million paper petals float around the room to replicate the cherry blossom experience. As visitors roam the space, the floor itself activates and changes color in response to each individual's body temperature. Binary, a Colorado-based tech company, provided the technological elements to create the interactive floor.
"There are real flowers, fake flower petals and a virtual floor," Huang said. "It's art and technology and nature all combined together. It's called the symbiosis of nature. Even though it's a small space, you really have this [sensory] overload if you're open minded about it." Located inside the exhibit are candles and a fragrance developed by perfumer partner Yosh that are meant to enhance the experience, Huang said.
Adjacent to the first room is a virtual reality display that allows users to download a smartphone application to experience different textures and sensations, such as soil and wind. Taiwanese company Rumu assisted in providing the experience. From conception to implementation, the process of creating The Art of Bloom took one year, Huang said. For more details, visit theartofbloom.com.
As aforementioned, art is not limited to just a physical space. A global phenomenon turned local, POW! WOW! Long Beach has championed the implementation of public art citywide since summer 2015, according to Tokotah Ashcraft, regional director of the event. The annual POW! WOW! event is a weeklong festivity featuring public murals from global and local artists. Ashcraft, who has served in her role since summer 2017, said the event has been a positive force in Long Beach. "I think every year it gets better because the community supports us more and more," she said.
POW! WOW! Long Beach, backed by citywide sponsors, solicits the work of these artists to paint murals in various locations, such as the sides of buildings and parking lot structures. Ashcraft's duty as regional director is to scout potential talent for the event at local art shows or at other POW! WOW! events nationwide, including Washington, D.C., and Hawaii.
"We're [also] so lucky with social media these days that you can go down the rabbit hole and find so many amazing artists," she said. "We're out there paying attention and making sure that we get people onboard that are excited to paint and also totally understand that we are community-driven. We're here to make everyone's day brighter with public art."
This past summer, 20 murals were commissioned citywide in various neighborhoods, including parts of downtown, Bixby Knolls and California Heights. The locations can be found at powowlongbeach.com. Although getting some business owners to offer up the sides of their buildings for a mural was a challenge in years past, Ashcraft said the event's notoriety and success has made it an easier sales pitch.
In discussing the mural concept with artists, Ashcraft said the POW! WOW! team gives them creative freedom to express themselves, barring any obscene or negative messaging. "We leave the creative part to the artists, but we try to give them as much information as possible [about the location]," she said. "We try to touch all the way to North Long Beach [or the] west side [and] east side. We want to spread the love as much as we can."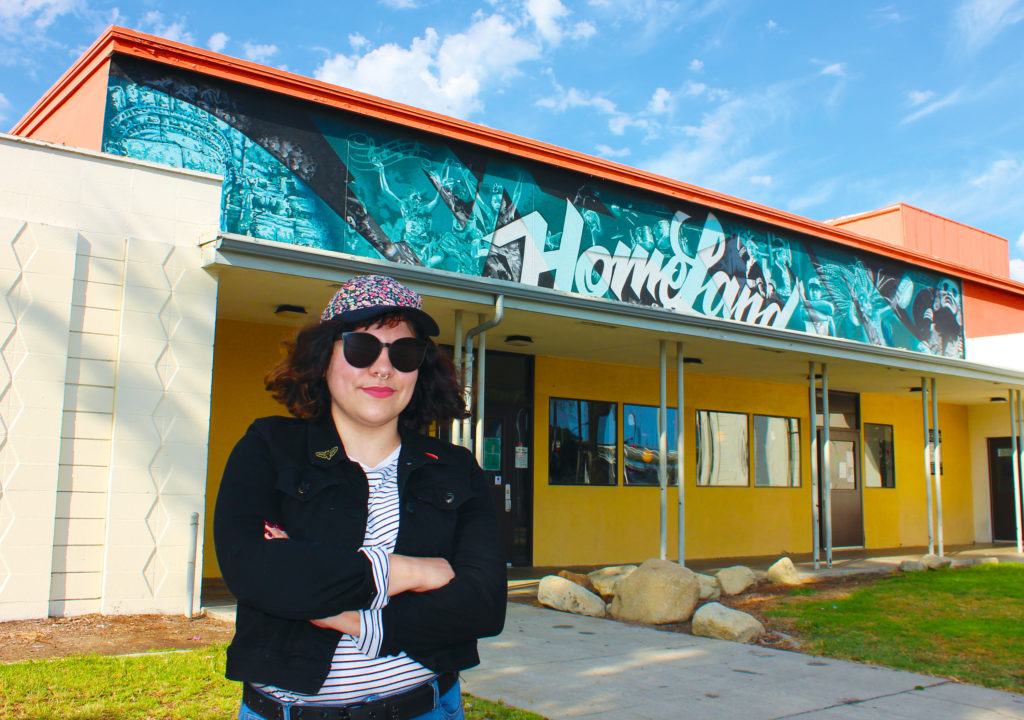 Efforts to beautify the city with public murals are not limited to just POW! WOW!. The Arts Council for Long Beach created the Cambodia Town Mural Project in 2017 as a one-year program to install eight murals along the one-mile corridor on Anaheim Street. Cynthia Lujan, programs manager for the Arts Council for Long Beach, said the organization put out a call for artists, similar to a request for proposals, to review different visual concepts for murals. "It was really important to work with artists that were from the area or visited that area often," Lujan said. "In general, I think that it was a really strong project that was group-led and community-led."
The project was funded through donations from stakeholders, such as the California Arts Council and the United Cambodian Community. The successful implementation of the murals has led to other projects, such as the Uptown Creative Corridor Project, a similar program in North Long Beach in partnership with 9th District Councilmember Rex Richardson. Lujan said the arts council is working to implement a future project for the 7th District.
Those who frequent Long Beach are also sure to have walked by a utility box or two decorated with artwork. In 2014, the Long Beach Redevelopment Agency initiated a five-year program to refresh citywide utility boxes by commissioning paintings by local artists, according to April Walker, community projects officer with the Long Beach Public Works Department.
Since then, the project has become more artist driven, relying on community outreach to decorate the boxes. Walker said public works facilitates the project by reviewing applications, which include an overview of an artist's design concept for the box and a permit to paint the display. Potential applicants are typically individual artists or public organizations, such as a council office or neighborhood association. Applicants are responsible for the cost of the painting and the use of vinyl wrap, which is used to cover the box and allow easier removal of graffiti, Walker said. More information is available at longbeach.gov.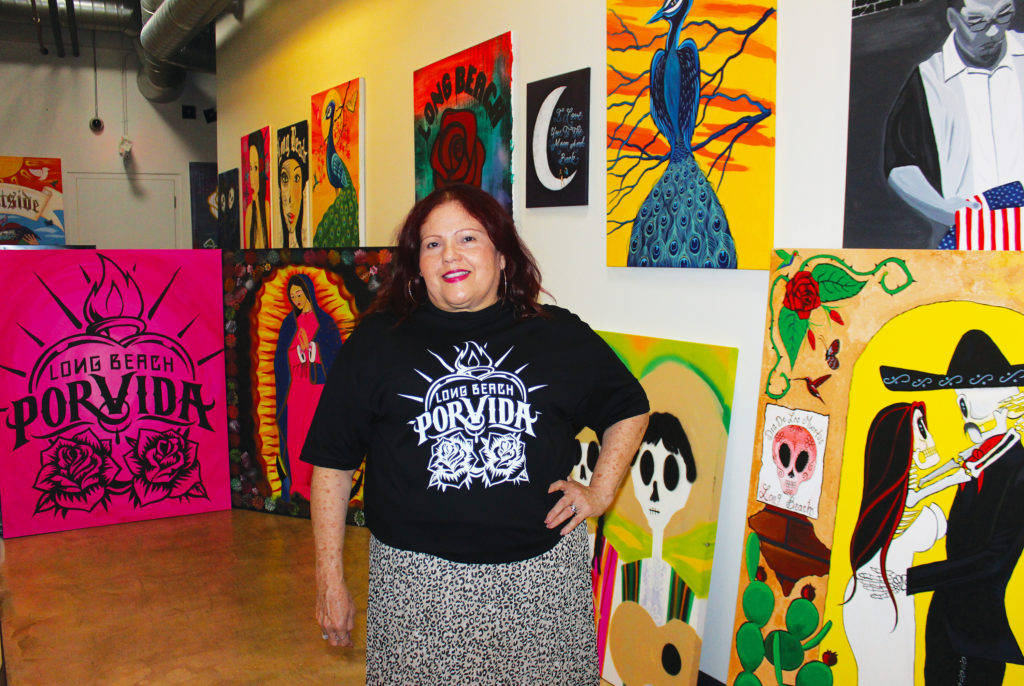 Centro CHA is a nonprofit social service agency founded in 1992 that serves to improve the well-being of low-income Hispanic youth and families in Long Beach. The organization, located at 1633 Long Beach Blvd., offers a multitude of resources, such as workforce development training, immigration services and workshops that discuss topics like violence prevention.
Jessica Quintana, executive director of Centro CHA, said part of the organization's mission is to incorporate the arts into the nonprofit's programming. She emphasized that "art is the vehicle" youth can use to express themselves, whether that is delivering a message of happiness, prosperity or adversity. "We have art in every single room throughout the agency," she said. "For example, in our health workshops that we do through the center, we're talking about healthy relationships or what a community would look like without violence. So, you're going to see a lot of different art that is depicting what our youth feel the community would look like and what they would like to see."
The youth are responsible for designing their concepts and presenting them to local artists, many of whom are members of Centro CHA. These artists then assist in bringing their ideas to life. "They engage in conversation, they engage in discussion and they conceptualize the design of the art pieces, but they are not artists themselves," she said. However, she added the ability for youth to develop the art allows for creative expression and a boost to their self-worth.
"It's important that we have community spaces and places where our young people can connect, such as places where they can do art," Quintana said. "A lot of youth feel disconnected and need a place to plug into. This is where they can express themselves." Guided tours of the art are available at the nonprofit organization, where the public can also purchase the art on display. Visit centrocha.org for details.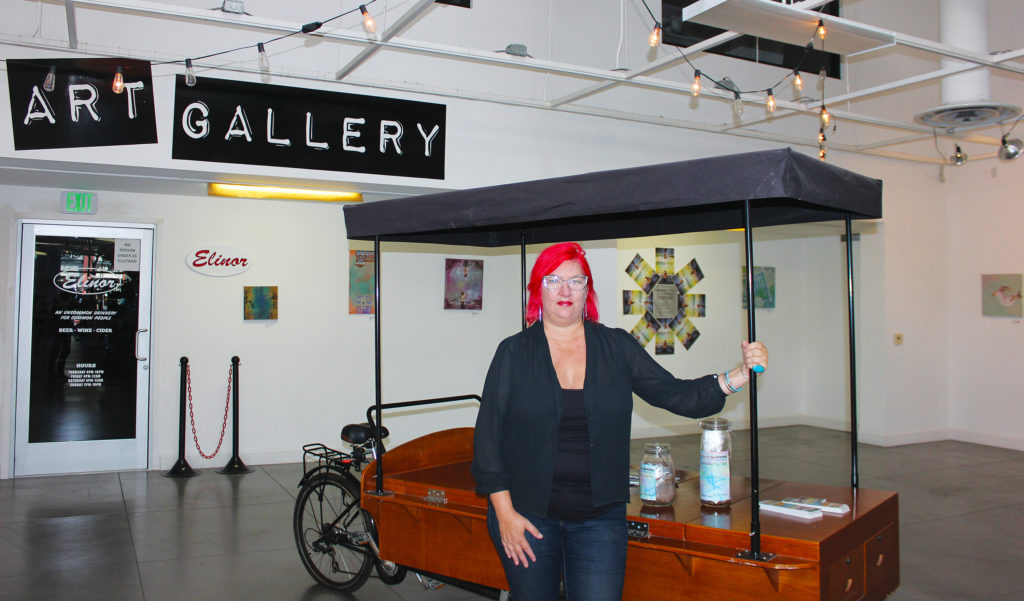 Originally named MADE in Long Beach when it opened in November 2014, MADE by Millworks is a 12,000 square-foot space located at 240 Pine Ave. An art gallery-retail shop hybrid, the location sells only local brands, defined as those produced within 20 miles of the shop, according to Heather Kern, executive director of the store.
The 4,500 square-foot shop itself is designed much like a warehouse, Kern said, emphasizing the site's high ceiling. Patrons of the store can view the local art on display. Earlier this year, MADE by Millworks opened a beer and wine bar, Elinor, in the back of the store, where art is also exhibited.
MADE by Millworks hosts periodic art events featuring work from local artists. The displays run for about four to six weeks before rotating to the next showing. However, the current gallery is quite literally a "rotating exhibit." Created by artist Lynn Azali, the "Rotating Canvas" gallery at MADE by Millworks has 15 interactive arts on display, where the public can rotate, touch and modify the art as they see fit. More information about the exhibit is available at madebymillworks.com.
Kern stressed the importance of promoting local art, as it allows the city to better reflect the creative people that inhabit it. As a longtime Long Beach resident, she added that the city's arts culture is the most diverse it has been. "I remember there being a good surge of art in the '90s, and it seems like we're coming back to that," Kern said. "There are new galleries opening up – the Long Beach Museum of Art just opened their Downtown Long Beach location [and now we have] the addition of POW! WOW! every year. It's just really exciting to see all the art coming in."