From a romantic gondola ride to a whale watching expedition, out-of-town guests traveling to Long Beach for a wedding have a variety of options when it comes to entertainment. The area's attractions utilize its waterfront location to provide relaxation and adventure for all ages and tastes.
For a scenic experience, Gondola Getaway provides cruises through the waterways of Naples Island, near the Belmont Shore neighborhood. According to Proprietor Michael O'Toole, some boats can seat up to 14 people and two of them seat up to 28. The company also offers pizza and brunch cruises for up to 12 guests.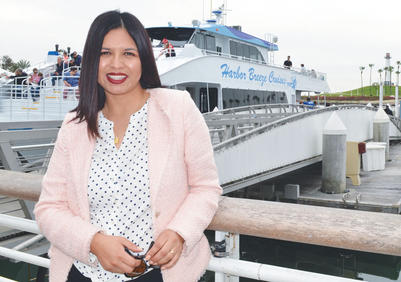 Nilda Langston is the vice president of operations at Harbor Breeze Cruises, which offers tours of the Long Beach Harbor and whale watching expeditions. "Everybody loves Long Beach and the water," Langston said. (Photograph by the Business Journal's Pat Flynn)
"It's a floating pizzeria," O'Toole said. "[Guests] find this is the most unique place to go to dinner that not any other city in the world has." For those who do not want to eat on a boat, Naples and the nearby neighborhood of Belmont Shore have a variety of restaurants located a few blocks from the beach.
For another boating experience, Harbor Breeze Cruises offers tours of the Long Beach Harbor as well as whale watching expeditions. Guests also have the option of chartering a boat or planning a dinner cruise or brunch. Harbor Breeze has partnered with the Aquarium of the Pacific to offer a combination ticket for a whale watching cruise and admission to the Aquarium. For these trips, an Aquarium educator is on board to identify animals and answer questions. According to the Aquarium's senior manager of communications, Claire Atkinson, this option offers savings on Aquarium admission.
"Everybody loves Long Beach and the water," Harbor Breeze Cruises Vice President of Operations Nilda Langston said. "People from the East Coast love that there are no limitations with weather. They can go whale watching year-round." Langston also mentioned Shoreline Village as a nearby destination for entertainment. In addition to dining and shopping, the center features a pavilion complete with a carousel and more than 70 arcade and video games.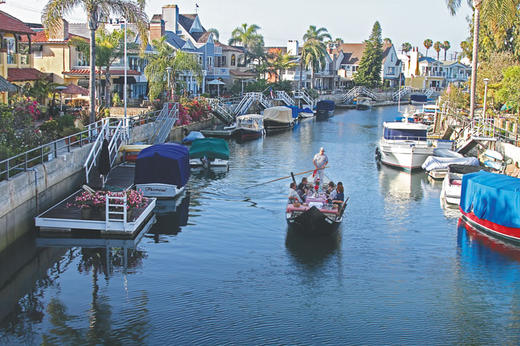 A group takes a cruise on a "floating pizzeria," with Gondola Getaway. Lunch is provided for up to 12 guests while they cruise along the waterways of Naples Island. (Photography courtesy of Gondola Getaway)
Within walking distance of Shoreline Village and right next to Harbor Breeze Cruises' dock is the Aquarium of the Pacific, which showcases 500 species of fish, mammals, birds and other animals. The stingray touch pool, the jellyfish and otters are the most popular exhibits with out-of-town guests, said Aquarium Vice President of Marketing and Communications Cecile Fisher.
According to Fisher, the Aquarium offers group rates for parties of more than 10 people. Its partnerships with hotels in Long Beach, Los Angeles and Anaheim enable guests to purchase discounted tickets from the concierge. This allows visitors to save up to $10 on an adult ticket. For those visiting on the weekends, Fisher recommends arriving when the doors open at 9 a.m. to avoid crowds.
"We get good feedback from people coming [to the area] for another [attraction], like Disneyland," Fisher said. "The Aquarium is a nice half-day, low-key relaxing experience. People say it's a great add-on [activity] to provide an educational element and a good way to connect with the ocean." In addition to the exhibits, Fisher mentioned the Aquarium's outdoor veranda with its view of the harbor as a place to unwind and enjoy a snack or a glass of wine.
Fisher also recommended that visitors download the Aquarium Explorer app for iPhones. It provides news alerts about events taking place the day of their trip, plus show schedules and maps. It also allows guests to identify the plants and animals, as well as set reminders about a show or lecture they would like to attend.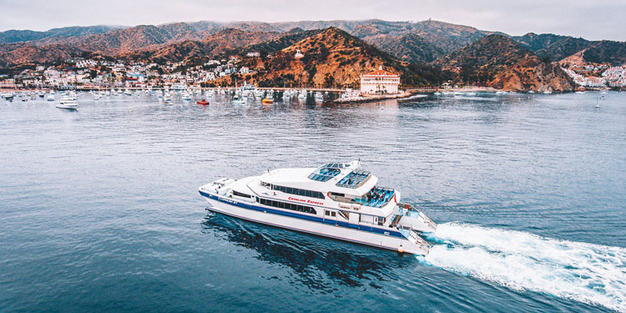 A Catalina Express boat heads to Catalina Island. The island offers a variety of activities for out-of-town guests. Some of these include kayaking, tile-making and partaking in an adventure ropes course. (Photo courtesy of Catalina Express)
Another way to experience the region's ecosystem is through a ropes course or jeep tour on nearby Catalina Island. The Catalina Express departs from Downtown Long Beach and arrives in Avalon, the island's only city, after about an hour-long boat trip. Group discounts are available for parties of 20 or more, according to Catalina Express Head of Marketing Angela Puchala.
Once on the island, visitors have several options for exploration. For outdoor enthusiasts, Descanso Beach Ocean Sports offers an adventure course through eucalyptus trees that includes rope ladders, balance beams and zip lines. Different levels are available. Puchala said this option is fun for bigger groups. For a more low-key experience, the tile-making class at Silver Canyon Pottery also covers the historical significance of tile on the island.
"The island has so many things to offer that it can accommodate many demographics," Puchala said. Other possibilities are the Catalina Island Museum, Wrigley Memorial & Botanic Gardens, and kayak rentals from Wet Spot Rentals.
For visitors who enjoy the arts, Long Beach destinations include the Long Beach Museum of Art, which has a permanent collection of more than 3,200 works encompassing 300 years of American and European art in all media, and the Museum of Latin American Art, which is the only museum in the United States dedicated to modern and contemporary Latin American art. Both locations accommodate special events, including weddings.