When Blair Cohn joined the Bixby Knolls Business Improvement Association 12 years ago, the country's economy was heading toward a dark place. Just months after he was hired to lead the business improvement district (BID), the Great Recession of 2008 hit the nation's economy with full force, and businesses in Bixby Knolls weren't spared.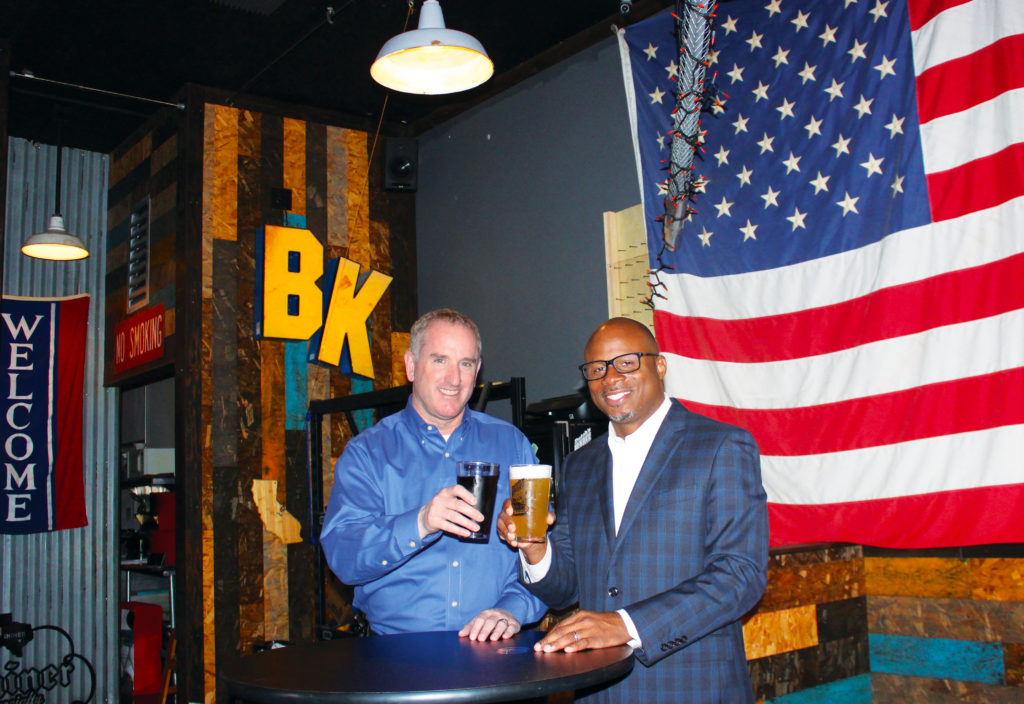 Today, it's hard to imagine the vacant storefronts and concerned business owners, struggling to stay afloat, that marked the economic decline of the late 2000s. Anyone strolling or driving down Atlantic Avenue will find no shortage of small businesses, big box retailers, franchises and mom-and-pop establishments, ready to host, sell and service.
Cohn looks back at those challenging times as an opportunity to innovate. "That's when I thought: we have to do something," he remembered. Tackling a nationwide recession with global ripple effects would have been a stretch, but increasing engagement between local businesses and the community: that seemed possible.
So Cohn started to get creative. Small Business Saturdays, turntable nights, neighborhood bike rides; he knew that to get people into local businesses, he had to get them out of the house first. "There was such a disconnect back when I started," Cohn remembers. "That's why we have the walking clubs, the [activities] that would bring attention to the neighborhood, to draw them into the corridors."
To let local business owners tell it, the strategy worked. "For any business, you need visibility. It's not just word-of-mouth, it's not just Yelp," Starr Scott, owner of Five Starr Pilates & Fitness on the corner of Long Beach Boulevard and Bixby Road, told the Business Journal. Scott mentioned the monthly beer trolley, which takes passengers to the neighborhood's various breweries safely and free of cost, as an example of the BID's successful efforts to engage the community with local businesses.
Knowing that trolley riders may not be ready to don their workout gear right away, Scott added a box with postcards detailing her studio's services to her storefront. After tracking the different referral methods that brought clients to her shop for a while, Scott said she saw many new customers come in after picking up a postcard outside, some of whom likely came to the neighborhood as a result of the various activities offered by the association. "Any kind of activity on the corner here is good," Scott said.
Business owners across the neighborhood agreed that the activities that have become a hallmark of the association's work have helped spur economic growth in the district. "The events they put on definitely get the neighborhood out and bring people into the businesses," Aaron Hovis, owner of GoFETCH Dog Daycare and Training on Long Beach Boulevard and member of the association's board, said. "Blair's hard work, I believe, has absolutely made a difference here," he added.
Seventh District Councilmember Roberto Uranga, whose district includes part of the association's territory, was equally full of praise for the work Cohn and his team have done in the community. "Blair has been a godsend for the Bixby Knolls business district because of his ability to bring businesses together [and] work together to create a business district that's vibrant, dynamic and a place where people want to come, walk and dine," Uranga said. "His ideas, like First Fridays and Concerts in the Park(ing lot), are innovative and different. That really has opened up this area for a lot of people to want to come and visit Bixby Knolls."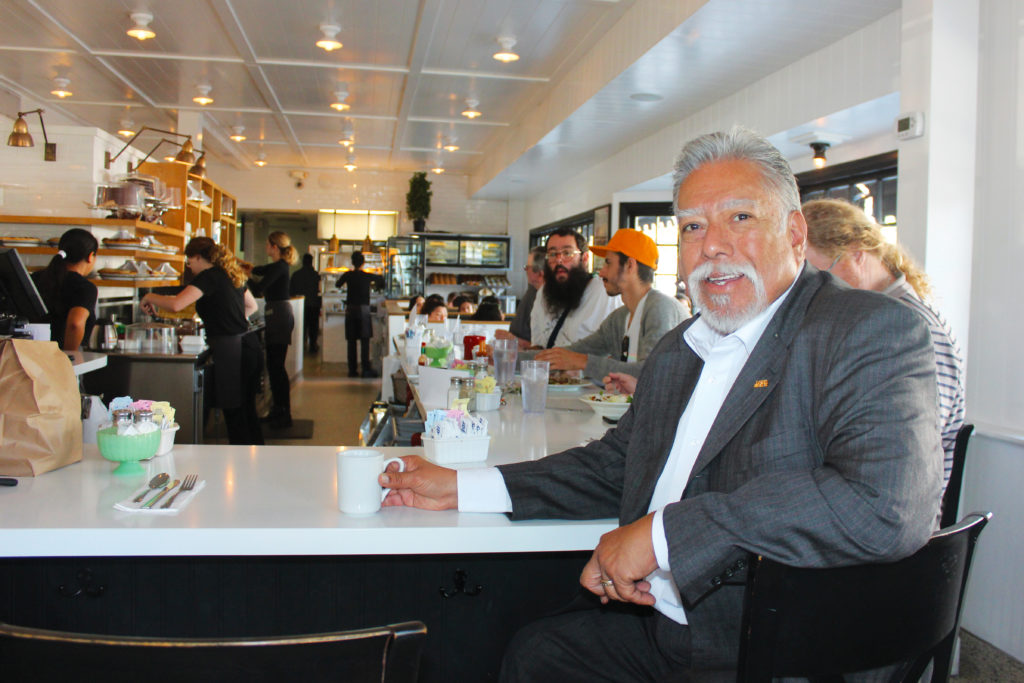 Coming up with great ideas is one thing, seeing them through and keeping them going is another. That's where the association's work has really shown its commitment to serving the neighborhood, 8th District Councilmember Al Austin noted. "What I appreciate the most, and what I credit our business improvement district with the most, is their efforts have been consistent," Austin said. "Consistent in terms of branding, consistent in terms of service to our local businesses, which has made all the difference."
That consistent support has earned Cohn and his small team a glowing reputation among many of the neighborhood's small business owners. "We are in a great business district," Crystal Rogers, owner of Lucy's Boudoir, said. "We have a lot of support from Blair and the business improvement office, and that's just very empowering for the small businesses around here."
When Rogers wanted to add new signage to her store, Cohn connected her to a local printer just around the corner, fostering a connection between the two businesses as a result. "Having a business association, it gives meaning to these small businesses that are just grinding it out every day," Rogers said. "I've done collaborations with so many stores, and that's given much more exposure to my business, but it's also connected our clientele." When she hosts a pop-up sales event at another neighborhood business, her regular customers are exposed to their offerings, and vice versa, Rogers explained.
Trent Bryson, CEO of Bryson Financial, said he's seen the significant impact of the association's work since he moved his business from Downtown Long Beach to Bixby Knolls in 2013. "We've been here six years, and the improvement has been pretty dramatic," Bryson said. "We came to a neighborhood that was a little bit desolate and pretty quiet, and what Blair and his team have done is basically revive the neighborhood. It's been really awesome for us." Ample parking, clean streets and the neighborhood's central location have made his business more competitive in the hunt for both talent and clients, Bryson noted.
Aside from keeping the streets of Bixby Knolls clean and safe, bringing new businesses to the neighborhood is another important task for Cohn and his team. "We know that this corridor has a lot of opportunity and a lot to offer, not just for patrons, but for business owners as well," Uranga said. Bringing the right kinds of businesses to the neighborhood can be a challenging task, but one Cohn takes seriously.
"We're rich in beer and ramen, no doubt about that. And I think we've hit the saturation there," he noted. "This is not a dense neighborhood and we need to have variety." To achieve that variety and ensure that residents and visitors have access to as many different cuisines, services, entertainment and shopping options as possible, Cohn said he works closely with property owners and brokers.
There are several new businesses in the district with plans to open their doors in the next few weeks, he noted. Cassidy's Corner, a bagel and sandwich shop, is one of them, and the health-focused eatery Mixx Kitchen recently welcomed its first customers on Atlantic Avenue. Local hamburger chain BurgerIM just signed a lease for a new Bixby Knolls location, Cohn said.
Rich with dining options, the district is a competitive space for new businesses, Austin noted. "If you're going to bring a business to Bixby Knolls, if you're going to invest in this area of the city, just understand that there's a level of quality that we're looking for and that the residents of this community expect," Austin said. "We have high standards here, high expectations, and if you don't bring your A game, you may not succeed." For businesses who are ready to invest in the neighborhood and engage with the association and its members, the councilmember pointed out, the rewards are worth the investment. "The businesses that are engaged tend to do well," he said.
Between supporting local business owners, bringing new ventures to the neighborhood and organizing events to engage the community, Cohn said there's never a dull moment at the association's office at 4321 Atlantic Ave. "We always have five, six, seven plates in the air, spinning all the time," he said. But the years of hard work have paid off, Cohn noted. "There's so much more neighborhood pride and people are so much more engaged with the business corridors."