Hotel Safety/Workload Ballot Initiative Closer To Signature-Gathering Phase
Earlier today, Long Beach City Clerk Monique DeLaGarza sent the ballot title and summary of a proposed hospitality safety and workload ordinance to the initiative's organizers. They must now publish that document before they begin collecting signatures to place it on the November ballot. The nonprofit Long Beach Coalition for Good Jobs and a Healthy Community first submitted the proposal for the ballot measure in late January. Once the ballot title and summary is published, the organizers have 10 days to send a copy of the published document to the city clerk. Read the February 13 edition of the Business Journal to learn more.
City Of Long Beach Needs To Fill Three Department Director Positions
Long Beach Technology & Innovation Department Director Bryan Sastokas has stepped down, and has been replaced by Lea Eriksen, assistant finance director, in an interim capacity. The city now has to fill three department director positions, including for Long Beach Development Services (LBDS) and the Department of Parks, Recreation and Marine. Assistant City Manager Tom Modica is serving as the interim director for LBDS, and an interim director for the parks department has not yet been named, according to Kevin Lee,  interim public affairs officer. City Manager Pat West recently told the Business Journal that filling the LBDS position is his first priority.
Amgen Tour Race Routes Announced
Amgen Tour of California owner and operator AEG announced the men's and women's race routes for its 13th annual event today. The bicycle race will cover 645 miles through seven stages from Long Beach to Sacramento May 13-19. Riders will race over 83 miles along the Long Beach coast from Pine Avenue to Termino Avenue during 12 laps around the nearly 7-mile course on May 13. Amgen is the only Union Cycliste Internationale (UCI) WorldTour men's event held in the United States.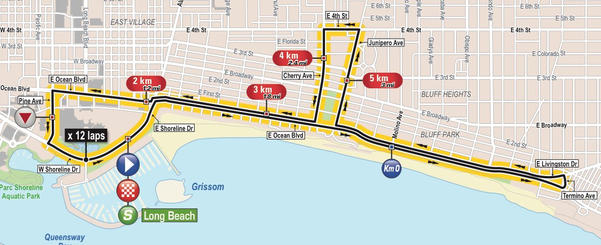 (image courtesy of Amgen Tour)
Southwest Airlines Employees Earn Millions In 2017 ProfitSharing
Yesterday, Southwest Airlines announced employees earned $543 million through its ProfitSharing Plan in 2017. This is the airline's 44th consecutive ProfitSharing award, and it equates to "11.3% of each eligible employee's eligible compensation," equivalent to more than five weeks' pay. The company also made $476 million in contributions to 401(k) plans last year, meaning it invested more than $1 billion to reward employees in 2017.
Retaliation Topped Workplace Discrimination Complaints in 2017
According to the California Chamber of Commerce, retaliation complaints accounted for nearly 50% of 84,524 charges of workplace discrimination filed with the Equal Employment Opportunity Commission in 2017. Racial discrimination charges came in second, representing about 34% of claims. Click here for more information.