Residents Take Action To Recall
Councilmember Pearce At City Council Meeting
At last night's Long Beach City Council meeting, 2nd District resident Jonathan Crouch led a group of about a dozen community members in notifying their councilmember, Jeannine Pearce, that they intend to circulate a petition for her recall. Crouch cited a variety of issues as reasoning for Pearce's recall, all stemming from a recent police investigation involving Pearce and her former chief of staff, Devin Cotter. The Los Angeles County District Attorney is conducting an investigation to determine if any conflicts of interest resulted from a relationship between the two. A website dedicated to recalling Pearce has been set up here.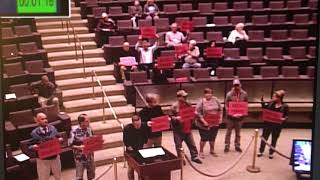 City Council Approves Tax Sharing Agreement
For 416-Room Hotel, Plus An Accessory Dwelling Units Ordinance
During its meeting yesterday, the Long Beach City Council unanimously approved a revised transient occupancy tax (TOT) sharing agreement with American Life Inc. for a 416-room hotel development at 100 E. Ocean Blvd. Under the agreement, American Life will collect 80% of the TOT (a tax paid by hotel guests) for nine years, after which point the city would collect 100% of the tax for 11 years. American Life agreed to collective bargaining for hotel employees and committed to creating a safe work environment.
The council also unanimously approved an ordinance allowing accessory dwelling units (ADUs), also known as granny flats, to align with recent state laws requiring local jurisdictions to approve ADUs if they meet certain standards. Long Beach's ordinance amends some of the state standards.
CareMore Health and MemorialCare Health System Expand Partnership
CareMore Health is expanding its collaboration with MemorialCare Health System to give its members access to more than 200 MemorialCare providers and the health system's five hospitals, including MemorialCare Long Beach Medical Center, Miller Children's & Women's Hospital and Community Medical Center. CareMore is a health care delivery system providing enrollees in Medicare Advantage and Medicaid with care in California, Arizona, Nevada, Iowa, Tennessee, Georgia, Virginia and Connecticut.
FCC Could Repeal Net Neutrality Rules Tomorrow
Tomorrow, the Federal Communications Commission is voting on Chairman Ajit Pai's proposal to repeal net neutrality rules put in place in 2015 under the Obama administration. Language describing the proposal contends that it will "restore Internet Freedom" and eliminate "burdensome and unnecessary requirements." Opponents of the proposal, including our assistant editor, argue that it will enable Internet service providers to effectively censor information that does not benefit them and to discriminate against start-ups.
Republican Tax Plan Could Significantly Raise Taxes For Some Californians
A report by Chapman University has found that California homeowners with incomes between $150,000 and $1.5 million will experience effective tax increases of 33.3% to 66.7% if the Republican tax proposal passes. University researchers determined that the proposal to remove the state income tax deduction for individuals earning between $45,000 to $3 million would result in these impacts. Families earning between $45,000 to $100,000 would not be affected, according to the report.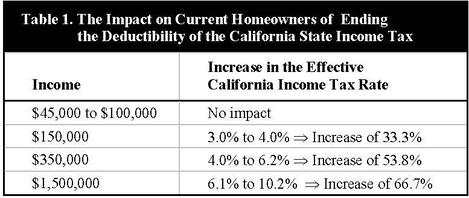 (Chapman University Image)
CSUDH Appoints New Public Policy Center Director
California State University, Dominguez Hills appointed Anthony Asadullah Samad as the executive director of its Mervyn M. Dymally African-American Political & Economic Institute. Samad begins the position in February 2018. In his new role, Samad will conduct research on the political and economic concerns facing the African-American community, measure the impact of federal and state public policies in minority communities, and develop an archive of the legacies of African-American leaders in the past 100 years. He previously served as vice-president and president of the Los Angeles chapter of the National Association for the Advancement of Colored People (NAACP).