MemorialCare Long Beach Medical Center Ranked
No. 1 In Southern L.A. County By U.S. News & World Report
U.S. News & World Report has recognized MemorialCare Long Beach Medical Center as one of the best hospitals in the nation and No. 1 among all hospitals in Southern Los Angeles County. The hospital was also identified as one of the top five hospitals in Los Angeles County, one of the top eight hospitals in Los Angeles and Orange counties, and among the top 14 hospitals in California. The magazine's "Best Hospitals" ratings are issued annually to help patients "make informed decisions about where to receive care," according to a statement from MemorialCare Health System, which operates the hospital. The hospital also received recognition for its orthopedics program and "high performance" designations in 11 areas of care, including coronary artery bypass surgery, congestive heart failure, colon cancer surgery, geriatrics, nephrology and other medical specialties.
Dwell Time Of Containers At Local Ports Reached High Point In July
The average dwell time of containers at the ports of Long Beach and Los Angeles reached 3.14 days in July, the longest average dwell time in more than a year, according to the Pacific Merchant Shipping Association (PMSA). In June, the average dwell time was 2.7 days. Dwell time measures how long a container sits on a terminal after being unloaded from a vessel before it is picked up by a truck. Longer dwell times create inefficiencies at terminals, such as when several containers must be moved before a truck is able to pick up its cargo and leave the terminal, a statement released today by PMSA explained. While the average dwell time was at its highest point this year in July, a similar spike occurred in July 2017, PMSA noted.
Councilmembers Proposing Smoking Ban On Long Beach Dining Patios
During its meeting tonight, the Long Beach City Council is considering creating an ordinance to ban smoking on the outdoor patios of public and private eateries. The current municipal code requires at least two-thirds of restaurants' indoor and outdoor space to be smoke free. The proposal by Councilmembers Suzie Price, Lena Gonzalez and Rex Richardson allows exceptions to be made for cigar lounges, hookah bars and other establishments where smoking is the primary feature. The council is also considering the approval of the tract map for 40 detached homes at 3655 Norwalk Blvd., as well as eliminating the use of products containing glyphosate such as weed abatement sprays Roundup and Ranger Pro.
Fire Department Chief Michael DuRee To Retire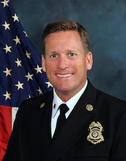 Long Beach Fire Chief Michael DuRee is retiring in October after six years leading the fire department, the city announced today. During his career with the department, which began in 1994, DuRee helped expand community outreach efforts, including the creation of a team to help those experiencing homelessness and the addition of Spanish-language and teen programs. DuRee also improved the connectivity between the fire prevention bureau and the business community, according to a city statement. "As fire chief, he has led the department with integrity, and set policy that has reduced response times, modernized the department and expanded the number of firefighters on our force," Mayor Robert Garcia said of DuRee in a press release. DuRee's last day with the department is October 5. The city manager intends to announce DuRee's replacement before then.
International City Theatre Announces Next Season's Line-Up
International City Theatre, the resident professional theater company at the Long Beach Performing Arts Center's Beverly O'Neill Theater, has announced its 2019 season. Roger Bean's musical, "Life Could Be A Dream," opens the season on February 22. Arthur Miller's "The Price," debuts on May 10, and "Bestseller," a comedy about writers, premiers on June 14. The summer continues with "Beast on the Moon," opening on August 23. "Lady Day at Emerson's Bar & Grill," which tells the story of singer Billie Holiday, rounds out the season starting on October 18. All performances will take place Thursdays through Saturdays at 8 p.m., and Sundays at 2 p.m. Click here for ticketing information.