JetBlue Noise Violations Decrease, But Fines Increase During First Half Of 2018
JetBlue was fined $673,500 for noise violations during the first six months of 2018, according to Long Beach Airport data. The airline accrued the record-breaking fine amount despite having fewer noise violations than it did during the same time period last year. JetBlue incurred 328 violations, down from 353. Of those, late-night violations taking place between 11 p.m. and 7 a.m. decreased from 127 to 120. The increased fines were the result of an agreement between the airline and the airport, which set fines for violations at $6,000 each. Previously, the airline paid $3,000 for its first six violations each quarter and $6,000 for all subsequent violations.
Coastal Commission Approves Land Swap To Restore Long Beach Wetlands
The California Coastal Commission voted 10-1 Wednesday to approve a land swap between the City of Long Beach and Synergy Oil & Gas subsidiary Beach Oil Minerals Partners. The deal will result in consolidated oil operations and the restoration of more than 150 acres of the Los Cerritos Wetlands. The approval allows the oil company to develop new oil wells on a city-owned parcel that has served as the seasonal home of Pa's Pumpkin Patch for many years. The commission will determine parameters for future drilling at a separate hearing.
Harbor Commission Appoints New Security Director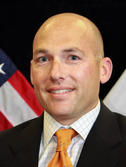 The Long Beach Board of Harbor Commissioners recently appointed Casey Hehr to lead the security division at the Port of Long Beach. Hehr has been serving as the division's acting director since March, after the previous director retired. He joined the port in 2016 as the assistant director of security. He previously served with the U.S. Coast Guard for more than 20 years, ending his career there as chief of operations and response for the Los Angeles-Long Beach sector. The port's security division is responsible for ensuring safety in the port complex and coordinating security measures with partner agencies.
Reminder: Development Forum August 28
Mayor Robert Garcia and the Long Beach Business Journal are once again teaming up to present the Building A Better Long Beach forum, 11 a.m., Tuesday, August 28, Beverly O'Neill Theater at the Long Beach Convention & Entertainment Center. Mayor Garcia is providing an overview of the projects underway and planned throughout the city. The event is free, as is the parking. RSVP required. Click here to register.