Brown Approves New Budget, Includes CalChamber-Sponsored Bills
Gov. Jerry Brown signed a $201 billion state budget yesterday that included three California Chamber of Commerce-sponsored "job creator" bills. Assembly Bill (AB) 1808 extends and improves the Career Technical Education Incentive Grant program, AB 1809 will use $10 million to create the California State Pathways in Technology program, and Senate Bill 871 extends state tax incentives for movie and TV production for five years, according to a CalChamber announcement. The budget included a $9 billion surplus.
Poll Shows Investor Optimism Remains Strong
The Wells Fargo/Gallup Investor and Retirement Optimism Index released today indicates that U.S. investors remain positive about the investment climate. The index score for the second quarter is 103, down from the from a record 117 in November last year. According to the poll, 41% of investors think the market will increase in value in 2018. Of respondents, 79% said they are somewhat or very worried about cyber attacks, 78% are worried about the political climate in Washington and 77% are worried about the federal budget deficit. Despite these and other concerns, this is the sixth month in a row the index has been higher than 100.
Loss Of Individual Mandate Could Cause Health Care Premiums To Increase
An analysis by Pricewaterhouse Coopers found that premiums and the rate of uninsured persons are likely to significantly increase due to the elimination of the individual mandate to buy health insurance. The report found that the number of uninsured Californians could increase from 500,000 to 1.2 million, and that uncompensated care could grow from $420 million to $1 billion in 2019, when the mandate is set to expire. Premiums are estimated to increase by 7.3%, and the cost of employer sponsored coverage could increase by as much as 4%, according to the report.
Public Memorial Service Set For Long Beach Fire Capt. David Rosa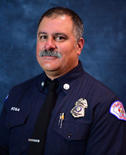 Memorial services for Long Beach Fire Capt. David Rosa, who was killed in the line of duty on Monday, will take place July 3, at 10 a.m. in the Long Beach Arena, 300 E. Ocean Blvd. The service is open to the public with a reception immediately following. Captain Rosa was a 17-year veteran of the Long Beach Fire Department and leaves behind a wife and two sons.
Signal Hill's Allegra Marketing Receives International Sales Growth Award
Alliance Franchise Brands honored Allegra Marketing Print Mail in Signal Hill with a monthly International Sales Growth Award. Allegra, a marketing communications provider, increased its dollar growth and sales volume. The company offers advanced printing technologies; mailing and graphic design services; marketing consultations; and promotional products. While a member of Alliance Franchise Brands network, Allegra is independently-owned and operated.