City Auditor Slaps Hand Of Independent PAC
Long Beach City Auditor Laura Doud issued a statement today to correct the record after a misleading political campaign mailer was sent out by a PAC with the same address as the business place of former Long Beach Councilmember Gary DeLong. The mailer attacked the record of 5th District Council candidate Rich Dines as a former harbor commissioner by using "misrepresentations" of a statement made by Doud and of an audit she conducted on the commission's international travel expenses in 2014.
"The mailer presented inaccurate information and misquoted me and the findings of the audit," Doud stated. "The mailer contained a quote attributed to me stating that 'Violations took place.' This quote was altered from what was actually said and in doing so changed the meaning. An OC Register article included a quote from me that said, 'I think some violations of the policies (meaning travel policies) took place.' This was in no way a direct or indirect reference to Mr. Dines.'
Doud continued: "Additionally, the mailer misrepresents the findings of the audit stating that 'Rich Dines took advantage of a system the Long Beach Auditor found had limited oversight.' To be clear, the audit did find additional oversight by the Harbor Department staff was necessary, however it in no way attributed that directly to Mr. Dines or indicated he took advantage of it."
While the mailer was sent out in support of incumbent Councilmember Stacy Mungo, Doud noted that the councilmember was not involved in the mailer or its inaccuracies. Additionally, Doud clarified that she does not have involvement with either Dines' or Mungo's campaigns and that she released the statement only to clarify the matter.
California 'Lagging' Amid Country's Manufacturing Resurgence
California received only 4.5% of the country's manufacturing investment in 2017, according to the California Manufacturers & Technology Association (CMTA). Last year was the highest new investment rate since 2000, up from 3.2% in 2016. However, the CMTA said other states are enjoying much more robust growth. Since 2001, California has averaged 2% of the country's annual manufacturing investment, while during the 1980s and 1990s it attracted 6%. Additionally, California attracted only 1% of expansion-only manufacturing investment last year, CMTA stated.
Housing A Top Issue For L.A. County Businesses
Concerns about housing costs and homelessness in Los Angeles County have become one of the top three issues among area businesses, according to the results of the Los Angeles County Business Federation Annual Pulse Poll. Released today, the poll shows that 56% of respondents view housing affordability as one of the most critical issues related to combating poverty. Taxes and fees were the most pressing issues citied, with 81% of respondents citing these as reasons for businesses and jobs leaving the county and the state.
Ports America Names New CEO And Board Chairman
Mark Montgomery has been named president and CEO of Ports America Group, Inc., the largest marine terminal operator and stevedore company in North America. Dave Starling has been named chairman of the company's board of directors. Montgomery served as president and CEO of Ports America Chesapeake from 2010 to 2014 and has is currently a senior advisor and operating partner for Oaktree Capital Management's infrastructure investing arm. He has more than 30 years of maritime experience, and serves on various industry boards, including the boards of the National Association of Waterfront Employers and of the North Atlantic Ports Association. Starling has more than 40 years of experience in rail, logistics and global shipping. He has served as CEO of the Kansas City Southern Railroad and in management positions at firms such as Panama Canal Railways Company, American President Lines and others. He is also a senior advisor with Oaktree's infrastructure investing strategy.
MemorialCare Chief Human Resources Officer Receives Honors For Leadership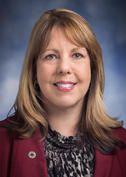 MemorialCare Chief Human Resources Officer Lorraine Booth was awarded the 2018 Leaders of Distinction Award by the HRO Forum, which is part of the media company HRO Today. Booth, who has worked at MemorialCare for 27 years, was named Chief Human Resources Officer of the Year for Nonprofit Organizations Nationwide. She is only one of a few health care leaders to receive honors from the HRO Forum.