Acura Announced As Title Sponsor Of The Long Beach Grand Prix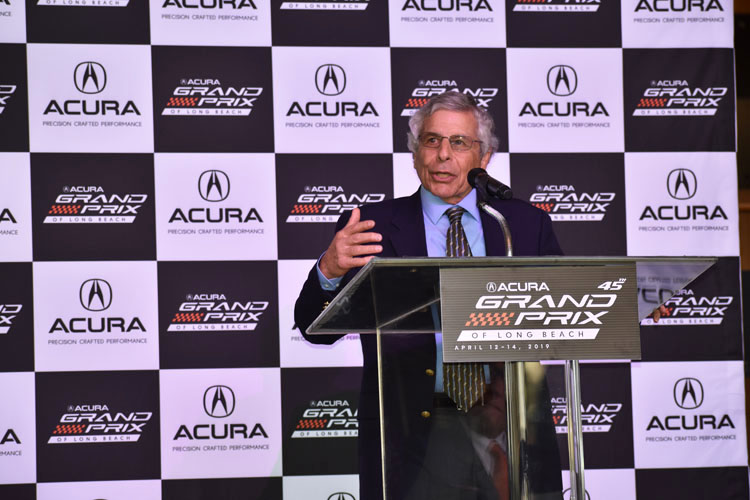 Honda luxury brand Acura has signed a multi-year agreement to serve as the title sponsor as of the Long Beach Grand Prix. Speaking to a crowd of reporters and city officials at the Terrace Theater today, Grand Prix Association of Long Beach President/CEO Jim Michaelian said Acura was the "ideal choice" to host the event, not only because of its quality product but also for its long-term involvement in previous races – Honda drivers won 6 of the prior 10 Long Beach Grand Prix events. Michaelian said his association's contract with the city runs through 2023 "and hopefully for more many more years to come." Long Beach Area Convention & Visitors Bureau President/CEO Steve Goodling, called the Acura sponsorship "good news" for the city. "It's exciting that the Grand Prix got the quality and the caliber of a sponsor that they deserve," he told the Business Journal. "I think their distribution of dealerships and their reach out into the public of Southern California will be vital for this year's race." The 45th Acura Grand Prix of Long Beach is scheduled for April 12 to 14. (Photograph by the Business Journal's Annette Semerdjian)
Long Beach Among Most Instagrammable Spots In The U.S. –
The City, The Aquarium, Beaches Each Rank In Top 5 Nationally
Sports website PlayPicks.com has identified Long Beach as the fifth most Instagrammed place in the United States, with 4,551,339 #LongBeach posts shared on the popular social media platform. Long Beach followed Disneyland, the Magic Kingdom/Walt Disney World in Florida, Miami Beach and New York's Central Park. Long Beach's Aquarium of the Pacific came in the No. 3 spot for most Instagrammed aquarium in the U.S. behind the Monterey Bay Aquarium and the Georgia Aquarium. Long Beach earned the No. 3 spot among the nation's beaches behind Miami Beach and South Beach, Florida. Spreading the word about Long Beach on social media is one of the priorities of the Long Beach Area Conventions & Visitors Bureau, which builds buzz about the city through its @VisitLB handles on Facebook, Twitter and Instagram.
City Council Requests Report On Gas Prices After Spike in Gas Bills
In light of a spike in natural gas utility costs in December, city staff are presenting a report to the Long Beach City Council during tonight's 5 p.m. meeting at city hall. Third District Councilmember Suzie Price requested the presentation. According to the staff report, a rise in the market price of gas is responsible for the increased cost to consumers. A memorandum on the topic by the Long Beach Energy Resources Department is available on the department's 
website
.
Miller Children's & Women's Hospital Receives $10,000 Grant From Kohl's Cares
MemorialCare Miller Children's & Women's Hospital Long Beach received a $10,000 grant from Kohl's Cares, a program "dedicated to supporting happier and healthier communities nationwide," according to a hospital announcement. The grant is funding additional courses related to infant crying spells and bicycle and helmet safety within Miller Children's Injury Prevention Program. "Each new class offered will carry an impact in our community and support our efforts to enhance the safety of all kids," Danny Luna, the hospital's injury prevention coordinator, stated. "With the support from Kohl's Cares, I am excited that we can continue to expand our resources for families looking for innovative ways to prevent injury."