City Approves Interim Lease Of Community Hospital
The Long Beach City Council last night approved an interim agreement with Molina, Wu, Network, LLC (MWN) to lease and operate Community Hospital. Via a public-private partnership, MWN is providing $25 million in funds for the initial seismic retrofit needed to reopen the hospital, according to a city statement. The city is matching that amount in installments: during the first five years of the lease, it will contribute $1 million per year, followed by $2 million annual payments over the course of 15 years. Should the cost of the required retrofit surpass $50 million, MWN would be responsible for the remaining costs. The company has also committed to investing $40 million to purchase equipment, remedy deferred maintenance and go toward operating capital. MWN will lease the property from the city at a rate of $1 per year.
UCLA Anderson Forecast Projects Economic Slowdown
The annual UCLA Anderson Forecast For The Nation, released today, predicts an economic slowdown through 2020. The report estimates that in 2019, economic growth will slow from last year's 3.1% pace to 1.7%. In 2020, growth is expected to slow to a rate of 1.1%. The report's authors contend that the growth spurt in 2018 was a "one-off" reaction to tax cuts passed in late 2017. Figuring into the projected slowdown are a soft housing market, economic weakness among U.S. trading partners, "protectionist policies by the Trump administration and the uncertainties associated with Brexit," the report stated. An analysis by David Schulman, UCLA Anderson Forecast senior economist, concluded: "The jolt from the very expansionary fiscal policies of the Trump Administration will soon exhaust itself and there is a very real risk of a recession in late 2020." However, the unemployment rate is expected to remain low, declining to 3.6% this year and gradually increasing to about 4.2% in early 2021 – a rate considered near full employment by historic standards.
Governor Halts Executions In California 
Earlier today, Gov. Gavin Newsom issued an executive order placing a moratorium on death penalties and halting executions in California, a state where voters have twice in the past decade rejected ballot measures to repeal capital punishment. With 737 inmates awaiting execution, California has the largest death row population in the Western Hemisphere, according to a statement from Newsom's office. No inmates have been executed in the state since 2006. "Our death penalty system has been, by all measures, a failure," Newsom stated. "It has discriminated against defendants who are mentally ill, black and brown, or can't afford expensive legal representation. . . . It has wasted billions of taxpayer dollars. Most of all, the death penalty is absolute. It's irreversible and irreparable in the event of human error." In addition to the moratorium, the governor's executive order calls for the closure of the state's only execution chamber at San Quentin State Prison.
New LBX Tenants Announced
Four new tenants are coming to Long Beach Exchange (LBX) at Douglas Park – The UPS Store, Runners High, Deka Lash and the Navy Federal Credit Union. The UPS Store is expected to "open soon," with Runners High opening in May, Deka Lash debuting in July and the Navy Federal Credit Union opening its doors sometime this summer, according to a press release.
Cold War Kids Headlining Grand Prix Concert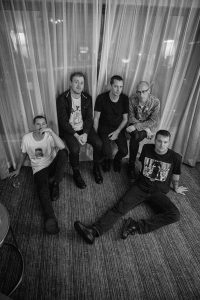 Cold War Kids, an alternative rock band hailing from Long Beach, is returning home to headline the Acura Grand Prix of Long Beach Saturday night concert on April 13. Moontower, an indie-electronic band, is the opening act. The concert is presented by Acura and SMG, the management company overseeing the Long Beach Convention & Entertainment Center, and takes place at the Long Beach Terrace Theater Plaza at 6 p.m. following racing activities. It is free for Saturday ticketholders. "We plan to grow the interests in the event beyond just the racing, for all the fans. Quality music is a great way to connect, and we are thrilled to kick off our sponsorship of the weekend with Cold War Kids," Jon Ikeda, vice president and general manager of the Acura Division, stated. Click here for tickets and more information.