JetBlue Gives Up 10 Flight Slots At Long Beach Airport
JetBlue Airways is giving up 10 of its underutilized flight slots at Long Beach Airport (LGB), according to a statement released today by the City of Long Beach. The announcement follows a minimum use requirement for flight slots implemented in January that prohibits any air carrier from using its allocated slots less than 70% of the time in each quarter of the year. The city's Airport Noise Compatibility Ordinance permits 50 daily flights by commercial and cargo air carriers, with flight slots divvied up among them. Of the five commercial airlines operating at LGB, JetBlue was allocated the majority of available slots, but it did not comply with minimum use requirement by the end of the first quarter. City Manager Patrick West said that JetBlue will retain 24 flight slots, and its 10 relinquished slots will be distributed to the air carriers on the airport's waiting list. "We expect very strong demand from airlines currently operating at the Long Beach Airport for each of the 10 flight slots that were made available today, and will immediately begin the process to allocate the available slots," he stated.
City Council Roundup: Outcomes On Fast
Food, Worker Safety And Health Care Items
At last night's Long Beach City Council meeting, councilmembers voted to institute a six-month moratorium on new drive-through lanes to give city staff time to craft new regulations addressing community concerns. A year-long moratorium was originally proposed. Also approved were a hotel worker protections ordinance requiring all hotels to provide panic buttons to employees as well as an item asking staff to explore options for bringing more acute care facilities to underserved neighborhoods. Read a comprehensive article about the latter item here.
Frontier Communications Signs On As Grand Prix Sponsor
Frontier Communications is now the official internet provider for the Acura Grand Prix of Long Beach, joining the event's family of sponsors. "The Grand Prix of Long Beach has been a fixture in Southern California for 45 years, and a premier racing spectacle in North America. Frontier is proud to be the official internet provider for the race," Joe Gamble, senior vice president of Frontier Communications, stated in an official announcement. The company is giving out two free general admission tickets per Frontier customer for the first day of the Grand Prix, April 12, while supplies last. Customers may use promo code "Frontier45" at checkout when buying tickets at gplb.com. Additionally, the internet provider is sponsoring the Frontier Fast Sweepstakes, giving away hundreds of tickets to Southern California residents as well as VIP Seaside Club Passes. Click here to enter.
USC Honors LBCC Vice President With Faculty Of The Year Award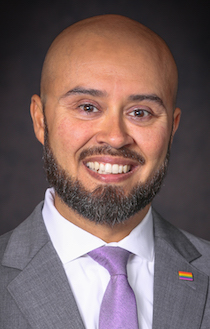 Dr. Mike Muñoz, vice president of student support at Long Beach City College (LBCC), has been selected by the University of Southern California (USC) to receive the 2019 Outstanding Faculty Member award. Muñoz became the vice president of student support services at LBCC in 2018. According to a press release, he was selected for the award by students of the USC Rossier School of Education at USC, where he serves as an adjunct professor of higher education. "This award means so much to me since the nominations and final selection are by students. I love having an impact on students entering the higher education profession. My heart is full," Muñoz said.