Gov. Newsom Identifies State-Owned Parcels For Affordable Housing Development
Two weeks before the April 30 deadline, the California Department of General Services (DGS) released an inventory of all state-owned or occupied lands, including 173 Long Beach parcels. The inventory is the first step in Gov. Gavin Newsom's plan to develop affordable housing on excess state lands in partnership with cities. The state will release at least three requests for proposals (RFPs) for new housing construction within a year, with the first issued by September 30, according to Newsom's office. "Housing is a basic human right, and in California, we simply don't have enough of it," Newsom stated. "My administration is using every tool at our disposal to combat the housing affordability crisis our families face. We're working hand in hand with local leaders who are stepping up for their communities and pushing for affordability for their residents."
Gas Prices Hit Highest Point Since 2014
GasBuddy, a Boston-based technology company that provides real-time fuel prices for over 150,000 gas stations across the country, announced on Wednesday that California gasoline has reached its highest price since 2014. The company predicted that gas is "likely to reach $4 per gallon in the days ahead, which would be the highest tally since July 27, 2014." GasBuddy attributed the increase to maintenance issues at California refineries, leading to a decline in the overall inventory of fuel.
Long Beach-Based Virgin Orbit Adds New Launch Site In Guam
Virgin Orbit, a small-satellite launch company owned by Sir Richard Branson, announced that it is adding a launch site on the island of Guam, a U.S. territory in the Western Pacific. The company launches satellites from a Boeing 747 aircraft, with the first satellite scheduled to take off from the Mojave Desert this summer. Guam joins a roster of launch sites that may soon include the Kennedy Space Center in Florida, Spaceport Cornwall in the United Kingdom and the Taranto-Grottaglie Airport in Italy, according to a press release. "Launching from Guam gives us easy access to every orbital inclination our customers need," Virgin Orbit CEO Dan Hart said.
CalChamber Launches Campaign To Promote Inclusiveness and Prevent Harassment
On Friday, the California Chamber of Commerce (CalChamber) kicked off its newest campaign, #RespectWorks, with the goal of combating harassment in the workplace. The program features posters, samples of discrimination and retaliation policies, a checklist for implementing anti-harassment policies and monthly tips on curbing workplace harassment. #RespectWorks already boasts a list of over two dozen supporters, according to CalChamber. Ernst & Young, Albertsons Companies and AT&T are among the companies that have vowed to "use proven, best practices to prevent harassment" as part of the campaign. "Harassment has no place in our workplaces," Allan Zaremberg, president of CalChamber, stated. "Joining #RespectWorks demonstrates an employer's solid commitment to their workers and the success of their company. Harassment-free workplaces have higher retention rates, recruit and hire the most qualified workers and are more productive and successful."
Kome Ajise Named SCAG Executive Director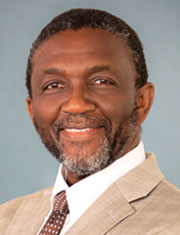 Kome Ajise was promoted to executive director of the Southern California Association of Governments (SCAG) by the association's regional council on Thursday. A SCAG press release noted that Ajise, who previously served as director of planning, has "three decades of experience in regional planning and transportation." He also previously held the role of chief deputy director at the California Department of Transportation, where he managed more than 18,000 employees and a budget of more than $1.1 billion.