President Announces Additional Tariffs; California Exports Decline
President Trump announced on Twitter yesterday that he plans to impose 10% tariffs on $300 billion worth of Chinese goods not currently subject to tariffs imposed earlier this year. "This does not include the 250 Billion Dollars already Tariffed at 25%," he tweeted. Before departing the White House on Marine One later in the day, he told a reporter that he was not concerned by the 280-point drop in the Dow Jones Industrial average that took place after his tweet. The president stated that he intends to impose the tariffs on September 1.
Following the announcement, the National Retail Federation (NRF) released a statement condemning additional tariffs. NRF's senior vice president for government relations, David French, stated: "These additional tariffs will only threaten U.S. jobs and raise costs for American families on everyday goods. The tariffs imposed over the past year haven't worked, and there's no evidence another tax increase on American businesses and consumers will yield new results. We urge the administration to bring our allies to the table and find new tools beyond tariffs to achieve better trade relations."
Today, Los Angeles-based Beacon Economics issued an analysis of federal trade statistics that found California exports dropped 9.2% in June compared to the same month in 2018. While the firm partially attributed the decline to higher tariffs, the analysis noted that weak economic growth abroad was also a factor.
Downtown Museum Set For September Opening
The Long Beach Museum of Art (LBMA) Downtown, located at 356 E. 3rd St., will open to the public Saturday, September 7. Previously known as the Art Exchange (ARTX), LBMA Downtown will provide a gallery setting for artists to showcase and sell their work, as well as arts programming for the community. The creation of LBMA Downtown is the result of a merger between LBMA and ARTX, which was founded 20 years ago by local artists. LBMA assumed oversight of the four-building campus located along 3rd and Elm streets in Downtown Long Beach in 2018, and has been working on improvements to the structures. "There is tremendous growth downtown, and we want to be part of the community fabric where people can visit LBMA Downtown to discover new art and emerging artists," Ron Nelson, executive director of LBMA and LBMA Downtown, stated.
Construction Of New Alamitos Beach Concessions Stand Underway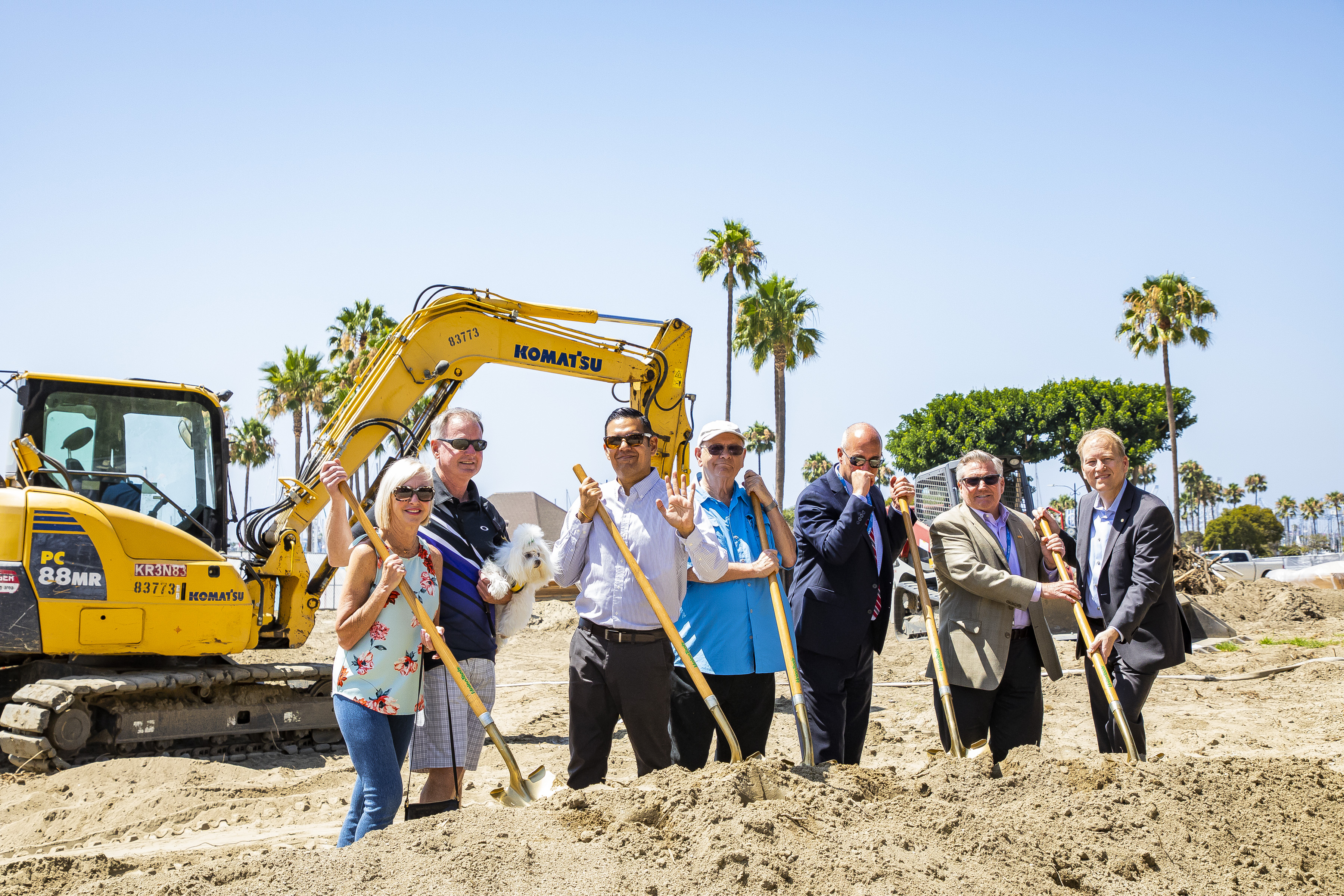 City officials and local residents celebrated the groundbreaking of the new Alamitos Beach concessions stand just east of Shoreline Drive and south of Ocean Boulevard yesterday. The existing 2,200-square-foot concessions stand was partially demolished to allow for the construction of the 4,240-square-foot modern cafe and concessions area. The two-story building will include an outdoor deck that wraps around the building, as well as a rooftop deck. Amenities will include outdoor play areas for kids, public restrooms, recreation equipment rental space, a pedestrian promenade, bike parking, beach parking lot improvements, shade structures and drought-tolerant landscaping. Funded through the city's Tidelands Fund, the $9 million project is expected to open during the summer next year. Beach concessions stands near Junipero and Granada avenues will also undergo improvements over the next year. "As part of the city's '8 by 28' initiative, the new beach concessions stands will provide new and exciting features for residents and visitors to our coastline," Mayor Robert Garcia stated, referring to a development campaign related to the 2028 Olympics. (City of Long Beach photograph)
State Board Eliminates Emissions Reporting Requirement For Broad Category Of Businesses
The California Chamber of Commerce (CalChamber) recently announced its success in lobbying for the removal of an air emissions reporting category that it said would have affected 17,200 small businesses. The "catch-all" category, as the chamber called it, was part of the Regulation for the Reporting of Criteria Air Pollutants and Toxic Air Contaminants (CTR Regulation), which was implemented by the California Air Resources Board (CARB) in 2018 to comply with a state law requiring reporting regulations for non-vehicular air pollution. The most recent version of the CTR Regulation, published in mid-July, was amended to remove a category from the list of businesses required to report data on their level of emissions. However, the change is unlikely to be permanent. According to CARB Information Officer Alberto Larios, the category was removed in response to "technical comments." Addressing those concerns in the regulation would have put regulators in jeopardy of missing a deadline set forth by legislators. "So, we pulled back the broader applicability requirements and plan to address the 'catch-all' categories in a future rulemaking," Larios said.
Long Beach Restaurant Week
Dine LBC Long Beach Restaurant Week begins tomorrow, August 3, and runs through August 11. About 40 local restaurants throughout the city are offering two- or three-course special menus, as well as dinners for two, with special pricing. Click here for a list of participating restaurants and more information.