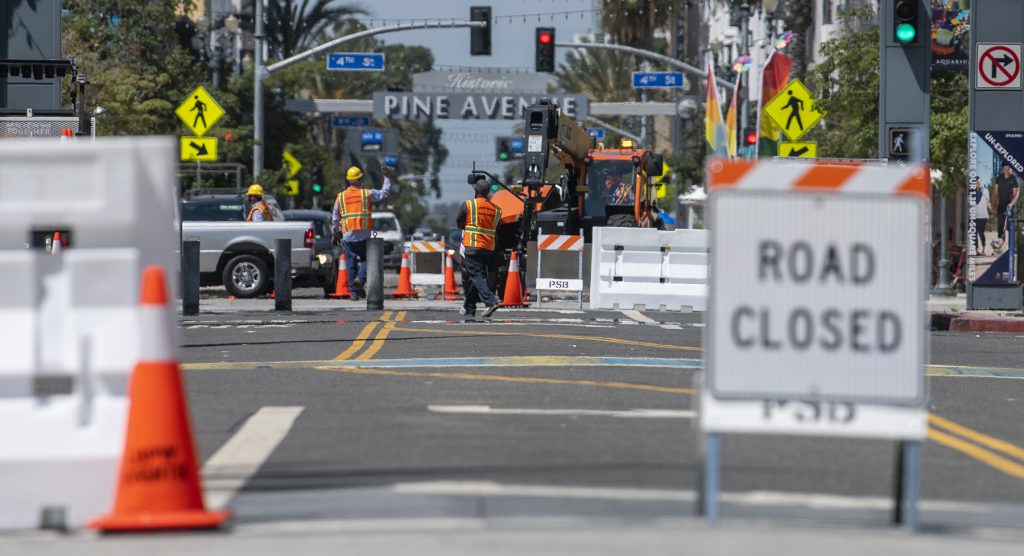 From groups playing Jenga at The Harbor to couples eating lobster at outdoor tables in front of King's Fish House, Pine Avenue has come to life again after months of a pandemic shutdown.
But while the full closure of the main thoroughfare in Downtown has largely pleased restaurant and bar owners, other businesses that rely on pickup and delivery say the closure has hurt their bottom line. 
A survey by the Downtown Long Beach Alliance to gauge business owners' sentiments on the issue, which was sent out to 269 businesses across Downtown, received a total of 61 responses. Half of those came from business owners in the Downtown core, which includes Pine Avenue. 
Out of the 28 respondents who said they have participated in the Open Streets program, of which the Pine Avenue closure is a part, 21 said they would like for it to continue even after the pandemic-related health orders end.
The City Council on Tuesday will decide whether to extend the temporary closure and even consider a permanent traffic shutdown in the future.
While the parklets and tables that have been set up since the street was closed in mid-August can't fully replace the loss restaurants and bars on Pine have taken as a result of the pandemic, they have helped soften the blow, according to Ron Hodges, owner of Shannon's corner. 
"Before we had the expansion into the street, we couldn't do enough business," Hodges said. "You could bring people back, but you'd be losing money all the time." 
Since the closure, Hodges said he's been able to bring some of his staff back. 
"We're doing some decent business right now," he noted.
Meanwhile, Bau Tran, owner of 5th Ave Bagelry, said he's lost 25% of business since the street was closed.
"This street closure has hurt everybody that isn't a bar," Tran said.
The portion of Pine Avenue that's home to Tran's business has never been rich in parking spaces, consisting mostly of green and yellow zones for loading and short-term parking. But those capacities are exactly the ones missed by him and some of his neighbors. 
"Most of the business, for my style of business, is pick up and go," Tran said. 
With the loss of several time-limited parking spaces along the closed portion of Pine, Tran said his customers, many of whom stop by on their way to work in the morning, struggle to find a spot to park their car. 
"They circle the block a couple of times and they can't find parking, and they just leave," he said.
Delivery drivers have faced the same issue, Tran and another business owner said. 
"It's terrible," Steve Huh of Poki Star said. Huh estimates to have lost 60% of his business following the closure. 
At the end of August, Tran sent a letter to the Downtown Long Beach Alliance to express his disapproval of the closure, signed by him and eight other business owners in the area. 
"I never even would have built my store or picked that location if it had been a Promenade-style," he noted. "It's just not right that we don't have a say in the matter. They're cutting out the legs from under us."
Tran said he would be open to a compromise, such as maintaining the closure but restoring some of the parking spaces on the street, or turning it into a one way street. 
According to Kraig Kojian, president and CEO of the Downtown Long Beach Alliance, these are not options his office has suggested to city staff at this point. Instead, the business district has laid out proposals for maintaining the closure permanently, keeping it up for a limited time as originally planned, or getting rid of it all together. 
Editors note: A previous version of this story said that while the location of the businesses was not disclosed, 21 businesses supported a permanent closure of Pine. Only businesses who said they participated in the program (28) were asked if they supported it and 21 said they did.