After serving in the United States Navy, James "Jim" Willingham moved from Missouri to Long Beach in 1950, "chasing a girl, I think," his son Brad said jokingly. Jim quickly found a job selling shoes. That same year, the owner of Ed James Studebaker visited the shoe store, told Jim he would be better off selling cars and offered him a job.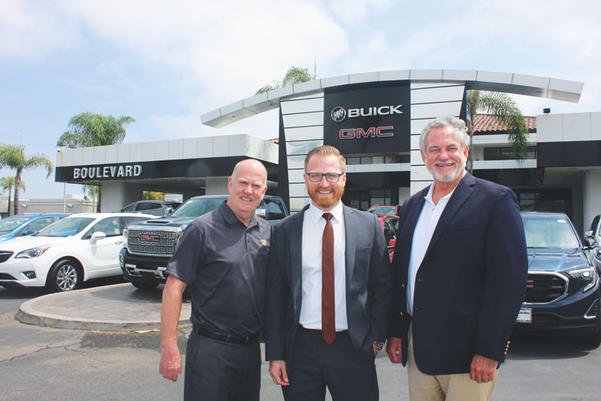 Boulevard Buick/GMC Cadillac has operated in Long Beach and Signal Hill since the early 1960s and is currently experiencing 15% and 5.4% year-over-year growth for its Buick/GMC auto sales and collision center, respectively. (Photograph by the Business Journal's Brandon Richardson)
Jim worked at several dealerships in the coming years, including C. Stanlee Martin Oldsmobile and Masters Pontiac. Eventually, he ended up at Campbell Buick on American Avenue, which would be renamed Long Beach Boulevard, and became business partners with owner Charlie Campbell in 1961.
"They started off thinking the dealership would be named Campbell Willingham, but they couldn't afford that many neon letters at the time," Brad said. "American Avenue had just changed to Long Beach Boulevard. So, they came up with the name 'Boulevard,' and it's been Boulevard Buick ever since."
Jim went on to buy out Campbell and continue operating the dealership with the help of Brad when he was old enough. The father-son team ran the business in Long Beach through the early 1990s. Brad said his dad loves Long Beach and was very dedicated to the city, including civic involvement as president and/or chairman of Rotary Club of Long Beach, the Long Beach Area Chamber of Commerce, American Red Cross Greater Long Beach Chapter, the Long Beach Board of Water Commissioners, Memorial Medical Center Foundation and the Long Beach Area Convention & Visitors Bureau.
The development of the Cerritos Auto Square began in the late 1980s and it quickly became one of the largest auto centers in the world. The center's high visibility off of the 605 Freeway made it a powerhouse – tough competition for Long Beach auto dealers on Long Beach Boulevard, Brad said. Around the same time, construction began on the Blue Line.
"We had done a lot of work with the local politicians. They had an option to use some existing tracks down by the Los Angeles River, and we lobbied hard for that," Brad said. "The night of the city council meeting, we didn't go because we thought we had the vote in the bag, but somebody changed their vote at the last minute. They decided to bring the [Metro] Blue Line right down the middle of the boulevard, and we knew what that meant for us."
The Blue Line opened in 1990, and the Willingham's dealership struggled due to decreased visibility, no parking and less sidewalk space. The City of Long Beach had never shown any interest in creating an auto center, Brad explained, and many of the dealerships had already moved on to Signal Hill. Jim did not want to leave Long Beach, but, with business way down and the bowling alley next door being turned into a welfare office, it was time. Boulevard was one of the last dealerships to vacate Long Beach Boulevard for the growing Signal Hill Auto Center.
Jim partnered with Michael Salta, who owned as many as 24 dealerships throughout his career. Salta had built two side-by-side dealerships in Signal Hill, and, in 1993, Boulevard Buick Pontiac GMC opened. Brad oversaw day-to-day operations as general manager, while partners Jim and Salta oversaw the business end.
Ron Charron was brought on as general manager around 1998, while Brad was working at another Salta dealership. In 2000, Brad came back to Boulevard, where he and Ron bought out Jim and Salta. The new partners have run the dealership together ever since. In 2010, the company bought Coast Cadillac, which now occupies the space adjacent to Boulevard Buick/GMC as Boulevard Cadillac. Charron's son Chad became the third partner at Boulevard earlier this year and continues to serve as general manager of the dealerships.
"That's pretty much the story. Chad is running things, while Ron and I try not to be here quite as much as we used to be," Brad said. "We've had two stores running side by side for years and they've been very successful. It's been going really well."